As promised, I come with details of bonuses! Not just any old bonuses either, you wont find these John Thornhill Marketing Masterclass bonuses anywhere else, they are totally unique and exclusive to me.
You'll probably know that most bonus packages will consist of some resale rights products, with a jazzed up sales page, free of charge, you may even get some PLR articles and 10,000 free pats on the back….but YOU SHOULDN'T CLAIM THEM.
Not if you are planning to take on John Thornhill's Marketing Masterclass program anyway, and here's why.
You are going to be taking part in a 36 week Coaching program, where you'll have various tasks to undertake along the way. Each task will require you're effort and concentration, you wont have time to look at your bazillion free eBooks and PLR reports, never mind do anything useful with them!
That's why my bonus is totally different, it's not just some random resale products thrown together at the last minute, this bonus is designed to complement John's Masterclass course. So you'll be taking the Masterclass course, but you'll be using my bonus package AT THE SAME TIME!
Allow me to explain in graphical form: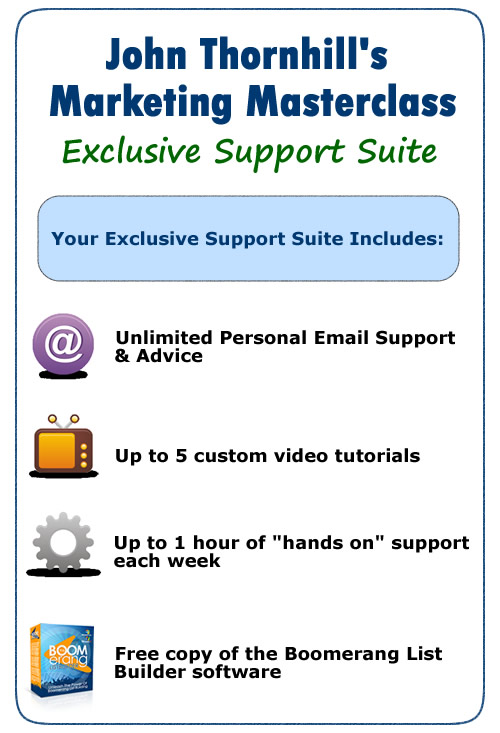 I should have been an artist…..or maybe not :-/
Allow me to explain a bit more about the bonus.
The bonus I am offering, is an extra support package that will be used as you go on with the coaching, that's not to say you don't get support from the actual coaching you – YOU DO, and you get lots of it, but there are times when you may get an answer, but you still aren't 100% sure what to do, or you still need more advice, or simply a 2nd opinion, and that's where my bonus comes in.
Remember that I have full access to the Masterclass Program, and have worked with countless students who have taken then course in the past, so I know the course like the back of my hand. I'm also a professional, fully qualified, "tech guy". Don't believe me, take a look at the image below: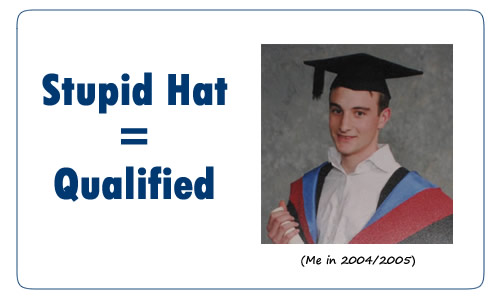 Here's what each section of my "Support Suite" is all about.
Unlimited Personal Email Support & Advice
This is the most popular support option (or it has been when I've offered it in the past).
I'm offering you the chance to get me help and advice via email, for the full duration of the course. If there's anything you don't understand, need clarification on, or just need some general advice on a certain part of the course, drop me an email and you'll have a response within a few hours.
Any of you who've emailed me for support in the past, know that I deliver!
Up To 5 CUSTOM Video Tutorials
This is going to be hugely popular, I can sense it!
During the course you may run into some annoying technical thing that you just can't get right, it may be that you are having trouble positioning an opt-in form in the header of your blog, or you just can't get the formatting on your sales page right, but you really need to know how to do it!
All you need to do is get in touch with me regarding the problem, and you'll get your video own video tutorial, where I show you exactly what needs to be done to rectify the problem, and how you can solve it yourself in the future.
These video tutorials are created on request, and are EXCLUSIVE 1 to 1 videos, nobody else will have access to them, only the person that requests the video.
Hands On Support
I'm also offering a full hour of my time each week, for "hands on support".
This allows you to take advantage of my experience of all things technical. All you need to do is get in touch and say:
"Dan, Why is my blog throwing up a 500 Internal Server Error message, can you fix it, my head is going to explode."
And my response will be:
"Hi Billy-Bob, I've fixed the problem for you."
Of course, you can contact me to fix any problem that requires some "hands on" assistance, it doesn't have to be a 500 server error, but you get the picture. The hands on support allows you to contact me 24/7 to fix any issues you run into, this covers absolutely anything in the course – hosting, email, mailing lists, sales pages, html, css, and so on.
So in total, you've got my "hands on" service for more than 36 hours, if you were a business, and were paying for my "hands on" help, it'd cost you £1,800 (£50 an hour), but you are getting it for free, so take advantage of me 😉
Free Boomerang List Builder
This is ONLY AVAILABLE IF YOU WILL ACTUALLY USE IT.
I wasn't going to give away a copy of the BLB, but figured it would be a bit mean if you really did want a copy and I didn't throw it in, but I'm only going to give it away if you are actually going to use it, I don't want it to turn into any of those other products that you've got sitting on your hard drive that will never see the light of day.
If you feel it'll distract you from the course, then I'm happy to hold it back until after the course has finished, and give it to you then.
So there you have it, full details of my bonus offer. I can't decide if I'm stupid for offering so much of my time or not, but I'll just have to see how it goes. If I get too many takers then I may pull the offer – there's only so much time in a day, so please do get it whilst you can.
Here's how to claim:
1. Join John Thornhill's Marketing Masterclass program by clicking here. <—— You MUST click that link, if you don't, you may not be eligible for the bonus (It launches on Tuesday, January 26th 2010)
2. Forward your receipt to: helpdesk@elpassoenterprises.com
Or use the "Contact" link on this page – they both come to the same place 😉
3. I'll then send you all of my contact details where you can get hold of me, the contact details are exclusive to this bonus, and all come directly into a priority inbox, so you get right to the front of the queue – no waiting for a response.
I think that's got everything covered, all that's left is for me to do, is to nudge you towards my Marketing Masterclass resource site if you need more information on the course:
More Marketing Masterclass Info
And do please leave a comment if you have any questions.
Regards,
Dan
I've been very slack on my blog posts recently, the month of July seems to have passed me by completely…blog post wise anyway. Back in the "real world" I've been busy going to relatives birthdays, going on a mountain walk (note I didn't say walkS….1 was more than enough), and in 6 days I'm going to Headingley in Leeds to watch day 5 of the Ashes test match between England & Australia. So despite going easy on the Internet stuff, I've been having a good time which I suppose is the reason we all decided to become Internet Marketing people.
Anyway, back to business.
It's come to my attention that a lot of the content I've been posting on here for the past 3 years has been going over a lot of peoples heads. So I'm going to go back to basics with this post, and just give you an idea of how to get started in Internet Marketing and what to look out for along the way.
If you already know this stuff I apologize, but in the long run this post should help more people keep up with some of the more advanced things I have written about in the past, and that I plan to write about in the future so bare with me.
Getting Started
The first thing you need to grasp is an understanding of what Internet Marketing is all about, if we are to break it down into its simplest form, it's about making money by selling things on the Internet both directly, and indirectly.
So you need to decide what you are going to sell, here are the options for you:
1. Create your own product/service and sell directly to customers
Examples of my own: D9 Hosting, Boomerang List Builder
2. Sell other peoples products that come with resale, or private label rights
Examples of my own: El Passo Software, El Passo Books
3. Promote other peoples products as an affiliate (Earn commission for any items you sell)
Examples of my own: DLGuard Review, Resell Rights Fortune Review
4. Create a content site and generate income from advertising
Examples of my own: Tattoo Intel
Each of the above have their advantages and disadvantages. So I'm now going to give you a quick run down of the above points and hopefully make everything a bit clearer for you.
Option1: Create Your Own Product
Creating your own product CAN be a big money maker – it might not be, but if you target the right niche and create the right product then the potential is huge.
Take D9 Hosting as an example, I created it back in 2007 with my business partner Paula Brett when we saw a gap in the hosting market, as far as we could tell there was no affordable, reliable web host out there that knew Internet Marketing like we did – I'm not being big headed there either, we have over 10 years experience between us and I genuinely feel you'd be hard pushed to find a more marketer friendly web host.
So to cut a long story short, we created D9 Hosting, which is now hosting thousands of websites for clients all over the world, the income generated through D9 provides a full time wage for both myself and Paula – all because we saw a gap in a market and created a service to fill that void.
I'm using the hosting market as an example but you can use anything you have an interest in, lets say for example that you enjoy mountain walks. I don't have any numbers but I'd imagine there's a lot of people interested in mountain walking that are looking for the best routes and secret tracks up xyz mountain, so why not compile an eBook showing the best routes to take up xyz mountain and sell it to amateur mountaineers like myself!
That may not be the best example, I have no idea what the mountaineers niche is like, but I would have certainly loved a guide I could have used last week, it might have stopped us going up the wrong path and adding an extra 3 miles to our journey 🙁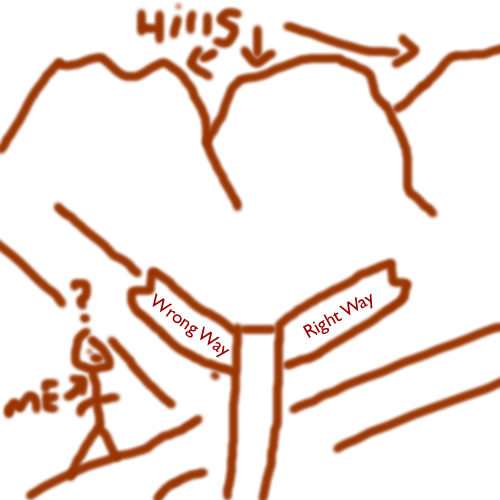 But hopefully you can see what I'm getting at, if you can find a gap in a market then creating your own product to plug that gap can be very lucrative.
What sort of product could you create?
1. An eBook
2. Some software
3. Training course
4. Video guides
5. A service
6. A membership site
7. And anything else you can think of!
Advantages of creating your own product:
1. Keep 100% of the sales generated
2. If you tap into the right market income potential is huge
3. Have total control over the product you are selling
Disadvantages of creating your own product:
1. Depending on the type of product you create, the costs could be high
2. You may target the wrong niche/market and your product may not sell
3. Can be disheartening to see that people don't actually like your product (It happens!)
Resources:
Operation eBook – How To Create Your 1st eBook
Option 2: Sell Products With Resale/PLR Rights
This is how many of us; myself included, got into Internet Marketing. Back when I first started Marketing the first thing I sold was a collection of eBooks with resale rights that I purchased from John Thornhill. I sold these on eBay and made around £90 (about $160) each week, which for a teenager was pretty good going!
Back then, the "Resell Rights" market was still very much in it's infancy, the only products with resale rights you could get your hands on were eBooks, nowadays there are tons of top quality items out there that come with either resale, or private label rights including videos, training courses, software products and so on.
If you buy the resale rights for these items, it means you are able to sell on the items as many times as you like, keeping all of the profits for yourself. With Private Label Rights (PLR) products you can even alter the items and pass yourself off as the author of the product!
I actually still have my very first marketing website online, El Passo Books, and it still makes a few sales every week to this day. All the products you see on the site come with resale rights, in total I paid around £30 for the website and all of the eBooks you can see on it, so when you consider the main package sells for £12.99 each time you can see it has been a wise investment!
Advantages of selling items with resale rights:
1. Usually dead cheap to purchase
2. Can sell them multiple times and keep the profit
3. Pass PLR products off as your own (Also saves time)
Disadvantages of selling items with resale rights:
1. Lots of other people could be selling the same product as you
2. Sometimes items can be sold very cheaply and are devalued
Resources:
John Thornhill's Ready To Go eBook Business
Option 3: Promote Products As An Affiliate
This is personally my favorite method, as once I've set an affiliate promotion up I can pretty much sit back and forget about it. All I need to do is drive customers to the products sales page and watch the commission come in.
I'm sure you all know what an affiliate link looks like, it's usually something along the lines of:
www.mysupercoolsite.com?aff=funkychicken
If someone were to click on that affiliate link, and then purchase something off mysupercoolsite.com I would earn a commission.
I wouldn't have to deliver the product to the customer, and I wouldn't have to provide them with the support!
Some of my most profitable ventures are affiliate websites, and I do plan to write an eBook (option 1!) on the subject so keep your eyes open for that.
If you are starting out and don't have much startup capital available to you then I'd strongly recommend going for this method. It can be set up for free and even if you don't make a sale you won't have lost out financially, and you'll have gained some valuable experience from the project.
Adavntages of promoting products as an affiliate:
1. No customer service to provide
2. No startup costs (in some cases)
3. If you target the right product it's easy money
Disadvantages of promoting products as an affiliate
1…..I can't really think of any to be honest!
Resources:
How I Dominated Google For Resell Rights Fortune
How I Dominated Google For John Thornhill Coaching
Option 4: Create Content Site & Profit Through Advertising
I've actually tried this a few times, but to be honest unless you have a really high traffic website you'd be better off sticking to another method.
The idea is to get people to your website by providing them with quality information that they are looking for, you'd then place relevant adverts on that website in the hope that people would click on the adverts and make a purchase. An example site of mine that uses this strategy is Tattoo Intel, it's a site that provides all sorts of information on tattoos, you'll also be able to see banner adverts on the page.
I make a few sales from these but nothing like I do from the other sites, if I were able to generate more traffic to the site then I dare say it would be more worthwhile, however at present it isn't really a viable option for me when the other methods are bringing in more money with less work needed on my part.
Advantages of content sites with advertising
1. No customer service to provide
2. Cheap to setup, only a domain name and hosting needed
Disadvantages of content sites with advertising
1. Need to generate a lot of traffic to see decent results
2. Sites need updating quite often to keep people coming back for more
So there you have it, a brief overview of the main methods Internet Marketers use to make money online. It's a very broad overview but it should give you a basic understanding of everything and help you understand what I'm talking about in some of my more advanced blog posts!
If you are just starting out, what I'd personally advise you to do is read through this post a couple of times, then decide which plan of action is for you. When you've done that, write down what you are going to try and do and do it. Don't worry if you fail, you won't know unless you try!
As always thanks for reading and let me know if you have any questions.
Regards,
Dan
A warm welcome from the Yorkshire dales, I believe the technical word for this weather we are experiencing today is "Summer", it's making me feel the need to go outdoors but I'll resist the temptation whilst I write this blog post.
In todays post I'm going to look back at the events of the past few weeks, as it's given me some food for thought, and I'm in two minds about what to do, so I'd appreciate it if you could have a read through what I'm about to write and give me your opinions.
It all started a few weeks ago when Socrates Socratous asked me if I'd consider giving away a copy of my Boomerang List Builder software to all people that signed up to his Resale Rights Fortune pre-launch list, so without much hesitation I agreed.
Why Did I Agree To It?
Quite simply because I knew the launch would be huge, and if I had a "soft opt-in" in place, I would get a ton of new subscribers – and I did!
Take a look at the new size of my mailing list:

And I would like to point out that this is probably one of the only times I'll ever show you a screen shot of my mailing list numbers, so make the most of it!
And I'm not posting the numbers in a "my penis is bigger than yours" "my Dad is better than your Dad" sort of way, I'm just showing you what I gained from giving it away for free – a ton of new mailing list subscribers.
So fast forward a couple of weeks to the end of the launch, and I'm still getting a few new subscribers each day from Resale Rights Fortune.
So here's the dilemma, what would happen if I got rid of the $47 Boomerang List Builder price tag, and gave it away for free ALL THE TIME?
If I gave it away for free, I'd be losing upwards of $10,000 each year in sales, but I'd be building my mailing list like there's no tomorrow, and I could implement a OTO type system so there would still be the potential there to make money from OTO sales, and it would still let affiliates earn commissions for promoting.
I know as a customer you will be leaning towards the "Free" option – and I don't blame you! But put yourself in my shoes, what would you go for?
Would you keep everything as it is and charge $47 to anyone who wishes to purchase a copy of the software, and have a steady trickle of sales every month?
Or would you give away the software for free in return for an email address, so you'd lose out on the income from sales, but you'd be building a huge mailing list that would potentially be a much bigger earner in the years to come?
And I've just had a brainwave…WE SHALL HAVE A POLL!
Possibly the first ever poll on the El Passo Blog, what a joyous occasion – so go ahead and vote in the poll, then tell me what you think in the comments section below!
Welll….we were going to have a poll until the plugin decided to stop working, so we'll have to make do with just leaving your thoughts in the comments section instead, sorry about that, I was really excited about the 1st El Passo Blog poll as well 🙁
Thanks for reading and I look forward to hearing your suggestions.
Regards,
Dan
I was going to write a "proper" blog post for you today, it was going to be the best blog post ever, it would have loads of colourful pictures, loads of funny words, some political satire and a sprinkling of information, but as I sat down to write the post my accountant called and arranged a meeting for the afternoon so I had to put the blog post on hold.
It's now 6.45pm and I've just finished my Tea (it's what us strange people from up 't north call our evening meal) and I know I need to write a blog post, but in all honesty I'm very tired and don't have the energy to create a full post, so I've decided to put together a little tongue in cheek "a day in the life of.." type post.
Being a full time Internet marketer is no easy task let me tell you! So let me take you back to the futur…back to the beginning of the day, and show you what I did.
I woke up at around 8am and went downstairs for some breakfast; I fancied a laugh so I turned on the TV and navigated my way to Sky Channel 509 – Fox News. It was the morning after the final presidential debate and I fancied some "fair and balanced" coverage of the debate, I was actually in luck, they were re-showing the debate in full so I watched "The Maverick" and "The Yes We Can" trading insults until around 9.30am.
At 9.30 I decided I'd better get off my ass and do some work, so I powered up the PC for the day. I always spend the first 1 – 2 hours of the day approving affiliate commissions for the Boomerang List Builder, and answering support tickets and approving new orders for my hosting company, D9 Hosting. The D9 Hosting tickets are an ongoing task throughout the day, but so far today has been a good ticket day!
All new orders were also genuine which is always good! With hosting orders you have to be very careful when processing them, a lot of spammers like signing up with false details and then using our servers to send spam, but going through each new order manually means we have a very good track record for keeping spam away from our hosting. This improves our email deliverability rate, and keeps the servers running as stable as possible.
After the normal morning tasks were complete, I started to set up the payment processor for a new offline service that me and Paula will be launching in the next couple of weeks, it will be something else under the "D9" brand and without wanting to blow my own trumpet I think it will be really cool.
We actually got a call to our D9 Hosting UK phone number yesterday, I answered and it was a nice chap enquiring about the new service, he'd actually stumbled across our "beta" site on Google (I didn't even realise they had indexed it!) and then wanted the service so much he tracked down our D9 Hosting phone number, so that gave me a kick up the backside to get on and finish the website.
During setting up the processor, I needed to get our "SWIFT" code from our bank, so payments can go into our account. I called up the bank but I don't think the code the lady on the phone gave me was correct, so I'm going to call back tomorrow and hopefully I'll get a different person on the other end of the phone.
So with that out of the way, I moved onto another new project, a live chat/help solution for D9 Hosting. I managed to get it going quite quickly, and existing clients should be able to see the live chat button if they log into their client area.
I did have 1 question about the software though, so I went over to the live chat providers help desk and opened up a live chat session. Usually with live chat services, you have a generic picture of a helpdesk agent to look at, but I was taken by surprise when I saw what looked like "The girl next door" looking back at me.
I'm realistic enough to know the actual person on the other end of the chat was probably nothing like the picture…and was probably not even female, but it was nice to see something different from the generic "stock man/woman with headset". So if you ever request a live chat over at D9 Hosting and the operator looks like Brad Pitt, suspend logical thinking and go with the flow. 🙂
By the time I'd finished playing with the live chat system, it was around 1pm and time for some food.
I had a prawn cocktail pasta salad type thing, 8/10 – it was nice and tasty.
After dinner I set off to the accountants.
He'd just about finished doing my 2007 accounts, but needed some clarification on a few things. Including my incredibly complex/stupid PayPal income and expense details. Apparently it doesn't help when some things are in British Pounds and others are in US Dollars, oh well, I'm sure he'll get there in the end.
After an hour and a half with the accountant I drove home and got back to work. Just as a side point, if your car has an AUX input and you have an I-Pod, buy an I-Pod AUX cable on eBay for £1.99 – best purchase I've made in a long time!
I got back to the PC at about 3.30 and had a chat with Paula about a few business plans for the future, answered more tickets and actually took part in our first live chat session – it was with Paula but who cares!
It was coming to the end of the day so I started to wind down; I went on Facebook and posted on a few forums.
I then went downstairs at about 4.45pm and watched some TV and did some farm jobs. I then had the evening meal at about 6.00pm, and then came back onto the PC to write this blog post.
Before I started the blog post I went onto iTunes and purchased a couple of new tunes to listen to on repeat whilst I wrote this blog post. I went for a couple of Cher songs, probably not the best choice in hindsight but we live and learn.
That pretty much takes us up to where we are now. The next thing I plan to do is post this on my blog, "Digg" the post. Then I'll go downstairs and watch Bones and the last part of TNA Bound For Glory. I'll then come back on here at around 10pm to do a final email/ticket/blog comment check for the day and then head off to bed at around 11.00pm.
So there you have it, a day in the life of a full time Internet Marketer – thrilling isn't it!
It was my Dad's birthday last night, so we all went out for a meal – Me, Mum, Dad, Brother and his Girlfriend. As we walked through the stiff creaky door we approached the rather intimidating manager, she towered over us like a menacing menu bearing giant, but it was raining outside so we didn't mind, all we wanted was to sit down and eat after a hard day.
We were directed to a table, the wooden floor banged as we pulled back our sturdy wooden chairs and sat down to read the menu. Looking around we could see we were the only people sat in the eating area, nobody said anything, but I could tell we were all thinking the same thing – How is Dan going to turn this into a blog post?
Quite easily actually 🙂
Fast forward a couple of hours and we were waiting for the deserts to arrive. On the menu was a very strange "Chocolate and Rhubarb Crumble"…but that's not important right now. We were all chatting away, well, four of us were chatting away – my brother appears to still be shaking off the shackles of puberty so he managed a grunt every now and again.
Conversation turned towards my brother's girlfriend, who happens to work for a local IT company that provides web hosting, design, coding and other similar services to schools and businesses across the UK.
With me running a similar venture in D9 Hosting, I was curious to see how the company was run. After a bit of background information, we turned to pricing, where I was amazed to hear:
"We charge £250 to install Google Analytics"
£250 for Google Analytics! That's almost $500 to place a few lines of JavaScript on a page!
They also charge a similar price to setup Google Docs for customers, and charge an arm and a leg for web design and hosting. Their monthly sales target is £100,000 (about $200,000) and with those sorts of prices it won't surprise you that they meet it most months.
Now there's no way we could charge you that sort of price for any of the services I've mentioned, you would all probably have a rough idea of how much to pay for that sort of work – and it would be a lot less than £250!
*FYI, there's actually a couple of Google Analytics "How To's" on this blog, you'll be able to find them using the search bar on your right*
BUT, the vast majority of offline businesses are still more than happy to pay top dollar for IT services, be it web design, hosting, script installation or consultation, and what's more. I think that 95% of you reading this are more than capable of providing these services – skills you pick up on your Internet Marketing journey are more valuable than you could ever imagine.
Just ask yourself if you can install Google Analytics?
I'm sure most of you answered "Yes" to the above question, and I'm sure you know some offline people who run websites, why not see if they'd be interested in having you install it for them?
That's just one example of taking what you've learnt in the online world, into the offline sector, there are many, many more ways to do this. I am currently working on a big offline project with my D9 Hosting partner, Paula, that should be launching in the next few weeks so stay tuned for that.
Nothing much to add, just really made the post to open your eyes to the opportunities that exist away from the PC screen!
That's all for today, I was going to hold off writing this until Thursday but thought I'd get it down on paper whilst it was all still fresh in my head.
As always comments are my friend and yours, so do leave one if you have any questions.
Cheers,
Dan
P.S. I had a Bacon & Cheese Burger and a Knickerbockerglory (sp?) for desert – 7/10