Hello blog readers! You'll remember that on Tuesday I told you about the new "Marketing Masterclass" program by John Thornhill.
You'll also remember that due to my broadband situation, I got my timing all wrong and my well laid out plans went up in the air. Well, I have some good news – My Broadband is back!! 🙂
But even better than that, John Thornhill has done a very special video for you (my blog readers) where he answers the questions that you put to me on Tuesday. So without any further introductions needed, check out the video below: (Any people reading the blog at around 10.25 GMT on Thursday morning may need to come back in 15 mins when I figure out how to embed the video..LOL!)
Edit: Before you watch the video, I have just been testing my link and noticed that John has just this minute put up an easy payment plan option. So as soon as you have finished watching the video below, click here and grab the payment plan whilst it's there on the page. It could be the most important link you ever click…seriously…
[Some Users Are Unable To View The Video In Firefox – Please CLICK HERE To Open The Video In A New Window If You Are Having Problems]
If you have any more questions regarding the program, please do leave a comment. I know John is looking over this blog post (it's my secret Ninja powers!) and I'm sure he'd be happy to reply to any of your comments. So with that in mind:
Click Here To See What All The Fuss Is About!
If you have any problems with the video, or would prefer to see a transcript of the John Thornhill video, look no further: 🙂
[Start of Video Transcript]
Hello John Thornhill here and I'm creating this quick video to answer the most common questions I have been receiving regarding my "Marketing Masterclass" program. The program launched yesterday and I've created this quick video to answer any questions you may have.
The First question is how much does it cost and do you offer a payment plan?
The price is $1,497 and whilst that sounds like an awful lot of money you have to remember you are buying 36 weeks of my time, and 36 weeks of me dedicating my time to helping you succeed.
Do I offer any sort of payment plan? At the moment no but I do have plans to offer a payment plan very soon so keep an eye on the sales page and you will see a payment plan option come up soon.
What happens if I buy it and I don't like it?
Well, I am offering you the chance to check out the first 4 weeks of the course so you can easily see I am the real deal, if for whatever reason you do not wish to continue with the program, just let me know by the end of week 4 and I will refund you in full. So basically you can check out the first 4 weeks of the course for free.
Can you give me a bit more information on what is in the course?
Well, obviously I can't reveal everything, but after the end of week 2 you will have your own website online. By the end of week 3 the website will be in a position to earn money, then after that we move onto advanced techniques, then we move onto product creation. You will have your own product for sale, I don't care how inexperienced you are, I will guide you to create your own product.
After you have created that product I will show you how to market that product, I will show you how to recruit JV partners, and recruit affiliates and I'll show you how to effectively drive traffic to your product, after that we go into advanced marketing techniques and I will show you a lot of my secrets – a lot of things that work for me.
So over the course of 36 weeks you will have 2 websites online and you will also be building 4 different mailing lists. Obviously I can't go into too much detail here but that is what this is all about. It's all about building multiple mailing lists, if you've seen my video on the sales page you will have seen my Aweber account and I have many different mailing lists, building me just a few people each day on each list but combined they usually build around 100 new subscribers each day and that is ultimately what I'm going to teach you in the course.
What happens if I go on holiday or miss a couple of weeks, will I still be able to follow the course?
Yes you will! Because I deliver most of the course via video and PDF you can work at a pace that suits you, although this course is 36 weeks long you don't have to complete it in 36 weeks, it's ok if it takes longer because you can work at a pace that suits you, but I have devised this in such a way that even if you fell behind a week or 2 you should still be able to catch up. So you can go on holiday, you can miss a couple of weeks and you could take a week off, all you would have to do is simply work a little bit harder for a couple of weeks to catch up.
How is this different to your coaching?
You may not realize it but I did offer a 16 week coaching program last year but this is basically a massive upgraded version of my coaching plan. I have learnt a lot since last year and I have learnt new techniques to teach and that's why I have totally revamped my coaching program and turned it into what I call a masterclass program now, it is going to be a lot, lot better than my old coaching program.
Do I need any sort of technical skills?
The answer is no, because that is what I am here to teach you. It doesn't matter if you've just got online today, I will show you step by baby step what you need to be doing, every week you just have to watch what I do and copy what I do, you just have to copy what I am doing. I couldn't make it any easier if I tried, so no, you do not need any sort of technical skills.
How much work/time would I have to put in each week?
Well on average I would say that you would have to put in no more than 5 hours of work each week. Usually only an hour or 2, some weeks will be more intense than others and there may be an occasional week where you have to work around 10 hours, but on average you would have to work between 2 and 5 hours each week. So if you have that sort of time to spare, you can easily do this program.
If I've already had success online, will I learn anything new from this?
The answer is yes! All I will say is if you are having some success online, you may find the first few weeks a bit slow, but remember that the course is 36 weeks long. By the time we get going and get into the advanced material I promise you that you will learn something from the program, even if you have already had success working online.
How do you deliver the course and do we really get to speak with you, 1 on 1 if we need anything?
I deliver the course each Monday at 3pm EST and it is delivered via PDF and online video just like what you are watching now, and I also have plans to do a series of webinars, some weeks these will be delivered live and you can ask me anything you wish, but I will also be recording them so just incase you miss any webinars they will be there for you to refer to in the future. So the course is delivered via PDF, Video and Live Webinar.
And do you get to speak with me 1 on 1 if you need anything? – Yes you do.
Now it must be something like an emergency situation, I'm not going to say you can ring me anytime, day and night because obviously I wouldn't be able to do that, but if you have a situation that cannot be resolved over the internet, via email or via the support system then you can ring me and I promise you we will get the problem solved!
Are there any limits to the number of places you are selling, and if so when is the deadline?
I have to limit places, obviously; I can't take on thousands and thousands of people. Whilst that would be brilliant and I would make a fortune I could not do that because quite simply I've got to dedicate my personal time to make each and every person a success. So naturally places are limited, if I don't sell all the slots I have I will have to close the page when I start training. So the page will probably come down on Tuesday 3rd February.
So it will either come down whenever I fill the training slots, or at the very, very latest, Tuesday 3rd February.
Now when I do fill my slots, if I fill them in the next day or two the page will be pulled without notice. In the past when I ran my coaching program my slots sold out in 3 hours, but I only took on a very small handful of people in those days.
Now I'm not trying to say slots are highly limited, but what I am going to say is I'm in a position now to take on a few more people because of my experience from training people from last year, what I will say is once the slots are filled I will be taking the page down.
So if you are interested I wouldn't hang around, just check out the page and see what I have to offer and if you got any questions, get in touch with me and I'll help you in any way that I can.
So I hope that answers all of your questions and I look forward to working with you.
[End of Video Transcript]
Click Here To See What All The Fuss Is About!
I'm afraid to say that I have a confession to make – my timing sucks!
With the whole broadband (or lack of!) fiasco that happened last week, one of the biggest launches that I've ever been involved in almost passed me by.
I actually thought it was this time NEXT week, so you can imagine my surprise when I checked the page and noticed the launch was actually TODAY, to say my heart sank a little would have been an understatement.
I had some great plans to sneak loads of information to you in anticipation for the launch, I was going to make a couple of videos, and then get you all to send in questions that I could ask on your behalf so you knew exactly what everything was about.
But with the Broadband situation as it is (it's all on the blog if you fancy reading almost 250 comments!), everything came to a stand still.
So what I suggest is this….
Despite the program launching today, I still think there's time for my "questions" idea. So what I want you to do is check out the product, and if you have any unanswered questions, leave a comment on this post with your question by this time tomorrow and I'll have them all answered in a blog post either tomorrow or Thursday.
Sound fair enough?
I'm sure I don't need to tell you what the product is, you will probably have heard about it already, but for any of you that are uncertain about what I'm actually talking about, here it is…
"John Thornhill's Marketing Masterclass"
I've already told you about my history with John Thornhill a million times, but to put it bluntly – if it wasn't for meeting John Thornhill 4 (or maybe 5?) years ago then I wouldn't be writing this post today.
John was the person that introduced me to Internet Marketing. All of the things listed below couldn't have been achieved without the help of John Thornhill:
– My mailing list of just under 10,000 people
– My hosting company that I run with my business partner (who I also met through John!); we are responsible for hosting almost 1,500 domains for clients all round the world
– My Boomerang List Builder Product
– My 20+ Websites
– My blog that has thousands of readers each and every week
To put it bluntly, John is the reason I'm able to make a very good living working full time on the Internet from the comfort of my own home.
If it wasn't for John who knows what I'd be doing today.
I know that sounds like a really soppy, stereotypical thing to say but it's 100% true. The day I purchased his "Own eBook Business" all those years ago was a defining moment in my life so far, and I genuinely mean that.
Jeez, I just read that back to myself and I think I need a sick bucket, I'm from Yorkshire, I shouldn't be saying those kind of things! 🙂
But I'm going to go against my better judgment and leave it all in because I don't know how else I can convey to you what he's done for me, and I'm not just saying this because he's launching a new product today, read back through all the posts on my blog over the years and you'll lose count of the amount of times I've credited John with getting me where I am today.
And believe it or not, I'm not the only person that John has helped break away from the 9-5, I know loads of people from all around the world that have benefited from John's guidance. (You might be one of them already!)
The person that I work with every…single…day…Paula Brett is a good example. Paula and I met on John's forum many years ago, and we formed D9 Solutions; a group that provides hosting and website solutions to businesses and individuals – without the help of John we wouldn't have been able to do this. He has been directly responsible for generating us thousands of dollars in income over the past 18 months.
I could go on, and on…and on, but I have my reputation to think of so I don't want to go too sentimental on you 😉
There is a reason for me telling you all of this though as it's related directly to the product he is launching today. (Tuesday January 27th)
John's new "Marketing Masterclass" course is the follow up to his incredibly successful coaching program that he discontinued last year. I know a lot of you took part in his coaching and had great success, but this is a step up – sort of like "John Thornhill's Coaching on Steroids"!
The Masterclass is a lot more personal than the coaching and takes place over 36 weeks, by the end of the course you should have been transformed into a successful Internet Marketer! (Assuming of course you are willing to follow his guidance and give it your all)
I'm struggling to find the words to describe how useful this will be to you if you are an Internet Marketer, so what I suggest you do is head on over to the website, have a good luck around, and then if you have ANY questions, no matter how big or how small, reply to this post via the comments section and I'll put them to John and then publish his responses on the blog in a couple of days:
https://elpassoblog.com/recs/John_Thornhill_Masterclass.php
The actual site won't open until 5pm EST (10pm GMT), but if you visit before then, do watch the video on the home page and enter your email address in the form provided. And don't use a bogus email address, there are times when I'd actually recommend using one but this certainly IS NOT it!
So as I said, check it out, and if there are any questions let me know and I'll put them to John for you!
Thanks for reading, and I'll hopefully be back with another blog post sometime next week when my Broadband connection returns to normal 🙂
Regards,
Dan
P.S. I really would like to thank all of you who are reading my emails and blog posts, and I am very sincere when I say that. John Thornhill has played a huge part in making my online business a success, but so have each and every one of you that are reading this, I couldn't do it without you, so many thanks for coming along on the ride!
Before I begin, if any readers are looking for the "1st post of 2009" article that I emailed you about yesterday, please click here to view.
Also, with regards the title of the post. I don't know if 186k are in any sort of financial trouble, hence the question mark. I am only assuming as I can see no other reason as to why Tiscali would pull the plug on them.
Now on with the post 🙂
I seem to be dogged by broadband troubles. Around 4 or 5 years ago I signed up for broadband with a company called "E7even" broadband. At the time they were offering state of the art broadband, with no upload or download limits for only £14.99 per month. They were by far the cheapest provider at the time so as you'd expect, they managed to pull in a lot of customers.
Everything was fine for around 2 years, until 1 day all E7even broadband customers awoke to  what I think they described as a "garden walled" page – please feel free to comment if my terminology is a wrong! It simply said that E7even Broadband were no longer able to provide Internet services for their customers, to put it simply – the money had run out.
So customers were presented with a couple of options:
1. Sign up with a company called EzeeDSL LTD (part of the 186k group) and be instantly reconnected.
2. Wait for 30 days until the line could be disconnected and then you could move to another provider.
Being left without an Broadband connection for 30 days would have been a nightmare for most customers, so as you can imagine, a huge percentage of E7even broadband customers went for option number 1 and signed up with EzeeDSL.
The price for the package was £5 more than the E7even package and came in at £19.99 per month for a connection with unlimited downloads and uploads. The only downside at the time was a forced 12 month contract, but with no other real options many people, myself included had no choice but to sign up.
During the next couple of years, the connection was fine. Support didn't exist and many people had trouble getting MAC codes, but I never really needed any support so it didn't matter.
During the time I was with EzeeDSL, or 186k Limited. They also "rescued" – there words not mine! A number of customers from other broadband service providers in the same way they did with E7even customers. 186k were starting to get a reputation for buying out smaller companies with financial problems, they were providing the broadband service for all of the following:
EzeeDSL
Elite Internet
Mailbox Internet
So….jump forward to January 16th 2009. Some (including me) 186k/EzeeDSL/Elite Internet/Mailbox Internet customers were awoken to the following notice from 186k's main provider – Tiscali. All former E7even customers should notice the screen 😉
You will no longer be able to access the Internet from this connection. It is essential that we move your existing Internet broadband connection to a new Internet Service Provider.

Tiscali Business Services is the underlying provider for this broadband line. Your Internet Service Provider (being 186k Limited, Elite Internet Services Limited or Mailbox Internet Services Limited), has been delivering your service pursuant to arrangements with Tiscali Business Services. Unfortunately these arrangements can no longer be maintained and Tiscali Business Services needs to move your service to a new Internet Service Provider, to ensure continuity of your Internet connection.

Whilst we appreciate that this is very disruptive it is essential that we resolve this as soon as possible. To minimise the disruption to you we will re-connect you with a temporary user name and password whilst you arrange a permanent move to an alternative Internet Service Provider. Tiscali Business Services has made the necessary arrangements to assist you in transferring your service to an alternative Internet Service Provider as quickly as possible. The temporary user name and password will remain valid for a maximum of 30 days from the date of issue.

We do understand the inconvenience that this will cause. If you are happy with your underlying network provider we have been able to set up a straight-forward process with three internet service providers who use Tiscali Business Services' network. Each of these Internet Service Providers offers a full range of services including up to 16Mb packages (where available), a minimum 3 month contract and a variety of complementary services.

If you are a business with a single line where your email and hosting are not provided as part of your existing package of this line we recommend:

PIPEX BUSINESS – High performance Business broadband products from £14.50 per month exc. VAT, with the first 3 months free, if you commit to a 12 month contract. Please contact 0800 954 2857*.

If you are a business with multiple lines and where your email or hosting is provided as part of your existing package of this line we recommend:

NILDRAM – High performance Business Class broadband products from £14.50 exc. VAT, with the first 3 months free, if you commit to a 12 month contract. Please call 0800 072 0417*.

If you are not a business user and or do not need business style products we recommend:

freedom2surf – High performance broadband products from £13.70 inc. VAT, with the first 3 months free, if you commit to a 12 month contract. Please call 0800 072 0400*.

You are, of course, free to choose any alternative Internet Service Provider that you desire. If you do not want to use any of the three Internet Service Providers above, and instead would like to migrate to another Internet Service Provider, then please call 0871 265 7261** (calls charged at National Rates), or send an email with the following details:

Phone number that your broadband service is on
Your address
Your postcode

Send your details to mac@uk.tiscali.com – and a MAC code will be provided within 5 days. Unfortunately we are not able to fast track such transfers, and this transfer may take the standard 10 to 30 days.

If you are unsure of which option to choose or need more information please email us on 186kinfo@uk.tiscali.com and we will respond within 24 hours, or access our Frequently Asked Questions here.

*Phone lines open from Monday to Friday 8am – 6pm
**Phone lines open from Monday to Friday 9am – 9pm
It seems like Tiscali decided to pull the plug on 186k Internet.
So 186k/EzeeDSL/Elite Internet/Mailbox Internet customers are now in the following boat:
1. Sign up with 1 of the 3 providers listed on the holding page.
2. Call Tiscali Business Services and request a MAC code and a temp username and password
I have already selected option 2.
I called Tiscali Business Services at around 10.15am this morning and got stright through to an operator, I didn't have to go through a queue which was surprising. I got through to a very helpful chap that provided me with a temp broadband username and password that I can use for the next 30 days whilst I find another provider.
He also generated a MAC code for me that should arrive via post, in around 5 working days.
So all in all, despite feeling resentment towards 186k. I think a lot of credit has to go to Tiscali for the way they have handled the siuation. Back when the same thing happened with E7even, we were forced to sign up with 186k or go without broadband for a minimum of 30 days.
This time, at least Tiscali have given us 30 days of temp broadband access so we are able to choose our own provider if we wish to do so!
And just on a side point, if any of you are unsure about connecting to the Internet with your new Tiscali temp username and password. Feel free to leave a comment with your router name and model and I'll be happy to help you out!
So the only question that's left now is….Who should I choose for my new Broadband provider 🙂
I don't live in an LLU enabled area, but as far as I know it should be coming to us sometime in the first half of this year, so I don't really want to be tied into a long contract. So far on my list of potential choices are:
Any other suggestions?
I'm sure there will be a lot of traffic to this page, so please do feel free to leave any comments you may have. Loads of people reading this will be in the same boat as you so we should be able to help each other out!
Thanks for reading,
Dan
Happy New Year!
It's taken me a full 14 days to get back into the swing of things with a blog post, but I'm back with the 1st post of 2009.
I hope you all had a great Christmas and New Year. Mine was fairly low key but proved rather difficult to overcome, my initial plan was to go back to "work" on or around the 2nd of January but that plan never saw the light of day.
It was actually around the 7th or 8th by the time I came back online for a full day of hard graft!
I decided to give myself a nice simple task, just to get me back into the swing of things – I would update my very first Internet Marketing website!
After taking a quick look at the domain registration information, I can see that it was registered in April 2005, so the site is almost 4 years old now.
If it were a child then the site would be at the perfect age, I could buy it a Scalextric, teach it to play football, show him (or her, I'm not sexist) how to bring Daddy a beer – it would be great!
But it wasn't to be, whilst 4 years old is a great age for a humanoid, it's not a great age for a website. I'd probably liken it to hitting puberty, things that once looked so sweet and innocent slowly turned into hairy monsters that were no longer fit for purpose.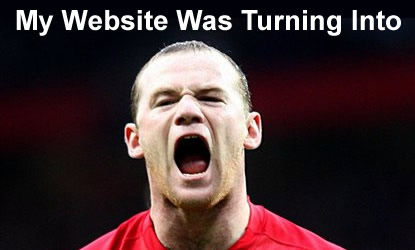 My poor 4 year old website was on the verge of getting a girl pregnant at the age of 16 – I couldn't let it happen. I put on my TLC hat and started stage one of "Save Dan's 1st Website".
Before I tell you what I did, perhaps I should actually show you the site. Voilà:
My very first marketing website, I actually acquired it through John Thornhill's eBook business program thingy (Click here for a $100 discount!). The website is fairly straight forward, I sell eBooks with resale rights for small amounts of money and the visitor also has the option to purchase a massive collection of books at a stupidly low price.
The El Passo Books site is actually based on a really, really, really, really old version of the website supplied in the eBook selling program. The website you get now contains newer eBooks and a fancy admin control panel so no web design knowledge is required, but I'd done a lot of SEO work on my old site so I didn't really want to "throw it away" and go with the newer site.
So I decided to inject some botox and do a sly nip & tuck. In real terms it meant going through the site, changing to a better delivery system (DLGuard) weeding out any eBooks that were no longer working and generally turning it back into something that was a little more desirable to the visitor.
I'll also come clean and admit to paying someone to check the eBooks and changing the payment buttons for me, but the job got done and that's the main thing.
The one thing I did do myself was to take advantage of my 404 error page, which incidentally seems to get way more hits than it should – curse you eBook thieves, you'll never find my stash!
So I created a small 9 day course showing people how they can sell the eBooks that they purchase from me. It's a freebie and appears at the bottom of each page on the site and on the 404 error page:
http://www.elpassobooks.co.uk/makeupyourownlinkandhavesomefunohyeah
I still have to go through the "All My eBooks" package and do some tweaking but I've got most of it done and it hasn't taken me too long.
I could have just written the site off as an old codger but like many websites, and I suppose many people as well, just because something is old in years doesn't mean you should underestimate it.
The site still gets a lot of traffic from Google on a daily basis, so I'd be doing a dis-service to myself if I put it out to stud and forgot about it.
After doing the changes, I already have some subscribers to the eCourse and I still see sales coming in each and every day. Thanks to me spending a couple of days of housekeeping on the site, it can live on for another year at least 🙂
So if you've got an old site setting there collecting virtual dust, get the cleaner out and spruce it up a bit, it's a lot easier to tweak an existing site compared to building a new one from scratch.
And just as I finish typing this, a sale has come in from my El Passo Books website for £2.99, I think I'll go and buy a bank!
Thanks for reading, and as always, comments make the world go round.
Regards,
Dan