I have a promotion for you all, but unlike some marketers out there, I do actually know all about the products I'm promoting 😉
And just to give you a little more insight into this product than a regular "pitch" email would, I've put together some screen shots of the members area and I'll show you exactly why this product is so different to anything else you will have been pitched before.
So the product in question is Platinum Resell Rights by Aaron Danker. I've known Aaron for ages and promoted tons of his products in the past, any of you that have purchased any of Aaron's products will know that he always produces the goods.
But don't take my word for it, keep reading and you can see if with your own eyes!
Now Platinum Resell Rights provides you with brand new resell rights products to sell every month, complete with sales page, promo emails, and the product – nothing out of the ordinary there. There's a million and 1 sites on the net that do that.
But what makes this so different, is that providing you with the products to sell is just the beginning. Aaron actually wants you to sell the products! He doesn't just provide you with a product each month, he shows you EXACTLY how to sell them, and how to maximize your profits from each and every sale.
There's mind maps, video tutorials, getting started guides, tutorials on how to do the technical stuff and so on. Take a look as I strip it down for you.
First off we have the obligatory product downloads, you can download the product, the ready to go minisite, and the pre-written promo emails. You get a new product each month and you also get access to the previous months product to download.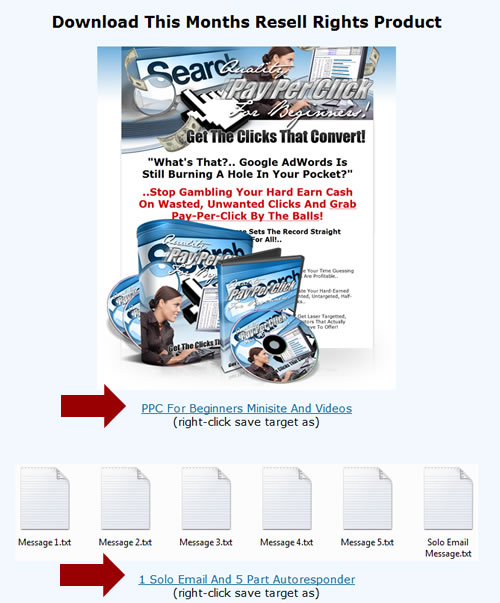 There's also 3 bonus reseller licenses for 3 popular minisites that you can download, again, complete with pre-written promo emails. There are only 2 in the screen shot because I couldn't fit the 3rd on the screen, but take my word for it, there's 3 😉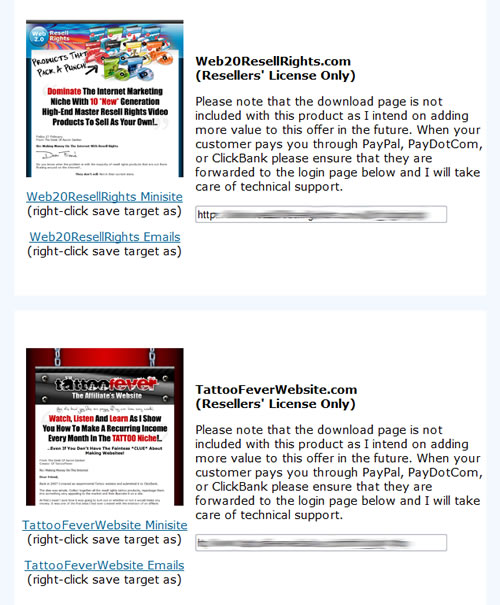 Then we come to the interesting bits, not to say the products aren't interesting, they are great. But this is what sets Platinum Resell Rights apart from the competition.
First of all you have a reseller guide that provides you with the basic information you need to get started.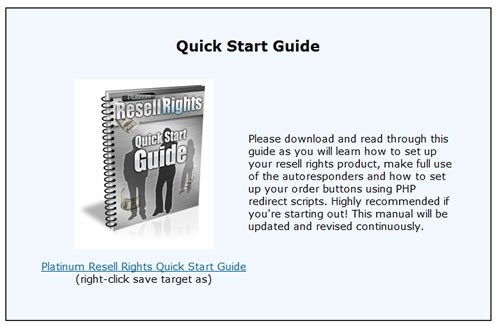 Then, if you click on the "Member Training" link at the top of the members area, you get taken to a very special part of the site!

You are provided with a VERY comprehensive, step by step guide that shows you exactly how to profit and sell the products that Aaron provides you with. It's perfect for newbies and "veterans" alike!
For example, take a look at a sample mind map below. I've had to blur out the details to make it fair on the paying members but you can get an idea of how much time and effort has gone into putting this together.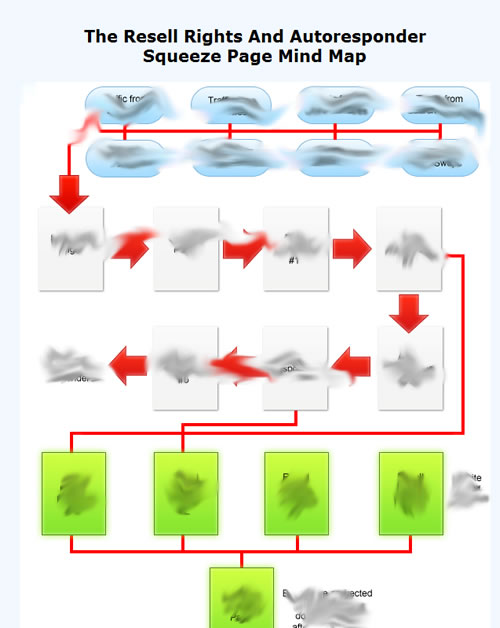 The information in the training area will not only show you how to sell the product, but also how to profit from it on the back end. Take a look at an example guide below.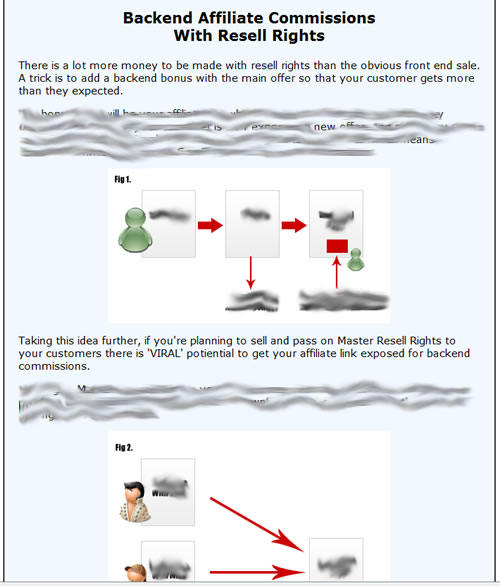 You might actually be thinking you probably know all this, the only thing you struggle with is driving traffic to your site….
Well, don't worry, Aaron has that covered as well 🙂
How does a collection of traffic generation ideas sound to you?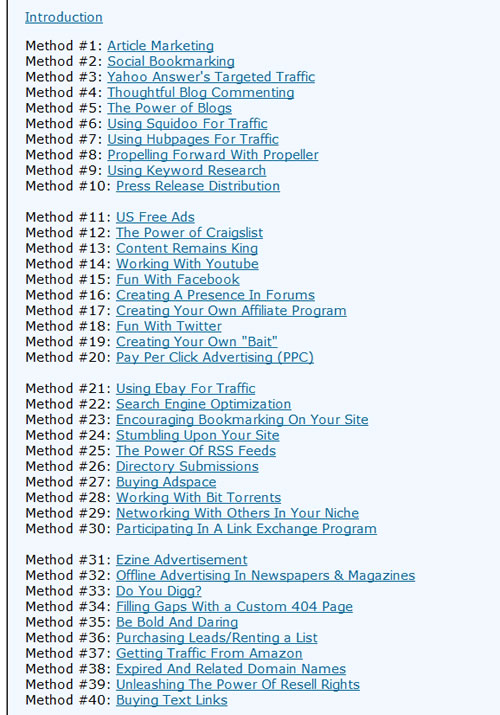 All of the above is included in the package, you don't have to pay extra for any of it. Everything I've shown you today is included in the basic membership.
And now we get to the part I'm sure a lot of you have been scrolling through and trying to find – the price. Well, it's ISN'T free, but how about this for value – you can try it now for just $0.01!
For just 1 cent you get 30 days access to Platinum Resell Rights, you have full access to everything I've shown you on this page. If after 30 days you want to carry on with the membership and receive a new product each month, it's only $27!
Just one sale of any of the products would cover your hosting fees, as well as the membership fees so I think it's at least worth giving it a try.
So I'd advise you to head on over to the site, take Aaron up on his $0.01 offer and see what you think.
— Click Here To Try Platinum Resell Rights For Just $0.01! —
As always I'm here if you have any comments or questions.
Good news, lambing time is almost over! The bad news is that now it's time to reseed (is that how you spell it?) some fields so I have mind numbing days of sitting on a bumpy tractor seat to look forward to. But on the plus side I did find an i-pod Nano on a footpath that some careless walker dropped so at least I have something to listen to whilst I do it.
Yes, farmer talk ladies and gentlemen, farmer talk. If you type exactly what's in your head does it make things more readable, I think it does.
Here, have a picture of a sheep and new born lambs: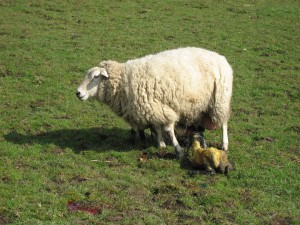 If you think the gunge looks tasty, it isn't.
For those of you that love structure I apologize, but writing an introduction is always a bit of a stumbling block and I can't not have an introduction, it just aint right!
Have a picture of the Tina Turner concert I went to on Saturday. If any of you get chance, BUY TICKETS to the remaining shows, probably the best live concert I've ever been to and I wasn't exactly a huge fan before I saw her live.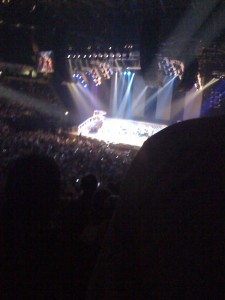 And if you do go to one of the remaining shows, take a good camera with you. Mobile phone cameras just don't cut the mustard.
Phew, the introduction is done, and I've managed to write it without giving you any clue whatsoever as to what this blog post is about, great introduction Dan, great introduction.
**End of BS (maybe), start of content**
When you are starting a new project, be it a website, or a new product, what do you think of first? Do you think how the project is going to make you money, or how the project will benefit the people it's designed for?
When I look around, I see a lot of people take the money making idea and then try to build a site/product around that without giving much thought at all to what website visitors actually want from the product/service.
Should you provide the product/service first and then think about the ways of making money from it after?
That's what Google did.
I remember back in the day when Google didn't have adwords or adsense. They had millions of users because they provided a great service, but they didn't start making money until bright spark in California came up with the paid advertising idea.
The same goes for pretty much all of the top sites on the Internet – Facebook and Twitter just to name a couple of them.
But if you don't have an idea of how to make money from the site, then you may end up with a site/service that gets loads of visitors and as such your costs go through the roof and as you have no "money making" plan the awesome service you provide isn't sustainable.
I'm rambling, I have a point in my head but I'm failing to get it across.
So I'll turn to examples that we can all relate to.
Butterfly Marketing (BM) seems to have a buzz around it at the minute, and I'm sure a lot of you jumped on the BM 2.0 freebie offer, so I'll talk about Butterfly Marketing sites.
If you are new to this, the BM model, if you strip it right down to the basics is this:
1. Give away product for free in exchange for email address
2. Show visitor special offer after they enter email address
3. Some will buy, others won't
That's it, in a nutshell.
The system works, simple as that. BUT only if you put thought into the service you are actually offering, if you use the Butterfly Marketing system as the "money maker" and then throw in some shoddy product as the "service" you are delivering to the customer it won't work.
People don't just want any old crap from you, they don't care what system you are using. All they care about is what they are going to get out of it, give them a botched up package of resell rights products you sourced in 30 minutes won't cut it.
You need to spend the time researching, planning and implementing what you are going to deliver to your visitors and the money will come.
Here's another real life example, this is (probably) one of the most successful Butterfly Marketing sites out there:
https://elpassoblog.com/recs/free_website.php
It's successful because the creators of the site thought about how they could provide a service to keep the customer coming back for more, rather than looking at it from a purely financial point of view. And because they provide such a good service, everything else falls into place and I'm sure it makes them a very good amount each and every month.
Am I getting there yet…..no…..I think I've got out of the way of writing, give me a couple of blog posts for me to get back up to speed 😉
Instead of rambling, I'll sum it up in 1 sentence.
Think about providing a good service to the website visitor, if you do, the money side of things will fall into place, provide them with a crap/product service and they'll click away from your site and go somewhere else to find what they are looking for.
It's something I do feel quite strongly about, too many times I find myself looking on Google for information and rather than clicking a link and finding what I want, I'm presented with some BS marketing page that has no relevance to what I'm looking for.
Stop destroying the Internet Marketers! (double meaning, and it wasn't intentional)
I might even give you a real life example of my own next week, you've probably heard me mention this before, but my most profitable sites provide top quality information that the visitor is actually looking for, and a single one of these sites has made well over $20,000 in just over a year – it can be done!
And that brings to an end a pretty terrible blog post from a purists point of view, but there are some points in there. You just have to do a bit of digging around to find them 😉
Many thanks for reading, and I promise the next blog post will be better!
Dan