To Helpdesk or not to Helpdesk…That is the question!
Hello and welcome to this week's newsletter. Although I suppose it's not really a newsletter is it, the correct term would be "ezine" but I think that newsletter sounds better, plus it doesn't throw up a typo in MS Word every time I type it 😉
That's enough foreplay for now; let's jump straight into the good stuff. This week I am going to be looking at the importance of a helpdesk system, and I after you have read through the article I would like you to tell me if I should go for a helpdesk system or stick with my email support!
I recently saw the thread below on a popular marketing forum:
http://www.warriorforum.com/forum/topic.asp?TOPIC_ID=108339
Having read through the post I get the impression that sellers are in favour of a helpdesk system but buyers would prefer direct email communication.
As a seller I am currently using email support for all of my projects – no helpdesk! However email is now becoming more and more unreliable what with all of the Spam filters now in place, you can never be 100% certain that an email you sent out has reached the recipient.
Also, from a sellers perspective the amount of Spam received on a daily basis can actually make you miss out on genuine emails. At the time of writing I have been online for just under 3 hours today, but take a look at the screenshot below and look at how much Spam is already entered my inbox: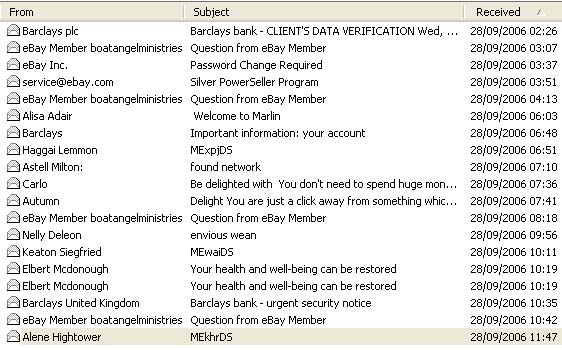 As you can see there are a few spoof ebay and paypal emails in there so it is getting increasingly more difficult to find the genuine ebay and paypal emails.
So, how would a helpdesk improve my customer service? Well for a start I wouldn't have to worry about the problems above, the helpdesk would mean no more Spam for me and no more messages getting lost in the crap! The helpdesk would also keep a record of the conversation between the seller and the buyer in one centralized system. This is invaluable when you consider that some email clients don't include the original email body in the "reply to" emails.
Can you imagine the conversation below, I'm sure it will ring a bell if you sell online:
Sent on Monday by buyer:
Hi, I have lost my password, please resend.
Sent on Tuesday by seller:
Hello, please can you give me your paypal email address
Sent on Friday by customer:
bob@aol.com
But the customer doesn't include the original email with his message, so I receive an email saying bob@aol.com but why is he sending me the email address? It's now been 3 days since our last correspondence and I have forgotten why he sent me his address.
I then have to reply and ask why he sent me his address, he then gets angry because he thinks I am "fobbing him off" and both parties are unsatisfied with the service.
A ticket system would keep track of all correspondences between both parties so it would defiantly help overcome that problem!
Going back to the original Warrior Forum debate, the main reason people are anti-helpdesk seems to be the quality of support received, not the actual helpdesk. But wouldn't the support be as bad if they used email instead of tickets? At the end of the day it would be the same person/people replying to your email!
From my experience I have had both good and bad support from both email and ticket systems. I don't think the ticket system automatically equates to rubbish support!
So, my question to you is this:
"As a customer do you prefer a helpdesk or email support?"
Looking at it from a sellers (me!) point of view I am currently leaning towards getting a helpdesk system in place but I would like to hear your (the customers) views.
Please leave your replies in the comments section; I look forward to reading them!
Thanks for reading,
Dan
Profit from Amazon "aStores"
Hello and welcome to this week's newsletter. This week I am taking a change in direction, I will be looking at how you can both profit and save money by using an Amazon "aStore". You don't need a website with loads of traffic or some huge hosting package!
Let me give you some quick background information about Amazon's new "aStore" tool for Amazon associates.
The Amazon astore allows associates of Amazon to run their very own web store with your own custom shopping cart without directing users over to the main Amazon site. This allows you to run your own independent online store without paying for stock or hosting fees. (Everything is hosted and managed by Amazon)
You get just over 5% commission from Amazon for all sales that you make from your astore. This rate will increase depending on how many items you manage to sell.
Setting up your own Amazon aStore couldn't be easier; everything is managed via a web based control panel. You can fully customize your store with the items you want to display; this is very useful if you want to create a store that is targeted at a specific market. You can also define all the colours and layouts of your store.
This week I have created two of my own aStores, one for amazon.co.uk and one for amazon.com. At present you can only create one astore for one affiliate account but Amazon have a new feature planned that will allow you to create multiple aStores in the future from the one affiliate account.
Take a look at my two aStores, one is aimed at Children and the other is a computer games store:
El Passo Kids (I can see a new brand coming…)
http://www.elpassobooks.co.uk/kids.htm
El Passo Videogame Shop:
http://www.elpassobooks.co.uk/PSP2/shop.php
Both are made using the same method, but I have put the Videogame store in an iframe so that it opens within my website, rather than as a standalone page.
As I said before, you don't need to have your own website or hosting package to open up your own Amazon aStore. You could open your own store and simply promote it in your email signature or via relevant Internet forums.
I know a lot of you sell e-Books, so why not offer hardback versions of related books to your e-Book customers. All it would take is a simple line in a winning bidder email saying something along the lines of:
"Thank you for purchasing an E-Book. You may also like these related products…."
And direct them to your Amazon astore.
Maybe you have a site on crafts and hobbies. Why not increase your revenue by creating an aStore full of craft and hobbies products?
The possibilities are endless; those were just a couple off the top of my head. If you would like to share your ideas feel free to leave a comment at the end of this post.
Setting up your own aStore is simple, just sign up as an Amazon associate (it's free!) and click on the big aStores link in your affiliate control panel. Sign up links are below:
Amazon UK Associate Sign Up:
http://associates.amazon.co.uk/join/026-3607224-4812459?%5Fencoding=UTF8&tag=elpassobooks-21&linkCode=sb1
Amazon USA Associate Sign Up:
http://affiliate-program.amazon.com/join/104-3420533-7894354?%5Fencoding=UTF8&tag=elpassobooks-20&linkCode=sb1
Hopefully this week's newsletter will help you bring in a new dimension to your online ventures! If you set up your own aStore feel free to leave your URL in the comments section – I don't mind giving you a quick plug and a back link!
I hope you enjoyed the newsletter, as always feel free to leave me any comments!
Regards,
Dan
The Power Of Brandable E-Books
Another week and another newsletter! This weeks newsletter almost didn't make it, monsoon season seems to be hitting North Yorkshire and as well as giving us endless power cuts, this morning it decided to hit our local broadband exchange 🙁
Luckily we seem to have power back for the time being so I'm going to be trying to do this week's newsletter for you!
It's 2.00pm and it looks like the calm before another storm everywhere is nice and dark as illustrated in the picture I just took below. If I make it to the end of this week's newsletter I'll take another one for you 😉
Anyway, no more North Yorkshire weather reports for you, lets get on with this weeks newsletter. This week I am looking at the remarkable Power of brandable e-Books.
A quick background to brandable e-books for all of you unfamiliar with the term. Brandable e-Books are e-Books that allow you to "brand" the product with your own affiliate links. So for example, you could have an e-book that is about creating your own software product, and at the end of the book there could be a link to some related software. A brandable e-Book would allow you to encode the link to the product so that if someone purchased, you would get a commission for the sale. Not bad considering all you had to do to make the sale was sell/giveaway the e-Book.
Now, in theory that sounds all well and good, but what about in the real world – does it actually work?
Short answer – YES
The thing that made me create this week's newsletter was a small $4.55 payment into my Clickbank account earlier this week. The payment wasn't for a product that I promoted, or one that I had created myself. It was someone else's e-book that I was able to brand with my affiliate link, I then simply made the e-book available to download from my website and from then on I have been receiving $4.55 payments into my Clickbank account on a regular basis – for doing virtually no work at all!
I'll even give you a free download for that particular e-Book so you get a better idea of how everything works:
http://www.elpassobooks.co.uk/Ebooks/affiliate_success.zip
As an e-Book author I am a firm believer in branding my e-Books. I fell that it gives resellers more opportunity to make more money from the e-book, aside from the fee they receive from the sale of the e-book; they also get the chance to make backend sales from the affiliate links within the e-book.
Once you have branded an e-Book and you start to distribute it, I always give out resale rights, this means that the e-Book you branded then gets handed around the Internet like wildfire. Every time someone reads that e-Book there is a chance you will make an affiliate commission!
The example I gave was an e-Book that promoted a low priced product, however most will give you a generous commission. Take a look at my latest creation (and yes, it's 100% brandable and resalable!)
If you click on the image to enlarge it, you will see that I have highlighted a link in the footer of the document. The e-Book allows you to brand that link so it is your very own affiliate link. As the link is in the footer you have your affiliate link in every single page of the document! If someone clicks on that link and purchases the full Auction SOS! Product then you (or whoever branded the e-book!) receives $23.50 into your paypal account.
Cheap plug for the product:
The Making of Auction SOS! – Brandable Report
Not bad for simply selling or giving away a single e-Book.
I hope that you enjoyed this weeks newsletter, apologies if it seems slightly rushed but I have visions of the electric going off and me losing everything! If you have any questions or comments as always feel free to use the comments section below.
As promised, it looks like I made it to the end of this week's newsletter in one piece, so here is a follow up picture! It's not as dark as the first picture but now it's raining and we still have power…for now!
Until next week,
Dan
How to organize your emails
Hello and welcome to this week's newsletter. This week I have decided to take a break from the usual eBay related material and focus on something that I am sure affects most of you – email management.
With the amount of Spam and junk we all receive you really do need to have a system in place that filters out the junk and then moves your genuine emails into relevant folders.
I am going to show you exactly how I do this using Microsoft's Outlook Express, you can do the same in Outlook but the layout is slightly different. You can download Outlook Express for free at the link below, or you can purchase Microsoft Office if you are looking for a full office package.
Outlook Express free download:
http://www.tucows.com/preview/194179
Buy Microsoft Office:
Now that you have got Outlook or Outlook Express (OE) installed let me show you how to manage your emails.
First let's look at how to get rid of the Spam! First I will give you a VERY quick lesson on how computers work in the most basic form possible.
Computers can recognize the following commands:
IF – THEN – ELSE
So if we were to write a quick line of code in structured English to solve our problem it would look like this:
IF email contains the word "Viagra"
THEN move to "Spam" folder
ELSE Leave email in inbox
That means if the computer finds the word "Viagra" in the body of the email it will move it to the Spam folder. That's all well and good but how do we put this into action?
Follow the instructions below and I will show you how this is done in Outlook Express.
1. Open up OE and Click on Tools > Message Rules > Mail > New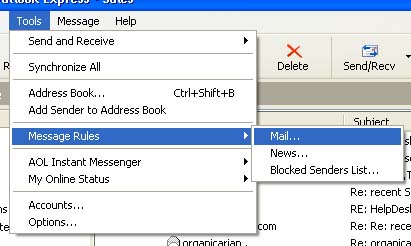 2. Check the box that says "Where body contains words" and then Click on the blue text in box 3 that says "Contains Specific Words"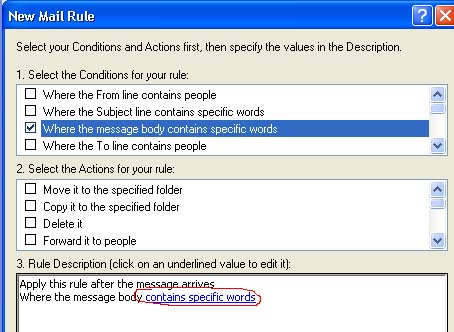 3. You can then enter as many "Spam" words as you like. So for example you would enter "Viagra" "Medication" "Sex Drive" etc. Once you have entered your list of words click "OK"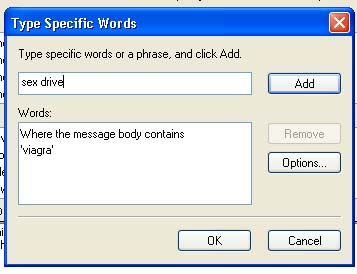 4. Now you need to send all messages that match those criteria to the deleted items folder. So in box 2 Check the box that says "Move to specified folder"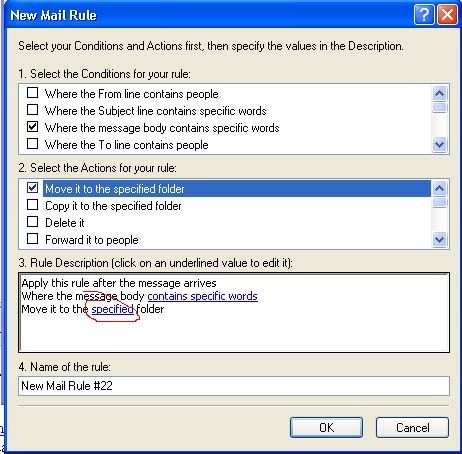 5. In box 3 click the blue text that says "Specified Folder". You can then choose which folder to move the emails to that match the above criteria, for this example I will use the deleted items folder but you could always create your own folder called "Spam" and move the emails there instead.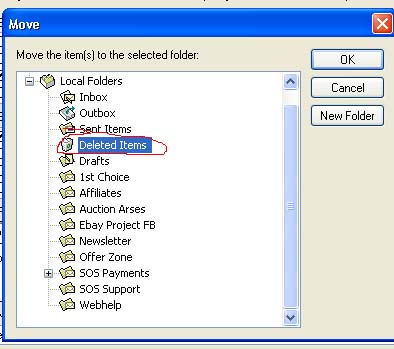 6. Click on "OK". Name your message rule and then click "OK" again and your rule will be saved.
So what exactly have you just done?
You have told Outlook Express to move all emails that contain the words "Viagra" "Medication" "Sex Drive" to your deleted items folder. That way all of the usual Spam emails won't be taking over your inbox causing you to miss out on genuine emails.
Do be careful though, you may have some genuine emails come through that contain the "trigger" words so they would also be moved to the deleted items folder, so it's probably a good idea to check your deleted items folder once in a while to see if any genuine emails have gone through.
That's all for this week. What did you think of the change in direction from eBay to random email management? Do you want me to go back to my eBay based emails or would you rather that I tackled a wider subject base? Let me know by leaving a comment.
You might also notice that I made a mini Steve Irwin tribute post below. I know a lot of you may think he was just a wacky TV presenter but he did an amazing amount of conservation work and genuinely cared about Wildlife and the environment.
The world has lost a great man and my condolences go out to his family. I saw that the Discovery Channel will be opening up a Steve Irwin charity that will go towards the running of Australia Zoo and providing his children with a good education. No news on when this will be opened but I will do a blog entry to let all of you know so you can donate if you wish.
I'll close this weeks newsletter with a moving video tribute to the worlds greatest Wildlife Warrior.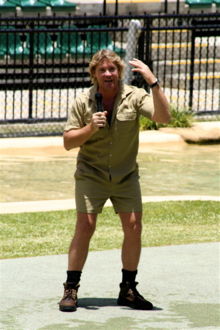 Steve Irwin
1962 – 2006
Just a very quick Blog entry to express my sadness at the passing of Steve "Crocodile Hunter" Irwin, who was killed today by a Stingray whilst filming off the coast of Australia.
Steve Irwin was a great man and did a lot for wildlife conservation around the world and helped bring everything "Mainstream". His passion for the animals he was filming was evident to see and he was truly unique. Steve may be gone but I hope his conservation message lives on.
I don't know if there is a Steve Irwin fund set up yet but if I here any news I will make sure that I post it here on the blog. I'm sure I won't be the only one willing to donate something to such a good cause, let's keep the conservation going!
RIP STEVE