Just a quick post for you today regarding John Thornhill's
Masterclass coaching program. If you head on over to the sales page
today, you'll notice John has added some payment plan options, so
if the lump sum is too much, these will be great for you.
BUT…..
DON'T take advantage of the payment plans before emailing me, I
*MIGHT* be able to do a cheaper deal for you. That's all I dare say,
but "nudge, nudge, wink, wink", contact me for more details – nothing
like a cryptic post to start the day off 😉
My bonuses are also still live, so if you want a discount, and all
of my bonuses:
http://johnthornhills.com/marketing_masterclass/bonuses.php
Just use the contact link at the top of the page to get in touch with me.
And all of you that are asking if I'm going to get an iPad? I'll just wait till
they come out with a sleeker version… the iTampon 🙂
Regards,
Dan
As promised, I come with details of bonuses! Not just any old bonuses either, you wont find these John Thornhill Marketing Masterclass bonuses anywhere else, they are totally unique and exclusive to me.
You'll probably know that most bonus packages will consist of some resale rights products, with a jazzed up sales page, free of charge, you may even get some PLR articles and 10,000 free pats on the back….but YOU SHOULDN'T CLAIM THEM.
Not if you are planning to take on John Thornhill's Marketing Masterclass program anyway, and here's why.
You are going to be taking part in a 36 week Coaching program, where you'll have various tasks to undertake along the way. Each task will require you're effort and concentration, you wont have time to look at your bazillion free eBooks and PLR reports, never mind do anything useful with them!
That's why my bonus is totally different, it's not just some random resale products thrown together at the last minute, this bonus is designed to complement John's Masterclass course. So you'll be taking the Masterclass course, but you'll be using my bonus package AT THE SAME TIME!
Allow me to explain in graphical form: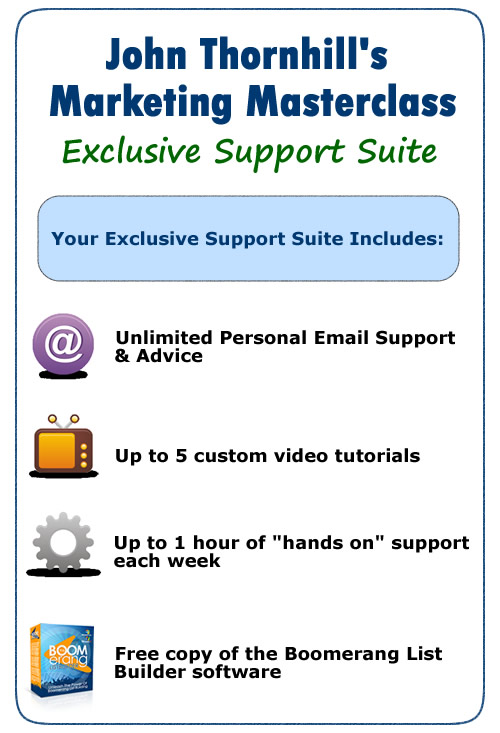 I should have been an artist…..or maybe not :-/
Allow me to explain a bit more about the bonus.
The bonus I am offering, is an extra support package that will be used as you go on with the coaching, that's not to say you don't get support from the actual coaching you – YOU DO, and you get lots of it, but there are times when you may get an answer, but you still aren't 100% sure what to do, or you still need more advice, or simply a 2nd opinion, and that's where my bonus comes in.
Remember that I have full access to the Masterclass Program, and have worked with countless students who have taken then course in the past, so I know the course like the back of my hand. I'm also a professional, fully qualified, "tech guy". Don't believe me, take a look at the image below: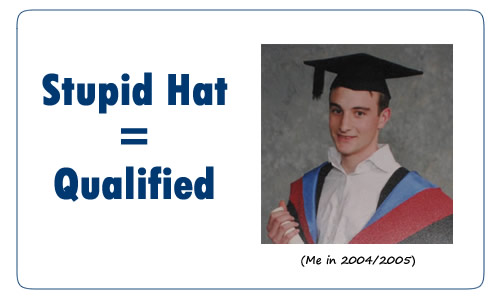 Here's what each section of my "Support Suite" is all about.
Unlimited Personal Email Support & Advice
This is the most popular support option (or it has been when I've offered it in the past).
I'm offering you the chance to get me help and advice via email, for the full duration of the course. If there's anything you don't understand, need clarification on, or just need some general advice on a certain part of the course, drop me an email and you'll have a response within a few hours.
Any of you who've emailed me for support in the past, know that I deliver!
Up To 5 CUSTOM Video Tutorials
This is going to be hugely popular, I can sense it!
During the course you may run into some annoying technical thing that you just can't get right, it may be that you are having trouble positioning an opt-in form in the header of your blog, or you just can't get the formatting on your sales page right, but you really need to know how to do it!
All you need to do is get in touch with me regarding the problem, and you'll get your video own video tutorial, where I show you exactly what needs to be done to rectify the problem, and how you can solve it yourself in the future.
These video tutorials are created on request, and are EXCLUSIVE 1 to 1 videos, nobody else will have access to them, only the person that requests the video.
Hands On Support
I'm also offering a full hour of my time each week, for "hands on support".
This allows you to take advantage of my experience of all things technical. All you need to do is get in touch and say:
"Dan, Why is my blog throwing up a 500 Internal Server Error message, can you fix it, my head is going to explode."
And my response will be:
"Hi Billy-Bob, I've fixed the problem for you."
Of course, you can contact me to fix any problem that requires some "hands on" assistance, it doesn't have to be a 500 server error, but you get the picture. The hands on support allows you to contact me 24/7 to fix any issues you run into, this covers absolutely anything in the course – hosting, email, mailing lists, sales pages, html, css, and so on.
So in total, you've got my "hands on" service for more than 36 hours, if you were a business, and were paying for my "hands on" help, it'd cost you £1,800 (£50 an hour), but you are getting it for free, so take advantage of me 😉
Free Boomerang List Builder
This is ONLY AVAILABLE IF YOU WILL ACTUALLY USE IT.
I wasn't going to give away a copy of the BLB, but figured it would be a bit mean if you really did want a copy and I didn't throw it in, but I'm only going to give it away if you are actually going to use it, I don't want it to turn into any of those other products that you've got sitting on your hard drive that will never see the light of day.
If you feel it'll distract you from the course, then I'm happy to hold it back until after the course has finished, and give it to you then.
So there you have it, full details of my bonus offer. I can't decide if I'm stupid for offering so much of my time or not, but I'll just have to see how it goes. If I get too many takers then I may pull the offer – there's only so much time in a day, so please do get it whilst you can.
Here's how to claim:
1. Join John Thornhill's Marketing Masterclass program by clicking here. <—— You MUST click that link, if you don't, you may not be eligible for the bonus (It launches on Tuesday, January 26th 2010)
2. Forward your receipt to: helpdesk@elpassoenterprises.com
Or use the "Contact" link on this page – they both come to the same place 😉
3. I'll then send you all of my contact details where you can get hold of me, the contact details are exclusive to this bonus, and all come directly into a priority inbox, so you get right to the front of the queue – no waiting for a response.
I think that's got everything covered, all that's left is for me to do, is to nudge you towards my Marketing Masterclass resource site if you need more information on the course:
More Marketing Masterclass Info
And do please leave a comment if you have any questions.
Regards,
Dan
Hello, greetings, welcome to another blog post. I'm sure you are already "in the loop" about these things, but if not, here's what I have to report.
John Thornhill is launching his 2010 Masterclass Coaching program in 6 days time (26th January), and if you cast your mind back to last years launch, you know it's going to be huge.
You'll also remember how I told you that John's coaching would be the only coaching course I would EVER promote, and that still is the case. John got me started in Internet Marketing business back in 2005, and we've worked closely ever since, so I know he's the real deal, and I know that having him as your mentor/coach/friend is a chance not to be missed.
So you have forewarning, I shall be promoting the product pretty hard, but I make no apologies for it. I've seen the results that the course produces, and I know it works.
But here's where it gets interesting, I'm not going to be doing the usual promoting methods, rather than sending out standard "hype" emails, I'm also going to use my experience of the course to provide you with the information you need. I'm not just an affiliate promoting the product for a commission, I actually have first hand experience of the course!
To start off with, have a read through the following site: (It's not an affiliate link, but a link to a mini-site I've created)
John Thornhill's Marketing Masterclass
The site has been put together by me, and on the site I'm going to answer any questions you may have regarding the program, and I'm also giving you a lot of background information that you can use to make a decision before making any purchases.
It would also be very rude of me not to mention the free report that's currently on offer over at the official Marketing Masterclass website. The report is titled "Why You Will Never Succeed Online", and it's been written by John as part of the pre-launch. It's a good read, if a little different, but you can check it out here:
http://johnthornhills.com/marketing_masterclass/exit/
That's all for now, I'll have more info in the coming days, but if you do have any questions about the coaching please feel free to leave a comment and I'll do my best to answer for you.
Regards,
Dan
The subject for this blog post sounds like one of those delightful spam emails we all receive doesn't it?
But luckily for you I haven't changed career paths to become one of the Norths leading Viagra suppliers to hill farmers, they'll have to wait for their little blue pills, because I've found something far more lucrative.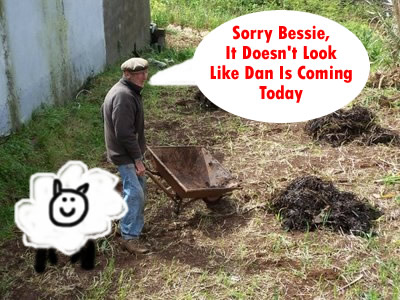 Over the past month (6th Dec – 6th Jan), I've made $580 in affiliate commissions from a single product, just by sitting on my backside twiddling my thumbs. I've genuinely not done a single thing in the past month to promote the product, no emails, no blog posts, no articles – nothing!
I've made these commissions using something I like to call "The Leech Method". Although to be honest I have a feeling the method may not actually be mine, and I read about it somewhere, so if you are reading this and you are the creator of the "Leech Method", good for you, it works!
Before I go on, here are the commissions for the "Multi Profit Websites" product for the 1 month period: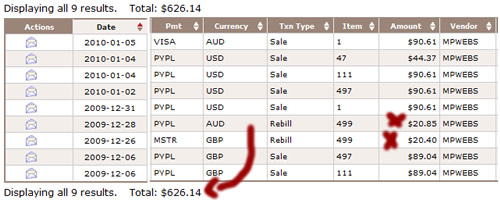 I've highlighted 2 rebills which came from my initial promo back in November, so I've taken them off the total, bringing the total commissions for the month down to around $580.
And here's how I did it….
It all started back on October 13th with the following blog post:
https://elpassoblog.com/multi-profit-websites-lets-go-robot/
Multi Profit Websites was due to launch on October 27th, so I created a blog post showing a demo site that I had created using the software and gave an overview of the product. I then emailed you guys to show you it, so I gathered some interest that way, but, and I'll be honest and say this was the main reason for the post. I knew there was no competition on Google for the phrase "Multi Profit Websites", so a well written blog post would get me onto the first page in just a few hours. (And it did)
Fast forward to the 21st October, 6 days before the launch of Multi Profit Websites, and I wrote the following post:
https://elpassoblog.com/multi-profit-website-bonuses/
It was posted for the same reason as my 1st post, to gather interest in the product, but also to get another link on the 1st page of Google.
That's the only promotion I did on my blog, so I managed to kill 2 birds with 1 stone, I got you guys interested in the product, and I also got 2 pages on the 1st page of Google. But I wasn't finished.
You'll remember in the 1st blog post, I showed a demo site that I'd created using Multi Profit Websites. The site was hosted on the main multiprofitwebsites.com domain:
http://www.multiprofitwebsites.com/usersites/elpasso/
I wasn't the only person who could have taken advantage of this, loads of people had demo sites up on the domain, but very few chose to utilize this.
I knew that if I got a couple of back links to that site, I'd automatically get the number 2 spot on Google, directly under the official multiprofitwebsites.com site.
So I wrote an article, submitted it to ezinearticles and hey presto: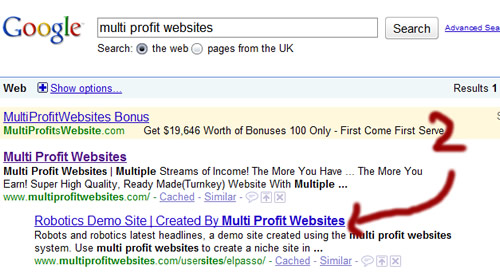 Finally, I created a quick mini site using the domain http://multi-profit-websites.net
On the mini site I wrote about the product, showed off my demo site, added some related videos and….well, take a look!
So all of these different sites were on the front page of Google at one point. I've just taken a quick look and I still occupy the following positions on Google for the search term "Multi profit Websites":
#2
#5
#6
#7
#11
That's great, but how do these sites keep making me a commission whilst I plan my move into the Viagra niche?
Multi Profit Websites is a very popular product, and loads of affiliates promote it. So each time an affiliate promotes MPW, they make the product known to a new buyer. A lot of these buyers will research a product before buying, and what do they use to research? GOOGLE!
All I'm doing is leeching off the other affiliates work, I let them do the leg work, and I close the deal by providing the content that the potential buyer is looking for.
And that final point is very important. MPW is a great product, so it's very easy for me to write about, I have tons of experience using it, so I can put my view across very well on the product. What you shouldn't do is pick any old product, and simply rewrite the sales page, or fill the pages with any old crap.
Give the potential buyer the information they are looking for. If you are finding it hard to enthuse about the product, then there's a good chance the product is actually pretty crap, and you don't really want to have anything to do with a bad product….and as I write this it's snowing cats and badgers, so I'd best sign off before the power goes!
So that's everything covered – "The Leech Method".
As always, let me know if you have any questions, thoughts, etc, etc, etc.
And if you want a big discount on the normal MPW price, you can get one by going through the following link:
Multi Profit Websites Discount
Regards,
Dan