As promised, I come with details of bonuses! Not just any old bonuses either, you wont find these John Thornhill Marketing Masterclass bonuses anywhere else, they are totally unique and exclusive to me.
You'll probably know that most bonus packages will consist of some resale rights products, with a jazzed up sales page, free of charge, you may even get some PLR articles and 10,000 free pats on the back….but YOU SHOULDN'T CLAIM THEM.
Not if you are planning to take on John Thornhill's Marketing Masterclass program anyway, and here's why.
You are going to be taking part in a 36 week Coaching program, where you'll have various tasks to undertake along the way. Each task will require you're effort and concentration, you wont have time to look at your bazillion free eBooks and PLR reports, never mind do anything useful with them!
That's why my bonus is totally different, it's not just some random resale products thrown together at the last minute, this bonus is designed to complement John's Masterclass course. So you'll be taking the Masterclass course, but you'll be using my bonus package AT THE SAME TIME!
Allow me to explain in graphical form: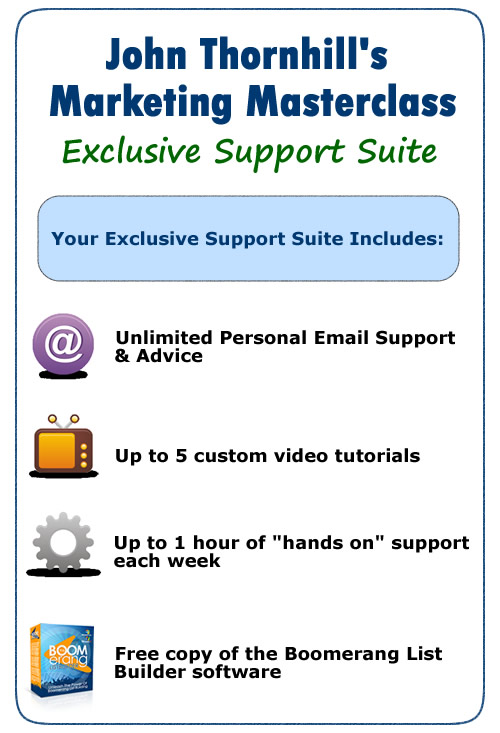 I should have been an artist…..or maybe not :-/
Allow me to explain a bit more about the bonus.
The bonus I am offering, is an extra support package that will be used as you go on with the coaching, that's not to say you don't get support from the actual coaching you – YOU DO, and you get lots of it, but there are times when you may get an answer, but you still aren't 100% sure what to do, or you still need more advice, or simply a 2nd opinion, and that's where my bonus comes in.
Remember that I have full access to the Masterclass Program, and have worked with countless students who have taken then course in the past, so I know the course like the back of my hand. I'm also a professional, fully qualified, "tech guy". Don't believe me, take a look at the image below: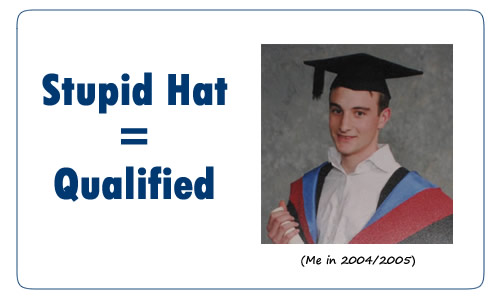 Here's what each section of my "Support Suite" is all about.
Unlimited Personal Email Support & Advice
This is the most popular support option (or it has been when I've offered it in the past).
I'm offering you the chance to get me help and advice via email, for the full duration of the course. If there's anything you don't understand, need clarification on, or just need some general advice on a certain part of the course, drop me an email and you'll have a response within a few hours.
Any of you who've emailed me for support in the past, know that I deliver!
Up To 5 CUSTOM Video Tutorials
This is going to be hugely popular, I can sense it!
During the course you may run into some annoying technical thing that you just can't get right, it may be that you are having trouble positioning an opt-in form in the header of your blog, or you just can't get the formatting on your sales page right, but you really need to know how to do it!
All you need to do is get in touch with me regarding the problem, and you'll get your video own video tutorial, where I show you exactly what needs to be done to rectify the problem, and how you can solve it yourself in the future.
These video tutorials are created on request, and are EXCLUSIVE 1 to 1 videos, nobody else will have access to them, only the person that requests the video.
Hands On Support
I'm also offering a full hour of my time each week, for "hands on support".
This allows you to take advantage of my experience of all things technical. All you need to do is get in touch and say:
"Dan, Why is my blog throwing up a 500 Internal Server Error message, can you fix it, my head is going to explode."
And my response will be:
"Hi Billy-Bob, I've fixed the problem for you."
Of course, you can contact me to fix any problem that requires some "hands on" assistance, it doesn't have to be a 500 server error, but you get the picture. The hands on support allows you to contact me 24/7 to fix any issues you run into, this covers absolutely anything in the course – hosting, email, mailing lists, sales pages, html, css, and so on.
So in total, you've got my "hands on" service for more than 36 hours, if you were a business, and were paying for my "hands on" help, it'd cost you £1,800 (£50 an hour), but you are getting it for free, so take advantage of me 😉
Free Boomerang List Builder
This is ONLY AVAILABLE IF YOU WILL ACTUALLY USE IT.
I wasn't going to give away a copy of the BLB, but figured it would be a bit mean if you really did want a copy and I didn't throw it in, but I'm only going to give it away if you are actually going to use it, I don't want it to turn into any of those other products that you've got sitting on your hard drive that will never see the light of day.
If you feel it'll distract you from the course, then I'm happy to hold it back until after the course has finished, and give it to you then.
So there you have it, full details of my bonus offer. I can't decide if I'm stupid for offering so much of my time or not, but I'll just have to see how it goes. If I get too many takers then I may pull the offer – there's only so much time in a day, so please do get it whilst you can.
Here's how to claim:
1. Join John Thornhill's Marketing Masterclass program by clicking here. <—— You MUST click that link, if you don't, you may not be eligible for the bonus (It launches on Tuesday, January 26th 2010)
2. Forward your receipt to: helpdesk@elpassoenterprises.com
Or use the "Contact" link on this page – they both come to the same place 😉
3. I'll then send you all of my contact details where you can get hold of me, the contact details are exclusive to this bonus, and all come directly into a priority inbox, so you get right to the front of the queue – no waiting for a response.
I think that's got everything covered, all that's left is for me to do, is to nudge you towards my Marketing Masterclass resource site if you need more information on the course:
More Marketing Masterclass Info
And do please leave a comment if you have any questions.
Regards,
Dan
Hello, greetings, welcome to another blog post. I'm sure you are already "in the loop" about these things, but if not, here's what I have to report.
John Thornhill is launching his 2010 Masterclass Coaching program in 6 days time (26th January), and if you cast your mind back to last years launch, you know it's going to be huge.
You'll also remember how I told you that John's coaching would be the only coaching course I would EVER promote, and that still is the case. John got me started in Internet Marketing business back in 2005, and we've worked closely ever since, so I know he's the real deal, and I know that having him as your mentor/coach/friend is a chance not to be missed.
So you have forewarning, I shall be promoting the product pretty hard, but I make no apologies for it. I've seen the results that the course produces, and I know it works.
But here's where it gets interesting, I'm not going to be doing the usual promoting methods, rather than sending out standard "hype" emails, I'm also going to use my experience of the course to provide you with the information you need. I'm not just an affiliate promoting the product for a commission, I actually have first hand experience of the course!
To start off with, have a read through the following site: (It's not an affiliate link, but a link to a mini-site I've created)
John Thornhill's Marketing Masterclass
The site has been put together by me, and on the site I'm going to answer any questions you may have regarding the program, and I'm also giving you a lot of background information that you can use to make a decision before making any purchases.
It would also be very rude of me not to mention the free report that's currently on offer over at the official Marketing Masterclass website. The report is titled "Why You Will Never Succeed Online", and it's been written by John as part of the pre-launch. It's a good read, if a little different, but you can check it out here:
http://johnthornhills.com/marketing_masterclass/exit/
That's all for now, I'll have more info in the coming days, but if you do have any questions about the coaching please feel free to leave a comment and I'll do my best to answer for you.
Regards,
Dan
Thanks for all the comments regarding my last blog post (the MPW video demo thing), I'm glad to hear that so many of you liked the video, and also liked the look of the product. As such I'm going to "roll" with the launch – I only ever do this with products that you express a strong interest in, and this certainly seems to be one of them!
So to get the ball rolling (don't ask me where all these "roll" references are coming from…maybe I need a sandwich?) I've teamed up with John and Dave to offer you a ton of bonus items.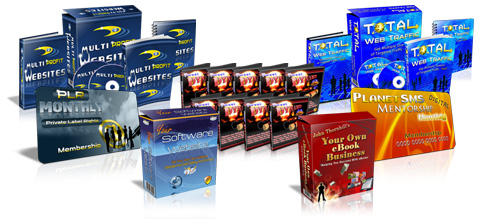 Now before I send you to the page with all the details, I will point out that these bonuses have been put together by the creators of multi profit websites – John Thornhill and Dave Nicholson, and they've given each affiliate a set allocation of bonuses to offer, so don't be surprised if you see these bonuses floating around on other pages, there's nothing fishy going on 😉
But anyway, you can check out all of the bonus items that are available by visiting the site below:
Click here to view my Multi Profit Website Bonuses
Full details on how to claim the bonuses can be found on my bonus page, and can be claimed as soon as you purchase MPW . Although do remember that MPW will launch on the 27th October, so there are still a few days to wait before you can get your hands on them!
There's also a very good free report that will keep you busy until the 27th if you head on over to the MPW website right now, as far as I know it's going to be available until the 27th and then replaced by the sales page. So if you fancy getting your hands on the free report, click here to go to the MPW site, and the free download is located to the right of the little and large video!
Let me know if you have any Q's!
It must be a special occasion, I've written a blog post!
I will issue an apology for the lack of postings recently, if I were to be stereotypical, I'd make some excuse about working so hard I haven't been able to find time to write anything…but I'd be lying.
That's not to say I haven't been working hard – far from it, but there are 2 words that any UK male, under the age of 30 will understand – FOOTBALL MANAGER.
Yes folks, the demon that is FOOTBALL MANAGER reared it's ugly head around 6 weeks ago, and as such the blog posts have suffered. What can I say, I'm only human!
…And if anyone is interested, Leeds United have climbed all the way up from League 1 into the Premiership, and are currently sitting in 9th position 🙂
But anyway, back to Internet Marketing.
The reason for todays blog post is to give you some free information, and it's also to wet your appetite for an upcoming product launch. I should really try and hide the fact I'm trying to sell something behind an elaborate Derren Brown style post containing loads of subliminal messages (*cough* buy from Dan *cough*) but I suck at all that, so I'll come right out and hit you with it 😉
John Thornhill and Dave Nicholson are launching a brand new product – Multi Profit Websites (MPW) on the 29th October, 2009 27th October, 2009. The MPW system allows anyone to create a profitable niche website from scratch in minutes, no coding knowledge is required.
Now I don't want to bore you by documenting every tiny feature, so I decided to make a video for you. John & Dave gave me access to Multi Profit Websites a few weeks ago, so in the video I show you how I created a brand new website from scratch, in under 15 minutes. So without any further commotions, feast your eyes on this…and as always, apologies for the accent:
So, what do you think?
Was it worth the 17 mins of your life I just took from you, I hope so….I don't think my public liability covers that, but in all seriousness, you can see how easy it was for me to create what I think you'll agree, is a pretty good looking site.
I created the website on a niche I know absolutely nothing about – Robots & Robotics, mainly to demonstrate how anyone can use it to create any kind of site. And as I showed you in the video, everything you can see on the site was added and edited using the online admin area, there's no need to use HTML, PHP, CSS, MySQL or any other of those horrible abbreviations.
You can also check out the site I created using MPW by clicking the link below.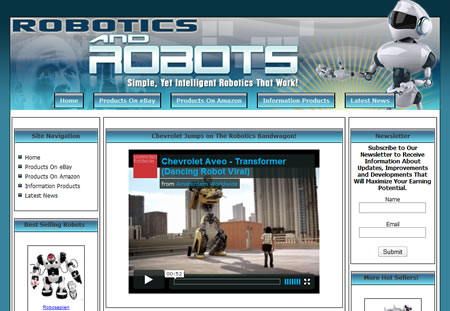 Multi Profit Websites Demo – Robots & Robotics
MPW will be launching on the 29th October 27th October, at a time that has still to be specified, but I will of course keep you updated with any news as and when I get it. I do also still have access to MPW, so if you have any pre-launch questions, or would like any more information please leave a comment and I'll answer them for you ASAP.
Cheers,
Dan
P.S. I will use this space to make a shameful plug to follow me on Twitter. I still haven't got round to using it for marketing purposes, but if you do decide to follow me, you may well find something on there that suits you. Last week we had the breaking news that my new office chair arrived, I also provided a fool proof way to get through a hair cut. Follow me at http://twitter.com/d9dan