Ebay at Christmas – Be careful!
Hi everyone, thanks for taking an interest in this weeks article. As we are approaching Christmas I thought it would be a good idea to identify a few possible eBay scams that you should be on the lookout for and why it may not be a good idea to do your Christmas shop on ebay.
Let's start off with potential scams. The two that instantly spring to mind are the two new videogame consoles:
– Nintendo Wii
– Playstation 3
The Nintendo Wii
The Nintendo Wii is released in the UK tomorrow (8th December) and it's sold out just about everywhere. To confirm this I phoned my local games shop this morning and they told me:
"We do have some in stock but they have all been pre-ordered by customers. I think you will find it very difficult to find any in stock now"
I am sure that you can already see the possible scam emerging here, an item with limited availability will almost always command a huge price on eBay – especially as the Wii is this years "must have" Christmas present. A quick search on ebay.co.uk shows the average price of a Wii console is around £300; that's £180 more than the standard retail price, meaning a £180 profit for the seller on each console.
Although there are a lot of genuine sellers on there you should be cautious about buying from eBay. As the console isn't released until tomorrow people are selling consoles that they don't even own yet. They are banking on getting one on the release day and this is by no means a certainty for them. Before you buy a Wii on eBay it may be a good idea to get the seller to post a picture of the actual console they are selling, maybe get them to include a little note on a postcard in the pic so you can make sure it is genuine.
The Playstation 3
Another scam to watch out for is the Playstation 3 eBay scam. The Playstation 3 isn't released in the UK until March 2007 but this hasn't stopped people selling Japanese PS3 consoles on eBay.
Ebay have tried to put a stop to this by banning all PS3 sales before March 2007, however this hasn't stopped the eBay sellers listing them for almost double their retail value:
Remember that no matter how tempting it may seem to buy "little Jonny" a PS3 for Christmas, the consoles ARE NOT region free. Which means that if "little Jonny"gets a japanese PS3 from eBay, he won't be able to play PAL UK games on the console!
So remember, always do your research on the seller BEFORE making a big purchase on eBay. Check their feedback and ask for proof that they actually have the item that they are selling in their possession.
Ebay for Christmas?
Finally I will be having a quick look at why it might not be a good idea to buy your Christmas presents from eBay.
Buying presents from eBay is not nearly as reliable as buying from your local store, or even Amazon. You have no guarantee that the presents you ordered will show up in time for the big day, so if you are planning on having a big Christmas shop make sure that you order in good time to guarantee delivery of your item.
Have a very happy holiday season!
Thanks for reading my Christmas newsletter. This will be my last newsletter before the big day so I would like to thank all of you for reading this, and my other newsletters throughout 2006. Please have a very happy holiday season and a prosperous 2007!
Merry Christmas,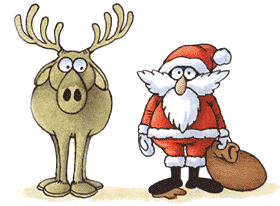 Regards,
Dan
P.S. Comments as always are more than welcome 🙂