Long time readers will know that I liked to have a good old moan about my office desk and chair. You'll be pleased to know that on Tuesday, my new Desk and Chair finally arrived!
It took 6 hours of flatpack hell, but I eventually got everything up and running and you can see the difference below.
The Old: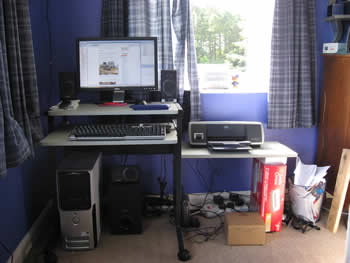 The New: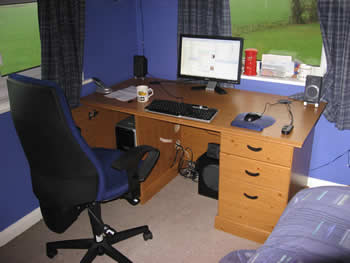 The new one set up is great, I actually have somewhere to put my legs! 😉
The only downside came when I stepped back to admire the work and tripped over the printer that was still sat on the floor behind me – I had forgot to find somewhere on
the new desk for the printer to live 🙁
Why A Slow Launch Can Be Better Than A Huge Launch
Hello, greetings and welcome! I'm now back with a long overdue newsletter. I'm aware that today is Thanksgiving for all of the USA readers, so happy thanksgiving, have a great time.
In this newsletter I will be talking you through why a slow launch can be better than a huge launch. This fits in nicely with a small launch that I have been doing since May of this year.
You will probably already know about a hosting company I run with a business partner – D9 Hosting. We launched back in May of this year and we have been attracting new customers at a steady rate ever since. The launch wasn't one of my usual launches, you'll know that when I launch a new product I usually do at least 6 weeks of "Build Up" before the big event!
I'll be honest, I do the big build up because it gets a lot more sales than if I were to just send out a single mailing announcing the release of a new product, but that's for another article.
The D9 Hosting launch was different, it was so different that you probably didn't even realize that it was going on 🙂
Instead of creating the big fan-fare, we quietly put the website on-line and made a post on a forum. If memory serves me correctly, I don't even think I sent out a single email to my list announcing this. From the single forum post, we started to see a trickle of customers rolling in, not every day, but it was enough to make a profit.
These customers were our "Guinea pigs", without knowing it they were helping us test the server, test our support desk, our billing script and everything else that goes with it. When a problem was found (and let's face it, with Hosting there are a lot of things that could go wrong) we quietly went about fixing the problem, as we only had a few customers, the disruption was minimal.
Can you imagine if we had done a massive launch, gained thousands of customers, then found out that something in our billing script wasn't working, it would have caused major headaches for us, and the customers, and our reputation would be in tatters.
The quiet launch had no such problems. After a few weeks we slowly started to expand, we started to advertise D9 Hosting in some eBooks, other forums and here, on this blog. Again, this generated more new customers, not a huge number by any means but it helped us test the systems with a larger number of clients.
There were problems, but like before, as we didn't have thousands of customers from the start, there was no disruption and we were able to fix the problems without any fuss at all.
This slow growth continued for the next few months, until the time we had been waiting for arrived. Our steady growth had out-grown our server! We were running out of room for clients, a server that was costing us under $100 per month to run was no longer sufficient for us – so we purchased a shiny new server….called "Bullseye"!
Bullseye costs well over $200 per month to run and maintain, but this isn't a problem, why isn't this a problem?
Because of our slow launch!
The slow launch worked just as we had planned. Our business plan was not to generate thousands of new customers on day 1, but to get a small, steady flow of new clients each week. This would then generate enough revenue to cover the growth costs, including the new server, and if needed any support staff.
This wouldn't have been possible if we had gone for a huge launch, we would have got a lot of customers for the first week or two, but what then? Sure, we would have the satisfaction of having a lot of clients, but what if something went wrong with the server or the billing script, we could easily have lost a lot of them.
I think I've made the point that sometimes a slow launch can be beneficial, and this doesn't just apply to hosting. You can apply the argument to any product that you are creating or promoting, you need to carefully think which sort of launch is for you.
But what next for D9?
Glad you asked!
Our slow launch has steadily grown into an express train and we are now fully prepared for any future expansions and we are confident that we can handle a large increase in clients, whilst still being able to provide the top notch service that current customers enjoy.
You will see our D9 Hosting expansion plan start to take full effect next week when we will be launching a brand new website, with brand new hosting features! These include (and of course will be available to all new clients!) full DNS control over domains, ID protect for domains (The UK government might lose your data, but I can assure you D9 Hosting wont!), a centralised support, domain, order and details system, loads of hosting discounts and much much more!
Existing clients will be the first to receive notification of the changes, and I will be sending out a mailing to you guys in due course, if you fancy giving D9 Hosting a try, we offer a free site transfer service – so gives us a try, you won't be disappointed!
Thanks for reading, and as always do leave me any comments or questions.
Cheers!
Dan
Why are you overlooking SEO?
Hello and welcome to another El Passo Blog entry, regular readers will know how things work by now, but there will be some new readers this week, so a very special welcome to you guys, if you are not already subscribed to my main list that receives this newsletter, you can sign up at the top right of the screen. Anyway, onto this weeks article!
This weeks article focuses on three simple words that leave most marketers trembling in fear:
SEARCH ENGINE OPTIMIZATION
There is still somewhat of a stigma around Search Engine Optimization (SEO), I feel that people tend to over complicate things, which in turn puts them off even trying it out on their website. When you break it down into different stages, SEO can be very easy to perform on your site, and trust me, if you get it right, you will see traffic like you have never seen before!
When I optimize my sites, this is the plan I follow:
1. Research
This is THE most important part of the process. It involves selecting the correct keywords to target and analysing the competition. I did a somewhat related article back in April that you can view below:
https://elpassoblog.com/do-your-research/
2. Create your website
Step 2 is to create your website, whilst trying to include your selected keywords in the body of the page. If you are going to perform SEO on an existing site, skip this step.
3. On-Page Optimization
This is where I spend most of my time, people will tell you that on-page optimization isn't nearly as important as it once was, and they would be right. However my results show that it is still very important to have a well optimized page. (More details can be found in the free resource at the end of this article)
4. Check everything
You now need to check everything with a fine tooth comb, check the keyword density on the content, meta tags, meta description, the title. Everything you can possibly think of to make your site "perfect" for the search engines.
5. Get some back links
This is another important part of the process. Without back links to your site, how are the search engines going to find you? You can get back links, simply by linking from your other sites, or, and this is my favourite way, write some articles and include a back link, using your main keyword as the anchor text for the link in the author bio box. More info can be found in last weeks newsletter:
https://elpassoblog.com/a-different-type-of-friendly-ghost/
Now a lot of the above will probably still sound like jibba-jabba (sorry, I just downloaded a Mr T voice for my Sat-nav – turn left sucka!), I mean, how do you research keywords, how do you perform on page optimization and so on?
Well, it's too much for me to go over in a single newsletter, but this free resource is one of the best SEO eBooks you will ever need, you can download it below:
https://elpassoblog.com/Ebooks/SEO_MadeEasy.zip
Download the above eBook, print it out, read it, then read it again, it really is that good!
Having a website on the front page of google and yahoo can only happen (let's ignore PPC for a second!) if you have a well optimized site. It can also be the difference between 10, and 10,000 visitors per day. Give it a try and let me know your results, it works for me so there's no reason why it shouldn't work for you as well.
Thanks for reading and I'll be back soon with another newsletter.
Regards,
Dan
P.S. As always, comments are welcome and appreciated!