Why is an Internet Marketing blog talking about PC security, surely this has nothing to do with me making money, I've a good mind to un-subscribe from all your mailing lists, call you lots of rude names, and report you to the FBI for providing misleading free information, you…..you…..der brain!
There, I got it out of the way for you, so please don't send me any daft emails complaining about the wide range of subjects, think how boring it would be if every post talked about tracking, conversions, statistics and sales. Besides, this post is much, much more important.
As an Internet Marketer it's vital to keep your computer in tip top shape, neglecting your computer would be like a taxi driver neglecting his car, so it's not something you can sit back and forget about.
So as a fully qualified geek, I thought I'd show you how I secure my system, and my websites.
It's important that you do both, a lot of people will secure their system but leave any old junk on their webspace, and vice versa – BOTH NEED PROTECTING!
As a web host, we deal with web based exploits on a daily basis, 99% of the time these are down to weak, out of date scripts that are on the account, but more on that later on. I'll start with your computer first.
How I Secure My Computer
Yes, I said computer. I'm not nearly smug enough to have a MAC…..it's a joke, don't go un-subscrbing you MAC users, I love you really! But this part of the guide is aimed at those of us that are still supporting good 'ol Billy G.
First of all we need to know what our computer needs protecting against, there are loads of different threats out there, and unfortunately it usually takes more than one program to keep you clean. No one program will ever be able to detect 100% of viruses and exploits, but we can do our best to minimize the risk by using as much protection as we can.
*Insert Naked Gun Condom Joke Here*
We need to make sure our machines are protected against Viruses, Malware, Spyware, Trojans, Keyloggers, Crapware, and loads of other cool stuff.
So without any further tasteless jokes, here's what I use to keep me protected. And I'll also point out that none of these links are affiliate links, infact most of the things I recommend are free!
My Anti-Virus Protection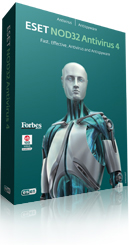 I use NOD32 for my anti-virus protection, I've been using it for as long as I can remember and it's always served me very well. There has been the odd thing that it's missed, but no anti-virus software will ever find 100% of the threats that are out there.
NOD32 provides me with great protection (too soon to reuse the Naked Gun joke?) against Viruses, Malware, Trojans and other exploits. It protects me when I'm surfing the Internet, reading emails, or just generally larking around.
It manages to do all that in the background, without slowing the machine down, so it certainly isn't a resource hog. (Yeah, I'm looking at you Norton)
Runs: All the time
Price: Free trial, then around $50/£30 per year
My Anti-Malware Protection

Malware does really come under the same heading as anti-virus protection, but sometimes your anti-virus software wont be able to get rid of every little trace of the Malware/Virus. So at times like this an on demand scanner can come in really useful.
For this, I use Malwarebytes Anti-Malware (free version). It allows me to run a scan at any time, and gives you that added bit of protection. It's almost like getting a 2nd opinion when going to the Doctors, NOD32 may tell you you're fine, but Malwarebytes may be able to tell you otherwise 🙂
Runs: On demand
Price: Free (Paid version also available)
My Anti-Spyware Protection

Spyware can be a massive pain in the….hard drive. It generally gathers information from your computer without your knowledge, and then uses that information to bombard you with advertisements. It can also be used in a much more sinister way, such as stealing credit card details and other personal information, so it's important to be well protected.
I use Spybot Search & Destroy to keep my machine clear of Spyware. Not only does it remove any Spyware that has found its way onto my PC, it also "Immunizes" the machine from the most common threats for added piece of mine. For me, Spybot is a must have piece of software!
Runs: On demand & in background depending on the configuration
Price: Free
Anti-Crap Protection

Anti-Crap is a technical name for all of the junk files that build up on your machine over the course of a day/week/month/eternity. These includes things like temp files, cookies, history, unused reg keys and much, much more.
Using a piece of anti-crap software is a great way to improve your PC's performance.
To get rid of all the crap on my machine, I use CCleaner (used to be called Crap Cleaner before the PC police decided it was offensive…..).
CCleaner can be configured to run every time your PC boots up, so each time you start the day you can be safe in the knowledge that all the crap from the previous day has gone, and you can start a fresh 🙂
Runs: On startup and On demand
Price: Free
So there you have it, the 4 programs I use to keep my machine clean. And just incase you missed the links, if you click on the product images above, they'll take you off to the applicable websites.
I know a lot of you will use other programs, and I'm not suggesting those listed are any better, or worse, but it's what I use to very good effect. Although if you do have a different configuration, feel free to leave a comment and share it with the rest of us.
I was going to go on and talk about website security, but I think that if I did, the post would drag on for a bit, so I'll leave it there for now and I'll talk about how to secure your websites in the next blog post.
So as always, thanks for reading and please do leave any questions of comments below.
Cheers,
Dan