Hello everyone,
As promised at the start of the year, I have a upgrade available for my Boomerang List Builder software. All of these features were requested by you, the software user. I've created a video showing you the 3 new features. You can view it below.
The upgrade is free to existing customers. New customers will also be pleased to hear that there is NO price increase for this update, so you can still get your hands on the software for only $47!
Click here to check out the Boomerang List Builder.
No time for the video?
Here is a quick overview of the new features:
– Option to disable "Powered By" link
– Option to add a support email address or helpdesk URL
– Option to use a "Master Unlock Code"
– New splash screen design for easier customer use
Greetings to a semi-newsletter. This week is a mix of newsletter and pre-launch product update. All contained within one easy to view video 🙂
In the video I show you how I used the Boomerang List Builder with my Basic CSS eBook (click here to download) to create an income stream on auto-pilot.
As always please leave me any comments or questions!
Cheers,
Dan
This is quite an exciting update today. Last night whilst I still had a working PC that had the screen capture software installed I managed to put together a very quick video showing you my new Boomerang List Builder software in action.
The video isn't perfect – Youtube compressed it a bit too much and my PC crashed with a BSOD before I was able to reproduce it in a different format, but it does give you a very basic idea about what the software can do for you.
Next week I will be showing you how I use the software to create a regular income on auto-pilot, it's dead simple and incredibly powerful and best of all anyone can do it!
Anyway, here is the video, let me know what you think:
– – Click here To View The Video On Youtube – –
Again I'm sorry for the quality of the video but you should still be able to get a good idea about how it works!
I have also added some more free eBooks to my collection. You can download them by clicking here.
Thanks for reading,
Dan
Hello Everyone,
Two blog posts in under 1 week, that hasn't happened for a while! (If you want to skip my intro and go straight to the survey scroll down a couple of paragraphs.)
This post stems from a PC upgrade that took place earlier this week, I now have Windows Vista installed on one of my PC's.
/Rolls eyes 😉
One of the first things I did was test out the beta version of my new software on Vista. A couple of beta testers had already tested on Vista but I wanted to test for myself as well just to be certain everything was working. Everything did work, apart from a couple of really annoying bugs that I noticed, so whilst we are working away on making the software 100% Vista compatible I thought I would do a little survey to see how many people this could possibly effect:

Loading ...

Loading ...
Thanks for taking part in the polls, it will help us a great deal to see what percentage of customers are using, or are planning on using Vista.
Until next time.
Dan
P.S. I also did a quick test with Auction SOS to check the Vista compatibility. I'm pleased to say it works fine, but you may need to download a small file if you get any errors during the install, you can download this file from microsoft by clicking here.
Hello everyone,
The more observant amongst you will probably remember this post I made a
few weeks ago:
https://elpassoblog.com/a-different-slant-on-resale-rights-products/
Well I'm happy to say that everything is progressing very well so far. I did some small time testing on the method I am using in this top secret project earlier this week and it resulted in 153 brand new, highly targeted mailing list members and because of how the system works, that number is now growing on auto-pilot each and every day.
I know pretty much everything you see these day's claims to run on auto-pilot but I can assure you that this method actually does! I have already shown the
system to a very small group of people and they are getting very excited as well!
The great thing about this project is that you are not going to be going out of your
way to implement this into your existing business model. My system takes what
most of you already do (judging by the poll results in my first post) and simply
expands upon this to make it much more profitable.
I can't give away too much information at this point as I am still very much in
the testing stages of the project, but here's a very sneaky screenshot that
should wet your apetite!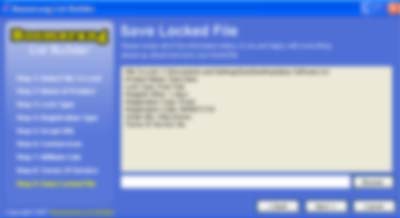 I'll keep you posted.
Reagrds,
Dan