Following on from my last mega-post, I'll bring you one final nugget of information that I've picked up on my travels. It's one of those things that people love to speculate on, but nobody really has a definitive answer to it.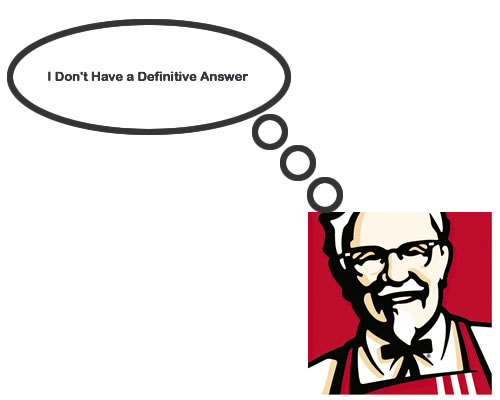 So what is the mysterious question?
Here you go:
Q: Does The Geographical Location of a Server Effect Search Engine Rankings?
A: Yes
**The End**
What's that I hear you cry, you want proof?
The video below provides you with all of the proof you need, it's a video made by Google for their Youtube Google webmaster channel.
*Any eager beavers reading this as soon as it's been posted via the RSS feed may need to wait for the video to show. I suck at embedding Youtube videos on WordPress posts for some mad reason!
**Turns out the video works, but it covers up some of the links in the nav bar, but I don't think any of you really use them anyway
So to summarize, if you run a site that is specifically targeted at a certain market, you stand a better chance of ranking well in the search engines if the server your site resides on is located in that country.
But lets not take the videos word for it, Google may be pulling a devious little trick on all us nerds, lets put it to the test.
Go to Google.co.uk (The UK Google site) and search for something along the lines of:
wellies free delivery
If you then check out the domain names that come up on the first page of the Google results using the Network Tools Express search, you'll be able to see the geographical location of all of the top sites is the UK.
You can search again for something like:
plumbers in sheffield
And you'll see that this time we have a lot of local business results from Google that appear, if you do the Network Tools search on a few of the domains, you should find that the sites hosted in the UK achieve a higher listing than those hosted in the US and elsewhere.
So if you currently host a site that targets the UK market on a US server, you may well find that a simple server move would increase your, or your clients search engine rankings.
You don't have to just test it on Google.co.uk, feel free to try your own local version of Google and have a look at the geographical location of the server.
=========================================
=========================================
D9 Hosting Provides Shared & Reseller Hosting Services
For Clients Across The Globe With Servers Located In
Both The USA And The UK!
Select Your Preferred Server Location During Checkout:
*Use The Following Coupon 4 10% off:
danspecial
=========================================
=========================================
I've turned into the devil, I've turned an informative blog post into a plug for D9 Hosting, but come on, if you are going to take my advice you may as well get the hosting from me as well 😉
As I've been writing this post, another SEO myth that needs dispelling also came into my head, but I think I'll leave that one for the next post – unless you all leave a comment telling me that these "nugget" posts are crap, in which case I wont bother.
So next week: Why spending loads of money on "different class c IP" hosting is a waste of time, and again, this is backed up by Google.
Just before signing off, here's a chance to take part in a D9 Hosting/Internet Marketing fantasy football World Cup league. It's free to play, and as well as the prizes provided by Fifa, we (D9) are offering existing customers 50% off their next hosting bill, and 50% off your 1st hosting bill if you fancy joining – all you need to do is win the league.
If you are new to Fantasy Football, here's a quick overview of how it works:
You have a "transfer kit" which you use to buy players
Each player will earn you points every time they play, by scoring goals, keeping clean sheets, getting an assist, etc. (They'll also lose points for getting sent off!)
The points are then added up, and added to your team's score.
You'll play in a league against myself, Paula, and other D9 customers
There are also prizes provided by Fifa, including a brand new car, football shirts, and more
It's totally free to play!
So even if you have no football (soccer) knowledge, pick a random team of players and who knows, you may just get lucky!
It's all a bit of fun and we'd love to see you in the league 🙂
Instructions on how to enter are below.
1. Sign up for free account at:
http://www.fifa.com/theclub/index.html
2. When you've signed up, log into your account and click on "Games" and then the "Activate" button under "McDonalds Fifa World Cup Fantasy"
3. You can then log in at the Fantasy Football site: (Bookmark this URL!)
http://en.mcdonalds.fantasy.fifa.com/
4. You can then go ahead and select your team
5. When you've selected your team, you can join the D9 league by clicking on "My Leagues" > "Create/Join"
And then enter the following league code to join our league:
187968-44949
The closing date for the 1st round of games is the 11th June, so try and get your team registered before then, and good luck!
Fantasy Football Tips
1. You'll most likely find yourself running out of money, so my tip is to pick a solid foundation of 12 or 13 quality players, and then make the rest up with really cheap players from the teams that don't have much of a chance – you only pick 11 players to start the game so start with your quality players and leave the cheap ones as substitutes.
2. Your captain earns double points, so select your star player as the captain
And that's all for this blog post, but before I go, here's a recycled post from 4 years ago, call me un-patriotic but the gist of it remains the same 🙂
https://elpassoblog.com/why-england-have-no-chance-of-winning-the-wold-cup/
Over and out,
Dan