A warm welcome from the Yorkshire dales, I believe the technical word for this weather we are experiencing today is "Summer", it's making me feel the need to go outdoors but I'll resist the temptation whilst I write this blog post.
In todays post I'm going to look back at the events of the past few weeks, as it's given me some food for thought, and I'm in two minds about what to do, so I'd appreciate it if you could have a read through what I'm about to write and give me your opinions.
It all started a few weeks ago when Socrates Socratous asked me if I'd consider giving away a copy of my Boomerang List Builder software to all people that signed up to his Resale Rights Fortune pre-launch list, so without much hesitation I agreed.
Why Did I Agree To It?
Quite simply because I knew the launch would be huge, and if I had a "soft opt-in" in place, I would get a ton of new subscribers – and I did!
Take a look at the new size of my mailing list:

And I would like to point out that this is probably one of the only times I'll ever show you a screen shot of my mailing list numbers, so make the most of it!
And I'm not posting the numbers in a "my penis is bigger than yours" "my Dad is better than your Dad" sort of way, I'm just showing you what I gained from giving it away for free – a ton of new mailing list subscribers.
So fast forward a couple of weeks to the end of the launch, and I'm still getting a few new subscribers each day from Resale Rights Fortune.
So here's the dilemma, what would happen if I got rid of the $47 Boomerang List Builder price tag, and gave it away for free ALL THE TIME?
If I gave it away for free, I'd be losing upwards of $10,000 each year in sales, but I'd be building my mailing list like there's no tomorrow, and I could implement a OTO type system so there would still be the potential there to make money from OTO sales, and it would still let affiliates earn commissions for promoting.
I know as a customer you will be leaning towards the "Free" option – and I don't blame you! But put yourself in my shoes, what would you go for?
Would you keep everything as it is and charge $47 to anyone who wishes to purchase a copy of the software, and have a steady trickle of sales every month?
Or would you give away the software for free in return for an email address, so you'd lose out on the income from sales, but you'd be building a huge mailing list that would potentially be a much bigger earner in the years to come?
And I've just had a brainwave…WE SHALL HAVE A POLL!
Possibly the first ever poll on the El Passo Blog, what a joyous occasion – so go ahead and vote in the poll, then tell me what you think in the comments section below!
Welll….we were going to have a poll until the plugin decided to stop working, so we'll have to make do with just leaving your thoughts in the comments section instead, sorry about that, I was really excited about the 1st El Passo Blog poll as well 🙁
Thanks for reading and I look forward to hearing your suggestions.
Regards,
Dan
How I Dominated Google For Resell Rights Fortune
Hello, welcome, greetings, good to see you etc, etc, etc.
Today I come bearing gifts, it's not gold, frankincense and mur, but it's something that could be just as valuable in the long run. I'm going to show you how I "took over" Google during the launch of Resell Rights Fortune.
Just a bit of background info before we get started.
Resell Rights Fortune is a product from Socrates Socratous, that was released on the 9th June. The product allows you to save time, by searching through a database full of different resale rights and private label products – eBooks, scripts, software, videos and so on.
Socrates asked me to promote the product for him a couple of weeks before the launch, so I put my thinking cap on and decided upon a plan of action.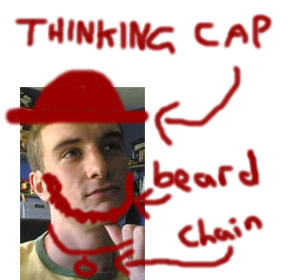 As there was still 2 weeks until the launch, I decided to use a method I'd used in the past. I'd create a simple WordPress Blog, purchase a related domain name, and add some good content to the blog that relates to the product, and if all goes according to plan, I'll end up with a good placement on Google.
I'm pleased to report that my plan worked, take a look at the image below!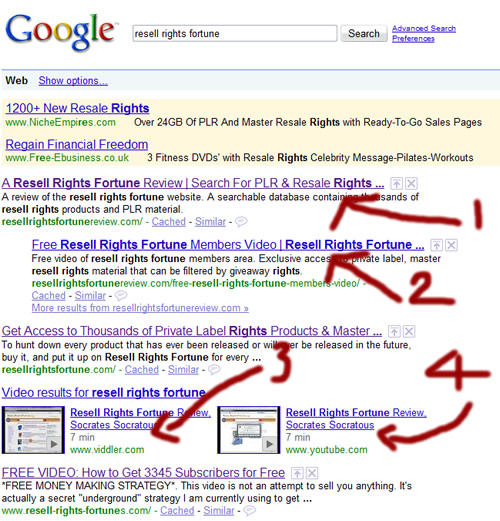 As you can see, I take the first, second, fourth and fifth position on Google for the term "Resell Rights Fortune", I even pushed down the actual Resell Rights Fortune site into 3rd place. (Sorry Socrates:-))
You are probably thinking that's all well and good, but does it actually get any traffic?
Simple answer, yes, it does. More proof for you below: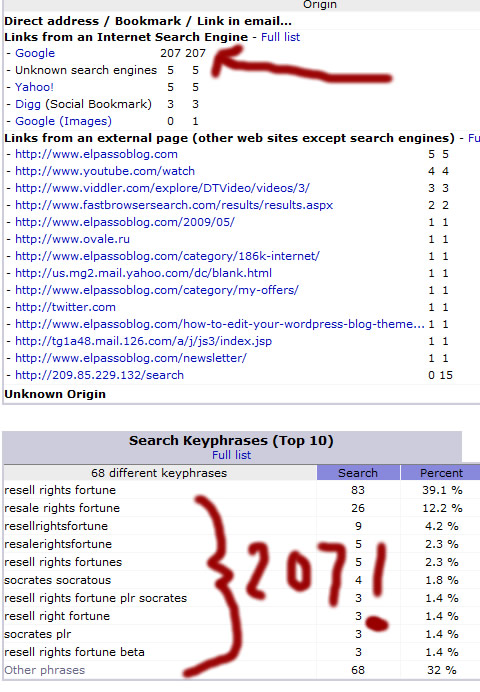 As you can see, the site received 207 hits from Google during the launch period, all of these people looking for more information on the Resell Rights Fortune product.
The site that took me less than 2 hours to setup, has helped to bring in over $2,000 in sales of the product so far, so it does work! Yes, I did send out a mailing to my list that also contributed to the sales total, but the number of clicks generated from the email was 182, so even if we say it was a 50/50 split between the list and the site, it's still $1,000 which can't be sniffed at for 1 simple site.
So hopefully I've given you enough evidence there to show you that what I did does actually bring back results, so here is EXACTLY how I did it:
1. I purchased the domain name www.resellrightsfortunereview.com from D9 Hosting. ($9.99 per year)
2. I found a WordPress theme that I liked, and then set up a blog on the domain which again, I hosted with D9 Hosting. ($6.95 per month)
3. I created a quick "sneak preview" video showing you what it was like inside the members area. I then distributed the video to a network of video sites using Heyspread.
4. I wrote some posts that I could put on the blog, each showing the reader different aspects of the Resell Rights Fortune (RRF) Product.
5. I put a link to the RRF blog on this blog, so Google could find it.
6. Once Google had indexed the site, I posted a new article every few days to keep the content fresh.
That's it!
There really is nothing to it, so why not give it a try next time there's a big product launch coming up? It's a lot easier to get a few hundred hits from Google than to build a few hundred new mailing list subscribers 🙂
I've also just realized that I did make a blog post similar to this way back in October…..although in that promotion I used a slightly different method, so if you want another twist on the method check out the following post:
https://elpassoblog.com/how-one-video-dominated-google-for-john-thornhill-coaching/
And that just about wraps it up for this weeks blog post, I know a lot of you are first time readers, so I hope you found the information useful, and do let me know if you have any questions or feedback by leaving a comment in the section below.
Cheers!
Dan