It must be a special occasion, I've written a blog post!
I will issue an apology for the lack of postings recently, if I were to be stereotypical, I'd make some excuse about working so hard I haven't been able to find time to write anything…but I'd be lying.
That's not to say I haven't been working hard – far from it, but there are 2 words that any UK male, under the age of 30 will understand – FOOTBALL MANAGER.
Yes folks, the demon that is FOOTBALL MANAGER reared it's ugly head around 6 weeks ago, and as such the blog posts have suffered. What can I say, I'm only human!
…And if anyone is interested, Leeds United have climbed all the way up from League 1 into the Premiership, and are currently sitting in 9th position 🙂
But anyway, back to Internet Marketing.
The reason for todays blog post is to give you some free information, and it's also to wet your appetite for an upcoming product launch. I should really try and hide the fact I'm trying to sell something behind an elaborate Derren Brown style post containing loads of subliminal messages (*cough* buy from Dan *cough*) but I suck at all that, so I'll come right out and hit you with it 😉
John Thornhill and Dave Nicholson are launching a brand new product – Multi Profit Websites (MPW) on the 29th October, 2009 27th October, 2009. The MPW system allows anyone to create a profitable niche website from scratch in minutes, no coding knowledge is required.
Now I don't want to bore you by documenting every tiny feature, so I decided to make a video for you. John & Dave gave me access to Multi Profit Websites a few weeks ago, so in the video I show you how I created a brand new website from scratch, in under 15 minutes. So without any further commotions, feast your eyes on this…and as always, apologies for the accent:
So, what do you think?
Was it worth the 17 mins of your life I just took from you, I hope so….I don't think my public liability covers that, but in all seriousness, you can see how easy it was for me to create what I think you'll agree, is a pretty good looking site.
I created the website on a niche I know absolutely nothing about – Robots & Robotics, mainly to demonstrate how anyone can use it to create any kind of site. And as I showed you in the video, everything you can see on the site was added and edited using the online admin area, there's no need to use HTML, PHP, CSS, MySQL or any other of those horrible abbreviations.
You can also check out the site I created using MPW by clicking the link below.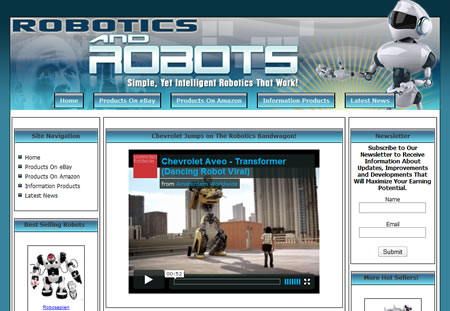 Multi Profit Websites Demo – Robots & Robotics
MPW will be launching on the 29th October 27th October, at a time that has still to be specified, but I will of course keep you updated with any news as and when I get it. I do also still have access to MPW, so if you have any pre-launch questions, or would like any more information please leave a comment and I'll answer them for you ASAP.
Cheers,
Dan
P.S. I will use this space to make a shameful plug to follow me on Twitter. I still haven't got round to using it for marketing purposes, but if you do decide to follow me, you may well find something on there that suits you. Last week we had the breaking news that my new office chair arrived, I also provided a fool proof way to get through a hair cut. Follow me at http://twitter.com/d9dan
Happy New Year!
It's taken me a full 14 days to get back into the swing of things with a blog post, but I'm back with the 1st post of 2009.
I hope you all had a great Christmas and New Year. Mine was fairly low key but proved rather difficult to overcome, my initial plan was to go back to "work" on or around the 2nd of January but that plan never saw the light of day.
It was actually around the 7th or 8th by the time I came back online for a full day of hard graft!
I decided to give myself a nice simple task, just to get me back into the swing of things – I would update my very first Internet Marketing website!
After taking a quick look at the domain registration information, I can see that it was registered in April 2005, so the site is almost 4 years old now.
If it were a child then the site would be at the perfect age, I could buy it a Scalextric, teach it to play football, show him (or her, I'm not sexist) how to bring Daddy a beer – it would be great!
But it wasn't to be, whilst 4 years old is a great age for a humanoid, it's not a great age for a website. I'd probably liken it to hitting puberty, things that once looked so sweet and innocent slowly turned into hairy monsters that were no longer fit for purpose.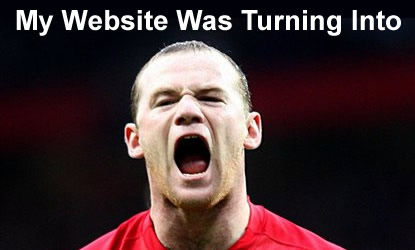 My poor 4 year old website was on the verge of getting a girl pregnant at the age of 16 – I couldn't let it happen. I put on my TLC hat and started stage one of "Save Dan's 1st Website".
Before I tell you what I did, perhaps I should actually show you the site. Voilà:
My very first marketing website, I actually acquired it through John Thornhill's eBook business program thingy (Click here for a $100 discount!). The website is fairly straight forward, I sell eBooks with resale rights for small amounts of money and the visitor also has the option to purchase a massive collection of books at a stupidly low price.
The El Passo Books site is actually based on a really, really, really, really old version of the website supplied in the eBook selling program. The website you get now contains newer eBooks and a fancy admin control panel so no web design knowledge is required, but I'd done a lot of SEO work on my old site so I didn't really want to "throw it away" and go with the newer site.
So I decided to inject some botox and do a sly nip & tuck. In real terms it meant going through the site, changing to a better delivery system (DLGuard) weeding out any eBooks that were no longer working and generally turning it back into something that was a little more desirable to the visitor.
I'll also come clean and admit to paying someone to check the eBooks and changing the payment buttons for me, but the job got done and that's the main thing.
The one thing I did do myself was to take advantage of my 404 error page, which incidentally seems to get way more hits than it should – curse you eBook thieves, you'll never find my stash!
So I created a small 9 day course showing people how they can sell the eBooks that they purchase from me. It's a freebie and appears at the bottom of each page on the site and on the 404 error page:
http://www.elpassobooks.co.uk/makeupyourownlinkandhavesomefunohyeah
I still have to go through the "All My eBooks" package and do some tweaking but I've got most of it done and it hasn't taken me too long.
I could have just written the site off as an old codger but like many websites, and I suppose many people as well, just because something is old in years doesn't mean you should underestimate it.
The site still gets a lot of traffic from Google on a daily basis, so I'd be doing a dis-service to myself if I put it out to stud and forgot about it.
After doing the changes, I already have some subscribers to the eCourse and I still see sales coming in each and every day. Thanks to me spending a couple of days of housekeeping on the site, it can live on for another year at least 🙂
So if you've got an old site setting there collecting virtual dust, get the cleaner out and spruce it up a bit, it's a lot easier to tweak an existing site compared to building a new one from scratch.
And just as I finish typing this, a sale has come in from my El Passo Books website for £2.99, I think I'll go and buy a bank!
Thanks for reading, and as always, comments make the world go round.
Regards,
Dan
It was my Dad's birthday last night, so we all went out for a meal – Me, Mum, Dad, Brother and his Girlfriend. As we walked through the stiff creaky door we approached the rather intimidating manager, she towered over us like a menacing menu bearing giant, but it was raining outside so we didn't mind, all we wanted was to sit down and eat after a hard day.
We were directed to a table, the wooden floor banged as we pulled back our sturdy wooden chairs and sat down to read the menu. Looking around we could see we were the only people sat in the eating area, nobody said anything, but I could tell we were all thinking the same thing – How is Dan going to turn this into a blog post?
Quite easily actually 🙂
Fast forward a couple of hours and we were waiting for the deserts to arrive. On the menu was a very strange "Chocolate and Rhubarb Crumble"…but that's not important right now. We were all chatting away, well, four of us were chatting away – my brother appears to still be shaking off the shackles of puberty so he managed a grunt every now and again.
Conversation turned towards my brother's girlfriend, who happens to work for a local IT company that provides web hosting, design, coding and other similar services to schools and businesses across the UK.
With me running a similar venture in D9 Hosting, I was curious to see how the company was run. After a bit of background information, we turned to pricing, where I was amazed to hear:
"We charge £250 to install Google Analytics"
£250 for Google Analytics! That's almost $500 to place a few lines of JavaScript on a page!
They also charge a similar price to setup Google Docs for customers, and charge an arm and a leg for web design and hosting. Their monthly sales target is £100,000 (about $200,000) and with those sorts of prices it won't surprise you that they meet it most months.
Now there's no way we could charge you that sort of price for any of the services I've mentioned, you would all probably have a rough idea of how much to pay for that sort of work – and it would be a lot less than £250!
*FYI, there's actually a couple of Google Analytics "How To's" on this blog, you'll be able to find them using the search bar on your right*
BUT, the vast majority of offline businesses are still more than happy to pay top dollar for IT services, be it web design, hosting, script installation or consultation, and what's more. I think that 95% of you reading this are more than capable of providing these services – skills you pick up on your Internet Marketing journey are more valuable than you could ever imagine.
Just ask yourself if you can install Google Analytics?
I'm sure most of you answered "Yes" to the above question, and I'm sure you know some offline people who run websites, why not see if they'd be interested in having you install it for them?
That's just one example of taking what you've learnt in the online world, into the offline sector, there are many, many more ways to do this. I am currently working on a big offline project with my D9 Hosting partner, Paula, that should be launching in the next few weeks so stay tuned for that.
Nothing much to add, just really made the post to open your eyes to the opportunities that exist away from the PC screen!
That's all for today, I was going to hold off writing this until Thursday but thought I'd get it down on paper whilst it was all still fresh in my head.
As always comments are my friend and yours, so do leave one if you have any questions.
Cheers,
Dan
P.S. I had a Bacon & Cheese Burger and a Knickerbockerglory (sp?) for desert – 7/10
Keeping Track Of Your Website Visitors
Greetings everyone, welcome to another newsletter. Although why I still call them "Newsletters" is anyone's guess, I think I'm going to have to rename them to "Mildly interesting postings from a bit of a geek that seem to arrive in your inbox every now and again".
So with that in mind, welcome to my very first mildly interesting post….from a bit of a geek.
In this edition I'll show you exactly how you can set up a detailed tracking system, without spending a single penny!
Your web host will no doubt already offer you a basic statistics package, this will show you the number of visitors, where they came from, what browser they were using and so on, but like dog with worms, we are hungry for MORE!
We need to know how long the visitor spent on our site, which pages they visited, which pages they left the site on, why did they leave the site, we can even find out the type of internet connection they used when they visited our website.
The reason we need this information, isn't because we are being greedy, far from it. Let's take the exit pages as an example. The screen shot below shows you the exit stats for this blog: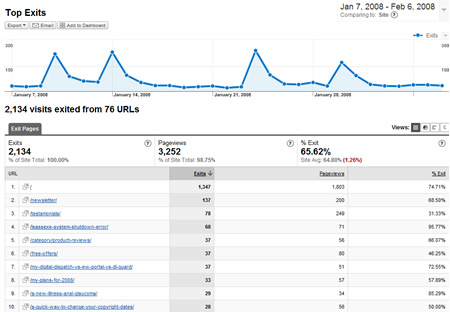 It might be a bit difficult for you to see, but it shows every page and the number of people that exited the site when they visited that page. Mine looks fairly normal, but let's say that you have a page that has a very high exit rate. You can then look at that page in detail to try and find out why people are leaving it, you can then tweak the page until the exit rate goes down!
You can also see how many visitors are "Loyal" to your website. The stats will track a visitor and see if they have visited your site before, take a look at the loyalty stats for this blog, over a 1 month period: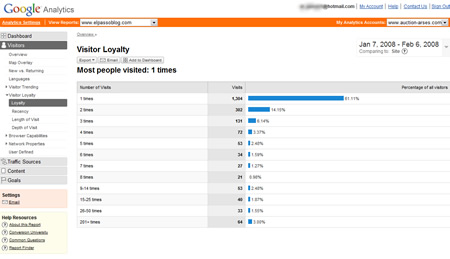 You can see that 60% have only visited the blog once in the past month – shame on you! 😉
But the other 40% have visited the blog at least twice in the past month which for me is a good thing, if you keep coming back then I must be doing something right. As for the 64 people (3%) that visited the blog more than 200 times this month….I have the number of a good psychiatrist (try spelling that without a spell checker) that I can give to you 😉
Another cool thing I like to look at is the amount of time the visitor spends on the site. Another screen shot for you: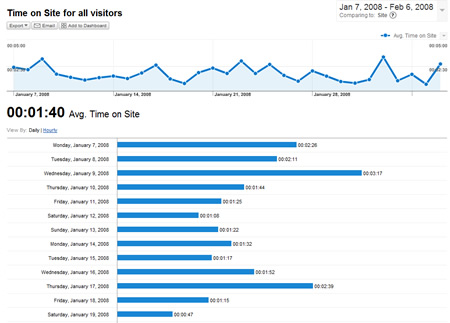 The average time people spend on this blog is currently 1 minute and 40 seconds. This is a very good sign, if people spend more than 10 seconds on your site then they must be interested in the content. If the average time people spend on your site is less than 10 seconds then you need to think about changing something!
Not only does it show me the average time you spend on the site, but it also breaks it down, day by day. On certain days, the average time jumps up to over 3 minutes. It's no co-incidence that these days are when I make a new "Mildly interesting post", not only does it show me that you are clicking on the link to view the latest post, it also shows that you are actually reading them!
I've just reached a full page in my word processor, and I' haven't even told you what stats package I'm talking about, and I haven't shown you how to install it yet. I'm going to jump into that now, I could keep going on about the hundreds of cool features but I'd still be here this time next week.
So, What Is It?
Those of you with eyes will have already seen the name on the screen shots – "Google Analytics".
You can sign up for Google Analytics (it's free) at the link below:
http://www.google.com/analytics
When you sign up, the first thing you need to do is set up a new website profile. Click on the "Create new profile" button and it will ask you for details of your site, fill out the form and you will be done in no time.
All you need to do then is copy/paste the tracking code onto the pages you wish google to track for you. If you are using a WordPress blog like this one, you just need to insert the tracking code in either the header, or the footer file and it will track every page of your blog.
When you have inserted the code, your stats will be updated by Google every 24 hours, and that's it – easy as pie!
However…..Google Analytics also let's you track e-commerce transactions, this let's you follow the website visitor all the way through your website order process from start, to finish. Analytics can even record the sale data, this can then produce a wide variety of reports including the conversion rate of your site, the amount of $$$ you are earning per visitor and much more.
This is slightly more tricky to set up, but I would be happy to put together a step by step guide if any of you would be interested? Let me know by posting a comment, if enough of you are interested I'll make it into another "Mildly interesting post"!
Thanks for reading, 🙂
Dan