The subject for this blog post sounds like one of those delightful spam emails we all receive doesn't it?
But luckily for you I haven't changed career paths to become one of the Norths leading Viagra suppliers to hill farmers, they'll have to wait for their little blue pills, because I've found something far more lucrative.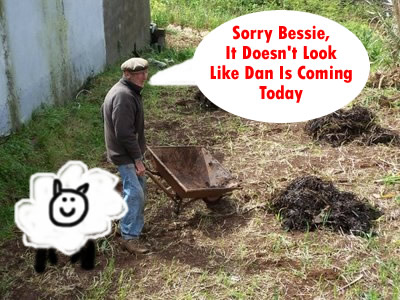 Over the past month (6th Dec – 6th Jan), I've made $580 in affiliate commissions from a single product, just by sitting on my backside twiddling my thumbs. I've genuinely not done a single thing in the past month to promote the product, no emails, no blog posts, no articles – nothing!
I've made these commissions using something I like to call "The Leech Method". Although to be honest I have a feeling the method may not actually be mine, and I read about it somewhere, so if you are reading this and you are the creator of the "Leech Method", good for you, it works!
Before I go on, here are the commissions for the "Multi Profit Websites" product for the 1 month period: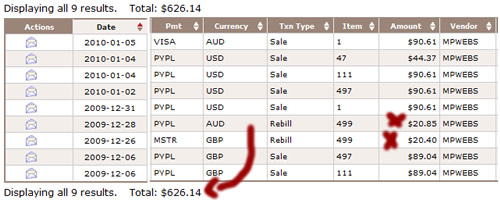 I've highlighted 2 rebills which came from my initial promo back in November, so I've taken them off the total, bringing the total commissions for the month down to around $580.
And here's how I did it….
It all started back on October 13th with the following blog post:
https://elpassoblog.com/multi-profit-websites-lets-go-robot/
Multi Profit Websites was due to launch on October 27th, so I created a blog post showing a demo site that I had created using the software and gave an overview of the product. I then emailed you guys to show you it, so I gathered some interest that way, but, and I'll be honest and say this was the main reason for the post. I knew there was no competition on Google for the phrase "Multi Profit Websites", so a well written blog post would get me onto the first page in just a few hours. (And it did)
Fast forward to the 21st October, 6 days before the launch of Multi Profit Websites, and I wrote the following post:
https://elpassoblog.com/multi-profit-website-bonuses/
It was posted for the same reason as my 1st post, to gather interest in the product, but also to get another link on the 1st page of Google.
That's the only promotion I did on my blog, so I managed to kill 2 birds with 1 stone, I got you guys interested in the product, and I also got 2 pages on the 1st page of Google. But I wasn't finished.
You'll remember in the 1st blog post, I showed a demo site that I'd created using Multi Profit Websites. The site was hosted on the main multiprofitwebsites.com domain:
http://www.multiprofitwebsites.com/usersites/elpasso/
I wasn't the only person who could have taken advantage of this, loads of people had demo sites up on the domain, but very few chose to utilize this.
I knew that if I got a couple of back links to that site, I'd automatically get the number 2 spot on Google, directly under the official multiprofitwebsites.com site.
So I wrote an article, submitted it to ezinearticles and hey presto: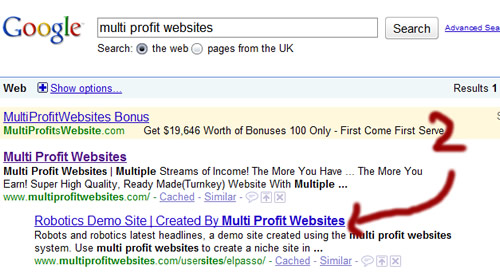 Finally, I created a quick mini site using the domain http://multi-profit-websites.net
On the mini site I wrote about the product, showed off my demo site, added some related videos and….well, take a look!
So all of these different sites were on the front page of Google at one point. I've just taken a quick look and I still occupy the following positions on Google for the search term "Multi profit Websites":
#2
#5
#6
#7
#11
That's great, but how do these sites keep making me a commission whilst I plan my move into the Viagra niche?
Multi Profit Websites is a very popular product, and loads of affiliates promote it. So each time an affiliate promotes MPW, they make the product known to a new buyer. A lot of these buyers will research a product before buying, and what do they use to research? GOOGLE!
All I'm doing is leeching off the other affiliates work, I let them do the leg work, and I close the deal by providing the content that the potential buyer is looking for.
And that final point is very important. MPW is a great product, so it's very easy for me to write about, I have tons of experience using it, so I can put my view across very well on the product. What you shouldn't do is pick any old product, and simply rewrite the sales page, or fill the pages with any old crap.
Give the potential buyer the information they are looking for. If you are finding it hard to enthuse about the product, then there's a good chance the product is actually pretty crap, and you don't really want to have anything to do with a bad product….and as I write this it's snowing cats and badgers, so I'd best sign off before the power goes!
So that's everything covered – "The Leech Method".
As always, let me know if you have any questions, thoughts, etc, etc, etc.
And if you want a big discount on the normal MPW price, you can get one by going through the following link:
Multi Profit Websites Discount
Regards,
Dan
Thanks for all the comments regarding my last blog post (the MPW video demo thing), I'm glad to hear that so many of you liked the video, and also liked the look of the product. As such I'm going to "roll" with the launch – I only ever do this with products that you express a strong interest in, and this certainly seems to be one of them!
So to get the ball rolling (don't ask me where all these "roll" references are coming from…maybe I need a sandwich?) I've teamed up with John and Dave to offer you a ton of bonus items.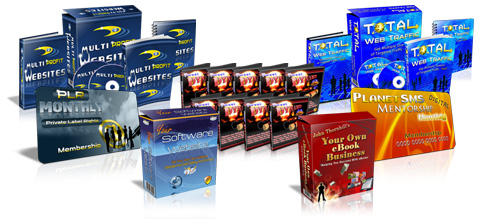 Now before I send you to the page with all the details, I will point out that these bonuses have been put together by the creators of multi profit websites – John Thornhill and Dave Nicholson, and they've given each affiliate a set allocation of bonuses to offer, so don't be surprised if you see these bonuses floating around on other pages, there's nothing fishy going on 😉
But anyway, you can check out all of the bonus items that are available by visiting the site below:
Click here to view my Multi Profit Website Bonuses
Full details on how to claim the bonuses can be found on my bonus page, and can be claimed as soon as you purchase MPW . Although do remember that MPW will launch on the 27th October, so there are still a few days to wait before you can get your hands on them!
There's also a very good free report that will keep you busy until the 27th if you head on over to the MPW website right now, as far as I know it's going to be available until the 27th and then replaced by the sales page. So if you fancy getting your hands on the free report, click here to go to the MPW site, and the free download is located to the right of the little and large video!
Let me know if you have any Q's!
It must be a special occasion, I've written a blog post!
I will issue an apology for the lack of postings recently, if I were to be stereotypical, I'd make some excuse about working so hard I haven't been able to find time to write anything…but I'd be lying.
That's not to say I haven't been working hard – far from it, but there are 2 words that any UK male, under the age of 30 will understand – FOOTBALL MANAGER.
Yes folks, the demon that is FOOTBALL MANAGER reared it's ugly head around 6 weeks ago, and as such the blog posts have suffered. What can I say, I'm only human!
…And if anyone is interested, Leeds United have climbed all the way up from League 1 into the Premiership, and are currently sitting in 9th position 🙂
But anyway, back to Internet Marketing.
The reason for todays blog post is to give you some free information, and it's also to wet your appetite for an upcoming product launch. I should really try and hide the fact I'm trying to sell something behind an elaborate Derren Brown style post containing loads of subliminal messages (*cough* buy from Dan *cough*) but I suck at all that, so I'll come right out and hit you with it 😉
John Thornhill and Dave Nicholson are launching a brand new product – Multi Profit Websites (MPW) on the 29th October, 2009 27th October, 2009. The MPW system allows anyone to create a profitable niche website from scratch in minutes, no coding knowledge is required.
Now I don't want to bore you by documenting every tiny feature, so I decided to make a video for you. John & Dave gave me access to Multi Profit Websites a few weeks ago, so in the video I show you how I created a brand new website from scratch, in under 15 minutes. So without any further commotions, feast your eyes on this…and as always, apologies for the accent:
So, what do you think?
Was it worth the 17 mins of your life I just took from you, I hope so….I don't think my public liability covers that, but in all seriousness, you can see how easy it was for me to create what I think you'll agree, is a pretty good looking site.
I created the website on a niche I know absolutely nothing about – Robots & Robotics, mainly to demonstrate how anyone can use it to create any kind of site. And as I showed you in the video, everything you can see on the site was added and edited using the online admin area, there's no need to use HTML, PHP, CSS, MySQL or any other of those horrible abbreviations.
You can also check out the site I created using MPW by clicking the link below.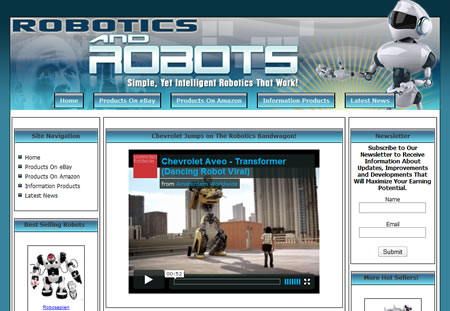 Multi Profit Websites Demo – Robots & Robotics
MPW will be launching on the 29th October 27th October, at a time that has still to be specified, but I will of course keep you updated with any news as and when I get it. I do also still have access to MPW, so if you have any pre-launch questions, or would like any more information please leave a comment and I'll answer them for you ASAP.
Cheers,
Dan
P.S. I will use this space to make a shameful plug to follow me on Twitter. I still haven't got round to using it for marketing purposes, but if you do decide to follow me, you may well find something on there that suits you. Last week we had the breaking news that my new office chair arrived, I also provided a fool proof way to get through a hair cut. Follow me at http://twitter.com/d9dan