Happy New Year!
It's taken me a full 14 days to get back into the swing of things with a blog post, but I'm back with the 1st post of 2009.
I hope you all had a great Christmas and New Year. Mine was fairly low key but proved rather difficult to overcome, my initial plan was to go back to "work" on or around the 2nd of January but that plan never saw the light of day.
It was actually around the 7th or 8th by the time I came back online for a full day of hard graft!
I decided to give myself a nice simple task, just to get me back into the swing of things – I would update my very first Internet Marketing website!
After taking a quick look at the domain registration information, I can see that it was registered in April 2005, so the site is almost 4 years old now.
If it were a child then the site would be at the perfect age, I could buy it a Scalextric, teach it to play football, show him (or her, I'm not sexist) how to bring Daddy a beer – it would be great!
But it wasn't to be, whilst 4 years old is a great age for a humanoid, it's not a great age for a website. I'd probably liken it to hitting puberty, things that once looked so sweet and innocent slowly turned into hairy monsters that were no longer fit for purpose.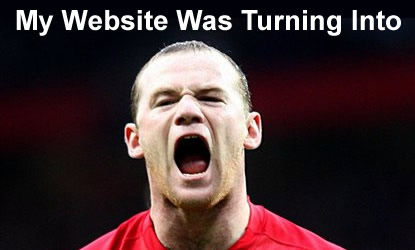 My poor 4 year old website was on the verge of getting a girl pregnant at the age of 16 – I couldn't let it happen. I put on my TLC hat and started stage one of "Save Dan's 1st Website".
Before I tell you what I did, perhaps I should actually show you the site. Voilà:
My very first marketing website, I actually acquired it through John Thornhill's eBook business program thingy (Click here for a $100 discount!). The website is fairly straight forward, I sell eBooks with resale rights for small amounts of money and the visitor also has the option to purchase a massive collection of books at a stupidly low price.
The El Passo Books site is actually based on a really, really, really, really old version of the website supplied in the eBook selling program. The website you get now contains newer eBooks and a fancy admin control panel so no web design knowledge is required, but I'd done a lot of SEO work on my old site so I didn't really want to "throw it away" and go with the newer site.
So I decided to inject some botox and do a sly nip & tuck. In real terms it meant going through the site, changing to a better delivery system (DLGuard) weeding out any eBooks that were no longer working and generally turning it back into something that was a little more desirable to the visitor.
I'll also come clean and admit to paying someone to check the eBooks and changing the payment buttons for me, but the job got done and that's the main thing.
The one thing I did do myself was to take advantage of my 404 error page, which incidentally seems to get way more hits than it should – curse you eBook thieves, you'll never find my stash!
So I created a small 9 day course showing people how they can sell the eBooks that they purchase from me. It's a freebie and appears at the bottom of each page on the site and on the 404 error page:
http://www.elpassobooks.co.uk/makeupyourownlinkandhavesomefunohyeah
I still have to go through the "All My eBooks" package and do some tweaking but I've got most of it done and it hasn't taken me too long.
I could have just written the site off as an old codger but like many websites, and I suppose many people as well, just because something is old in years doesn't mean you should underestimate it.
The site still gets a lot of traffic from Google on a daily basis, so I'd be doing a dis-service to myself if I put it out to stud and forgot about it.
After doing the changes, I already have some subscribers to the eCourse and I still see sales coming in each and every day. Thanks to me spending a couple of days of housekeeping on the site, it can live on for another year at least 🙂
So if you've got an old site setting there collecting virtual dust, get the cleaner out and spruce it up a bit, it's a lot easier to tweak an existing site compared to building a new one from scratch.
And just as I finish typing this, a sale has come in from my El Passo Books website for £2.99, I think I'll go and buy a bank!
Thanks for reading, and as always, comments make the world go round.
Regards,
Dan