As promised, I come with details of bonuses! Not just any old bonuses either, you wont find these John Thornhill Marketing Masterclass bonuses anywhere else, they are totally unique and exclusive to me.
You'll probably know that most bonus packages will consist of some resale rights products, with a jazzed up sales page, free of charge, you may even get some PLR articles and 10,000 free pats on the back….but YOU SHOULDN'T CLAIM THEM.
Not if you are planning to take on John Thornhill's Marketing Masterclass program anyway, and here's why.
You are going to be taking part in a 36 week Coaching program, where you'll have various tasks to undertake along the way. Each task will require you're effort and concentration, you wont have time to look at your bazillion free eBooks and PLR reports, never mind do anything useful with them!
That's why my bonus is totally different, it's not just some random resale products thrown together at the last minute, this bonus is designed to complement John's Masterclass course. So you'll be taking the Masterclass course, but you'll be using my bonus package AT THE SAME TIME!
Allow me to explain in graphical form: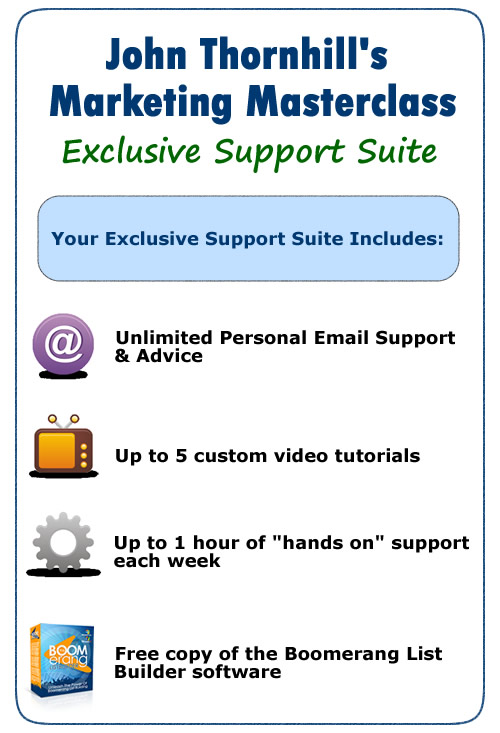 I should have been an artist…..or maybe not :-/
Allow me to explain a bit more about the bonus.
The bonus I am offering, is an extra support package that will be used as you go on with the coaching, that's not to say you don't get support from the actual coaching you – YOU DO, and you get lots of it, but there are times when you may get an answer, but you still aren't 100% sure what to do, or you still need more advice, or simply a 2nd opinion, and that's where my bonus comes in.
Remember that I have full access to the Masterclass Program, and have worked with countless students who have taken then course in the past, so I know the course like the back of my hand. I'm also a professional, fully qualified, "tech guy". Don't believe me, take a look at the image below: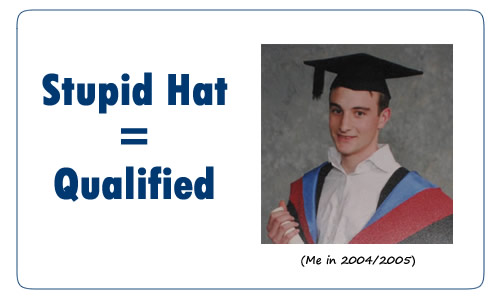 Here's what each section of my "Support Suite" is all about.
Unlimited Personal Email Support & Advice
This is the most popular support option (or it has been when I've offered it in the past).
I'm offering you the chance to get me help and advice via email, for the full duration of the course. If there's anything you don't understand, need clarification on, or just need some general advice on a certain part of the course, drop me an email and you'll have a response within a few hours.
Any of you who've emailed me for support in the past, know that I deliver!
Up To 5 CUSTOM Video Tutorials
This is going to be hugely popular, I can sense it!
During the course you may run into some annoying technical thing that you just can't get right, it may be that you are having trouble positioning an opt-in form in the header of your blog, or you just can't get the formatting on your sales page right, but you really need to know how to do it!
All you need to do is get in touch with me regarding the problem, and you'll get your video own video tutorial, where I show you exactly what needs to be done to rectify the problem, and how you can solve it yourself in the future.
These video tutorials are created on request, and are EXCLUSIVE 1 to 1 videos, nobody else will have access to them, only the person that requests the video.
Hands On Support
I'm also offering a full hour of my time each week, for "hands on support".
This allows you to take advantage of my experience of all things technical. All you need to do is get in touch and say:
"Dan, Why is my blog throwing up a 500 Internal Server Error message, can you fix it, my head is going to explode."
And my response will be:
"Hi Billy-Bob, I've fixed the problem for you."
Of course, you can contact me to fix any problem that requires some "hands on" assistance, it doesn't have to be a 500 server error, but you get the picture. The hands on support allows you to contact me 24/7 to fix any issues you run into, this covers absolutely anything in the course – hosting, email, mailing lists, sales pages, html, css, and so on.
So in total, you've got my "hands on" service for more than 36 hours, if you were a business, and were paying for my "hands on" help, it'd cost you £1,800 (£50 an hour), but you are getting it for free, so take advantage of me 😉
Free Boomerang List Builder
This is ONLY AVAILABLE IF YOU WILL ACTUALLY USE IT.
I wasn't going to give away a copy of the BLB, but figured it would be a bit mean if you really did want a copy and I didn't throw it in, but I'm only going to give it away if you are actually going to use it, I don't want it to turn into any of those other products that you've got sitting on your hard drive that will never see the light of day.
If you feel it'll distract you from the course, then I'm happy to hold it back until after the course has finished, and give it to you then.
So there you have it, full details of my bonus offer. I can't decide if I'm stupid for offering so much of my time or not, but I'll just have to see how it goes. If I get too many takers then I may pull the offer – there's only so much time in a day, so please do get it whilst you can.
Here's how to claim:
1. Join John Thornhill's Marketing Masterclass program by clicking here. <—— You MUST click that link, if you don't, you may not be eligible for the bonus (It launches on Tuesday, January 26th 2010)
2. Forward your receipt to: helpdesk@elpassoenterprises.com
Or use the "Contact" link on this page – they both come to the same place 😉
3. I'll then send you all of my contact details where you can get hold of me, the contact details are exclusive to this bonus, and all come directly into a priority inbox, so you get right to the front of the queue – no waiting for a response.
I think that's got everything covered, all that's left is for me to do, is to nudge you towards my Marketing Masterclass resource site if you need more information on the course:
More Marketing Masterclass Info
And do please leave a comment if you have any questions.
Regards,
Dan
January 29, 2009 by
Dan (el_passo)
·
Comments Off

on Marketing Masterclass – Questions Answered By John Thornhill
Filed under:
General Chat
Hello blog readers! You'll remember that on Tuesday I told you about the new "Marketing Masterclass" program by John Thornhill.
You'll also remember that due to my broadband situation, I got my timing all wrong and my well laid out plans went up in the air. Well, I have some good news – My Broadband is back!! 🙂
But even better than that, John Thornhill has done a very special video for you (my blog readers) where he answers the questions that you put to me on Tuesday. So without any further introductions needed, check out the video below: (Any people reading the blog at around 10.25 GMT on Thursday morning may need to come back in 15 mins when I figure out how to embed the video..LOL!)
Edit: Before you watch the video, I have just been testing my link and noticed that John has just this minute put up an easy payment plan option. So as soon as you have finished watching the video below, click here and grab the payment plan whilst it's there on the page. It could be the most important link you ever click…seriously…
[Some Users Are Unable To View The Video In Firefox – Please CLICK HERE To Open The Video In A New Window If You Are Having Problems]
If you have any more questions regarding the program, please do leave a comment. I know John is looking over this blog post (it's my secret Ninja powers!) and I'm sure he'd be happy to reply to any of your comments. So with that in mind:
Click Here To See What All The Fuss Is About!
If you have any problems with the video, or would prefer to see a transcript of the John Thornhill video, look no further: 🙂
[Start of Video Transcript]
Hello John Thornhill here and I'm creating this quick video to answer the most common questions I have been receiving regarding my "Marketing Masterclass" program. The program launched yesterday and I've created this quick video to answer any questions you may have.
The First question is how much does it cost and do you offer a payment plan?
The price is $1,497 and whilst that sounds like an awful lot of money you have to remember you are buying 36 weeks of my time, and 36 weeks of me dedicating my time to helping you succeed.
Do I offer any sort of payment plan? At the moment no but I do have plans to offer a payment plan very soon so keep an eye on the sales page and you will see a payment plan option come up soon.
What happens if I buy it and I don't like it?
Well, I am offering you the chance to check out the first 4 weeks of the course so you can easily see I am the real deal, if for whatever reason you do not wish to continue with the program, just let me know by the end of week 4 and I will refund you in full. So basically you can check out the first 4 weeks of the course for free.
Can you give me a bit more information on what is in the course?
Well, obviously I can't reveal everything, but after the end of week 2 you will have your own website online. By the end of week 3 the website will be in a position to earn money, then after that we move onto advanced techniques, then we move onto product creation. You will have your own product for sale, I don't care how inexperienced you are, I will guide you to create your own product.
After you have created that product I will show you how to market that product, I will show you how to recruit JV partners, and recruit affiliates and I'll show you how to effectively drive traffic to your product, after that we go into advanced marketing techniques and I will show you a lot of my secrets – a lot of things that work for me.
So over the course of 36 weeks you will have 2 websites online and you will also be building 4 different mailing lists. Obviously I can't go into too much detail here but that is what this is all about. It's all about building multiple mailing lists, if you've seen my video on the sales page you will have seen my Aweber account and I have many different mailing lists, building me just a few people each day on each list but combined they usually build around 100 new subscribers each day and that is ultimately what I'm going to teach you in the course.
What happens if I go on holiday or miss a couple of weeks, will I still be able to follow the course?
Yes you will! Because I deliver most of the course via video and PDF you can work at a pace that suits you, although this course is 36 weeks long you don't have to complete it in 36 weeks, it's ok if it takes longer because you can work at a pace that suits you, but I have devised this in such a way that even if you fell behind a week or 2 you should still be able to catch up. So you can go on holiday, you can miss a couple of weeks and you could take a week off, all you would have to do is simply work a little bit harder for a couple of weeks to catch up.
How is this different to your coaching?
You may not realize it but I did offer a 16 week coaching program last year but this is basically a massive upgraded version of my coaching plan. I have learnt a lot since last year and I have learnt new techniques to teach and that's why I have totally revamped my coaching program and turned it into what I call a masterclass program now, it is going to be a lot, lot better than my old coaching program.
Do I need any sort of technical skills?
The answer is no, because that is what I am here to teach you. It doesn't matter if you've just got online today, I will show you step by baby step what you need to be doing, every week you just have to watch what I do and copy what I do, you just have to copy what I am doing. I couldn't make it any easier if I tried, so no, you do not need any sort of technical skills.
How much work/time would I have to put in each week?
Well on average I would say that you would have to put in no more than 5 hours of work each week. Usually only an hour or 2, some weeks will be more intense than others and there may be an occasional week where you have to work around 10 hours, but on average you would have to work between 2 and 5 hours each week. So if you have that sort of time to spare, you can easily do this program.
If I've already had success online, will I learn anything new from this?
The answer is yes! All I will say is if you are having some success online, you may find the first few weeks a bit slow, but remember that the course is 36 weeks long. By the time we get going and get into the advanced material I promise you that you will learn something from the program, even if you have already had success working online.
How do you deliver the course and do we really get to speak with you, 1 on 1 if we need anything?
I deliver the course each Monday at 3pm EST and it is delivered via PDF and online video just like what you are watching now, and I also have plans to do a series of webinars, some weeks these will be delivered live and you can ask me anything you wish, but I will also be recording them so just incase you miss any webinars they will be there for you to refer to in the future. So the course is delivered via PDF, Video and Live Webinar.
And do you get to speak with me 1 on 1 if you need anything? – Yes you do.
Now it must be something like an emergency situation, I'm not going to say you can ring me anytime, day and night because obviously I wouldn't be able to do that, but if you have a situation that cannot be resolved over the internet, via email or via the support system then you can ring me and I promise you we will get the problem solved!
Are there any limits to the number of places you are selling, and if so when is the deadline?
I have to limit places, obviously; I can't take on thousands and thousands of people. Whilst that would be brilliant and I would make a fortune I could not do that because quite simply I've got to dedicate my personal time to make each and every person a success. So naturally places are limited, if I don't sell all the slots I have I will have to close the page when I start training. So the page will probably come down on Tuesday 3rd February.
So it will either come down whenever I fill the training slots, or at the very, very latest, Tuesday 3rd February.
Now when I do fill my slots, if I fill them in the next day or two the page will be pulled without notice. In the past when I ran my coaching program my slots sold out in 3 hours, but I only took on a very small handful of people in those days.
Now I'm not trying to say slots are highly limited, but what I am going to say is I'm in a position now to take on a few more people because of my experience from training people from last year, what I will say is once the slots are filled I will be taking the page down.
So if you are interested I wouldn't hang around, just check out the page and see what I have to offer and if you got any questions, get in touch with me and I'll help you in any way that I can.
So I hope that answers all of your questions and I look forward to working with you.
[End of Video Transcript]
Click Here To See What All The Fuss Is About!
I'm afraid to say that I have a confession to make – my timing sucks!
With the whole broadband (or lack of!) fiasco that happened last week, one of the biggest launches that I've ever been involved in almost passed me by.
I actually thought it was this time NEXT week, so you can imagine my surprise when I checked the page and noticed the launch was actually TODAY, to say my heart sank a little would have been an understatement.
I had some great plans to sneak loads of information to you in anticipation for the launch, I was going to make a couple of videos, and then get you all to send in questions that I could ask on your behalf so you knew exactly what everything was about.
But with the Broadband situation as it is (it's all on the blog if you fancy reading almost 250 comments!), everything came to a stand still.
So what I suggest is this….
Despite the program launching today, I still think there's time for my "questions" idea. So what I want you to do is check out the product, and if you have any unanswered questions, leave a comment on this post with your question by this time tomorrow and I'll have them all answered in a blog post either tomorrow or Thursday.
Sound fair enough?
I'm sure I don't need to tell you what the product is, you will probably have heard about it already, but for any of you that are uncertain about what I'm actually talking about, here it is…
"John Thornhill's Marketing Masterclass"
I've already told you about my history with John Thornhill a million times, but to put it bluntly – if it wasn't for meeting John Thornhill 4 (or maybe 5?) years ago then I wouldn't be writing this post today.
John was the person that introduced me to Internet Marketing. All of the things listed below couldn't have been achieved without the help of John Thornhill:
– My mailing list of just under 10,000 people
– My hosting company that I run with my business partner (who I also met through John!); we are responsible for hosting almost 1,500 domains for clients all round the world
– My Boomerang List Builder Product
– My 20+ Websites
– My blog that has thousands of readers each and every week
To put it bluntly, John is the reason I'm able to make a very good living working full time on the Internet from the comfort of my own home.
If it wasn't for John who knows what I'd be doing today.
I know that sounds like a really soppy, stereotypical thing to say but it's 100% true. The day I purchased his "Own eBook Business" all those years ago was a defining moment in my life so far, and I genuinely mean that.
Jeez, I just read that back to myself and I think I need a sick bucket, I'm from Yorkshire, I shouldn't be saying those kind of things! 🙂
But I'm going to go against my better judgment and leave it all in because I don't know how else I can convey to you what he's done for me, and I'm not just saying this because he's launching a new product today, read back through all the posts on my blog over the years and you'll lose count of the amount of times I've credited John with getting me where I am today.
And believe it or not, I'm not the only person that John has helped break away from the 9-5, I know loads of people from all around the world that have benefited from John's guidance. (You might be one of them already!)
The person that I work with every…single…day…Paula Brett is a good example. Paula and I met on John's forum many years ago, and we formed D9 Solutions; a group that provides hosting and website solutions to businesses and individuals – without the help of John we wouldn't have been able to do this. He has been directly responsible for generating us thousands of dollars in income over the past 18 months.
I could go on, and on…and on, but I have my reputation to think of so I don't want to go too sentimental on you 😉
There is a reason for me telling you all of this though as it's related directly to the product he is launching today. (Tuesday January 27th)
John's new "Marketing Masterclass" course is the follow up to his incredibly successful coaching program that he discontinued last year. I know a lot of you took part in his coaching and had great success, but this is a step up – sort of like "John Thornhill's Coaching on Steroids"!
The Masterclass is a lot more personal than the coaching and takes place over 36 weeks, by the end of the course you should have been transformed into a successful Internet Marketer! (Assuming of course you are willing to follow his guidance and give it your all)
I'm struggling to find the words to describe how useful this will be to you if you are an Internet Marketer, so what I suggest you do is head on over to the website, have a good luck around, and then if you have ANY questions, no matter how big or how small, reply to this post via the comments section and I'll put them to John and then publish his responses on the blog in a couple of days:
https://elpassoblog.com/recs/John_Thornhill_Masterclass.php
The actual site won't open until 5pm EST (10pm GMT), but if you visit before then, do watch the video on the home page and enter your email address in the form provided. And don't use a bogus email address, there are times when I'd actually recommend using one but this certainly IS NOT it!
So as I said, check it out, and if there are any questions let me know and I'll put them to John for you!
Thanks for reading, and I'll hopefully be back with another blog post sometime next week when my Broadband connection returns to normal 🙂
Regards,
Dan
P.S. I really would like to thank all of you who are reading my emails and blog posts, and I am very sincere when I say that. John Thornhill has played a huge part in making my online business a success, but so have each and every one of you that are reading this, I couldn't do it without you, so many thanks for coming along on the ride!