How to stop your Spam emails – without expensive software
How to organize your emails
Hello and welcome to this week's newsletter. This week I have decided to take a break from the usual eBay related material and focus on something that I am sure affects most of you – email management.
With the amount of Spam and junk we all receive you really do need to have a system in place that filters out the junk and then moves your genuine emails into relevant folders.
I am going to show you exactly how I do this using Microsoft's Outlook Express, you can do the same in Outlook but the layout is slightly different. You can download Outlook Express for free at the link below, or you can purchase Microsoft Office if you are looking for a full office package.
Outlook Express free download:
http://www.tucows.com/preview/194179
Buy Microsoft Office:
Now that you have got Outlook or Outlook Express (OE) installed let me show you how to manage your emails.
First let's look at how to get rid of the Spam! First I will give you a VERY quick lesson on how computers work in the most basic form possible.
Computers can recognize the following commands:
IF – THEN – ELSE
So if we were to write a quick line of code in structured English to solve our problem it would look like this:
IF email contains the word "Viagra"
THEN move to "Spam" folder
ELSE Leave email in inbox
That means if the computer finds the word "Viagra" in the body of the email it will move it to the Spam folder. That's all well and good but how do we put this into action?
Follow the instructions below and I will show you how this is done in Outlook Express.
1. Open up OE and Click on Tools > Message Rules > Mail > New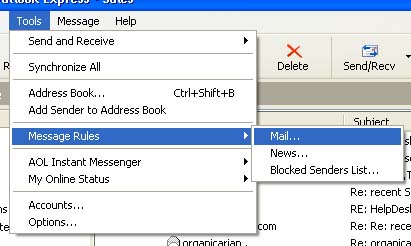 2. Check the box that says "Where body contains words" and then Click on the blue text in box 3 that says "Contains Specific Words"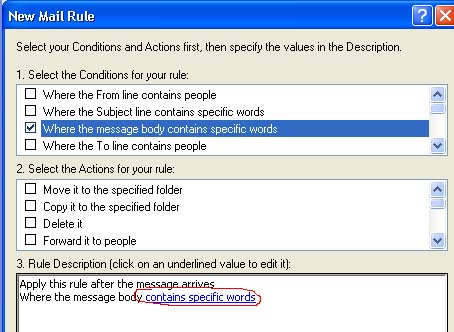 3. You can then enter as many "Spam" words as you like. So for example you would enter "Viagra" "Medication" "Sex Drive" etc. Once you have entered your list of words click "OK"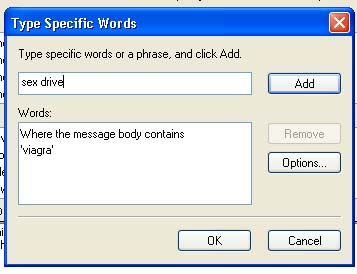 4. Now you need to send all messages that match those criteria to the deleted items folder. So in box 2 Check the box that says "Move to specified folder"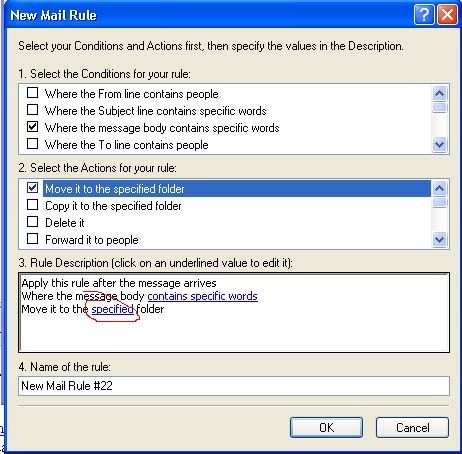 5. In box 3 click the blue text that says "Specified Folder". You can then choose which folder to move the emails to that match the above criteria, for this example I will use the deleted items folder but you could always create your own folder called "Spam" and move the emails there instead.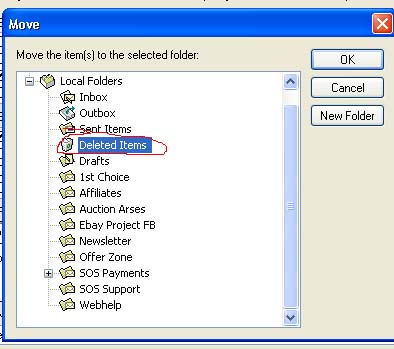 6. Click on "OK". Name your message rule and then click "OK" again and your rule will be saved.
So what exactly have you just done?
You have told Outlook Express to move all emails that contain the words "Viagra" "Medication" "Sex Drive" to your deleted items folder. That way all of the usual Spam emails won't be taking over your inbox causing you to miss out on genuine emails.
Do be careful though, you may have some genuine emails come through that contain the "trigger" words so they would also be moved to the deleted items folder, so it's probably a good idea to check your deleted items folder once in a while to see if any genuine emails have gone through.
That's all for this week. What did you think of the change in direction from eBay to random email management? Do you want me to go back to my eBay based emails or would you rather that I tackled a wider subject base? Let me know by leaving a comment.
You might also notice that I made a mini Steve Irwin tribute post below. I know a lot of you may think he was just a wacky TV presenter but he did an amazing amount of conservation work and genuinely cared about Wildlife and the environment.
The world has lost a great man and my condolences go out to his family. I saw that the Discovery Channel will be opening up a Steve Irwin charity that will go towards the running of Australia Zoo and providing his children with a good education. No news on when this will be opened but I will do a blog entry to let all of you know so you can donate if you wish.
I'll close this weeks newsletter with a moving video tribute to the worlds greatest Wildlife Warrior.
Receive Free Email Updates When A New Entry Is Posted. Join Them!
Comments
5 Responses to "How to stop your Spam emails – without expensive software"