I have a promotion for you all, but unlike some marketers out there, I do actually know all about the products I'm promoting 😉
And just to give you a little more insight into this product than a regular "pitch" email would, I've put together some screen shots of the members area and I'll show you exactly why this product is so different to anything else you will have been pitched before.
So the product in question is Platinum Resell Rights by Aaron Danker. I've known Aaron for ages and promoted tons of his products in the past, any of you that have purchased any of Aaron's products will know that he always produces the goods.
But don't take my word for it, keep reading and you can see if with your own eyes!
Now Platinum Resell Rights provides you with brand new resell rights products to sell every month, complete with sales page, promo emails, and the product – nothing out of the ordinary there. There's a million and 1 sites on the net that do that.
But what makes this so different, is that providing you with the products to sell is just the beginning. Aaron actually wants you to sell the products! He doesn't just provide you with a product each month, he shows you EXACTLY how to sell them, and how to maximize your profits from each and every sale.
There's mind maps, video tutorials, getting started guides, tutorials on how to do the technical stuff and so on. Take a look as I strip it down for you.
First off we have the obligatory product downloads, you can download the product, the ready to go minisite, and the pre-written promo emails. You get a new product each month and you also get access to the previous months product to download.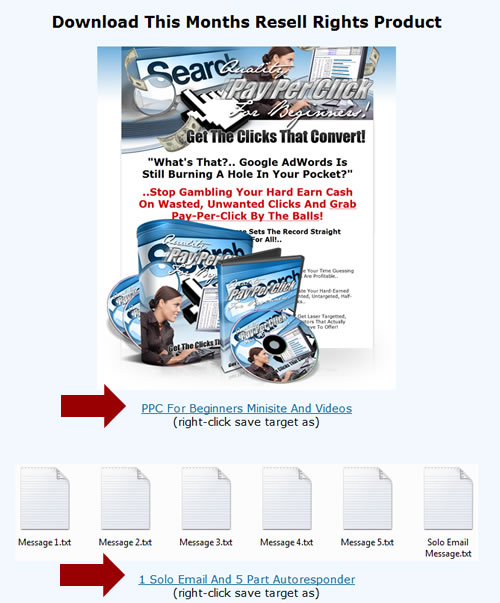 There's also 3 bonus reseller licenses for 3 popular minisites that you can download, again, complete with pre-written promo emails. There are only 2 in the screen shot because I couldn't fit the 3rd on the screen, but take my word for it, there's 3 😉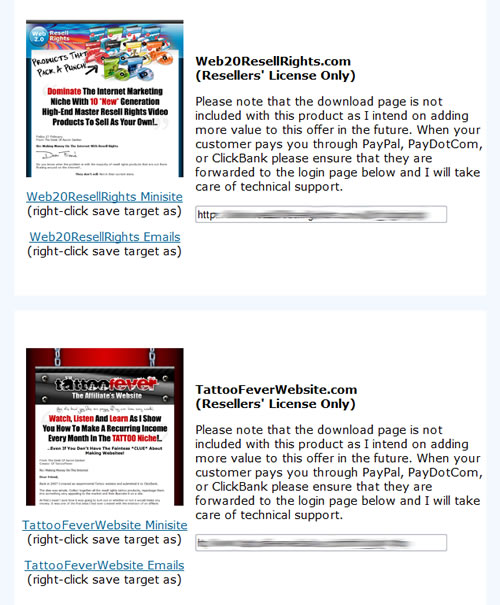 Then we come to the interesting bits, not to say the products aren't interesting, they are great. But this is what sets Platinum Resell Rights apart from the competition.
First of all you have a reseller guide that provides you with the basic information you need to get started.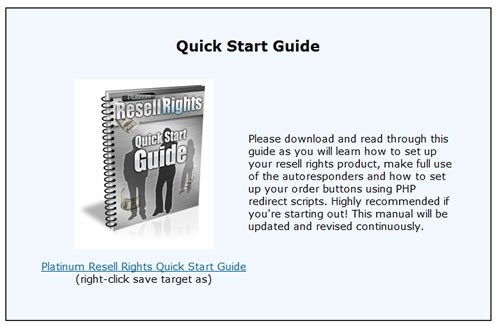 Then, if you click on the "Member Training" link at the top of the members area, you get taken to a very special part of the site!

You are provided with a VERY comprehensive, step by step guide that shows you exactly how to profit and sell the products that Aaron provides you with. It's perfect for newbies and "veterans" alike!
For example, take a look at a sample mind map below. I've had to blur out the details to make it fair on the paying members but you can get an idea of how much time and effort has gone into putting this together.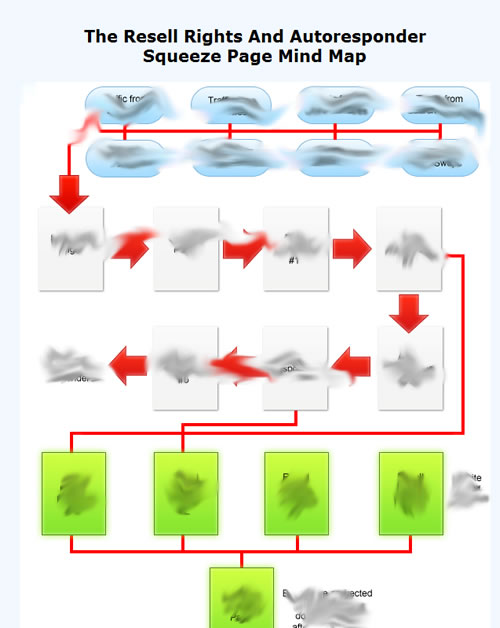 The information in the training area will not only show you how to sell the product, but also how to profit from it on the back end. Take a look at an example guide below.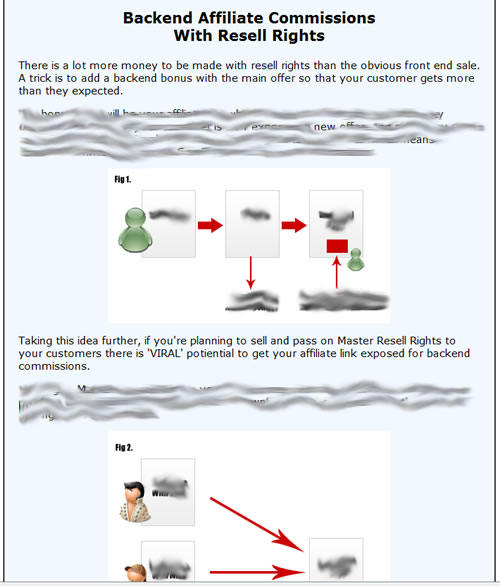 You might actually be thinking you probably know all this, the only thing you struggle with is driving traffic to your site….
Well, don't worry, Aaron has that covered as well 🙂
How does a collection of traffic generation ideas sound to you?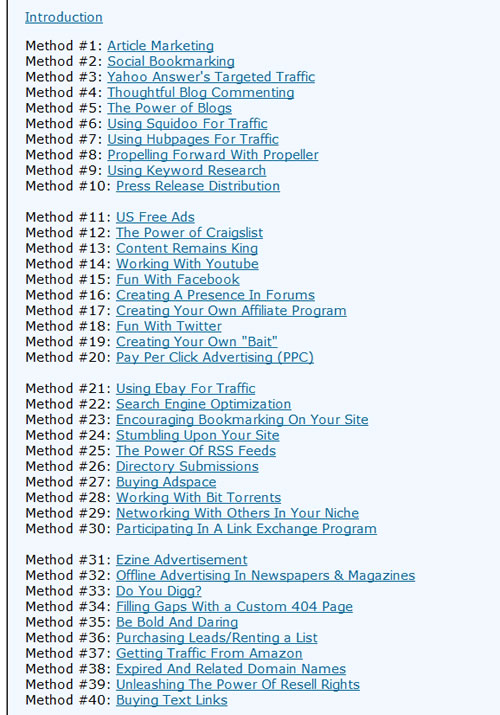 All of the above is included in the package, you don't have to pay extra for any of it. Everything I've shown you today is included in the basic membership.
And now we get to the part I'm sure a lot of you have been scrolling through and trying to find – the price. Well, it's ISN'T free, but how about this for value – you can try it now for just $0.01!
For just 1 cent you get 30 days access to Platinum Resell Rights, you have full access to everything I've shown you on this page. If after 30 days you want to carry on with the membership and receive a new product each month, it's only $27!
Just one sale of any of the products would cover your hosting fees, as well as the membership fees so I think it's at least worth giving it a try.
So I'd advise you to head on over to the site, take Aaron up on his $0.01 offer and see what you think.
— Click Here To Try Platinum Resell Rights For Just $0.01! —
As always I'm here if you have any comments or questions.
It's free, it's made by Brad Callen, it's free, it allows you to legally steal your competitors keywords, it's free, the upsell is interesting, it's free and…it's free, so what's the catch?
Well, there isn't one really. It's actually a very cool free tool that can be very powerful – as I'm about to demonstrate, the only questionable thing would be the morality of stealing/spying on your competitors keywords.
I'll leave you to make your own minds up about the moral aspects of it, but I find it very useful. So here's a quick case study I've done using PPC Web Spy and everyones favourite boring, generic niche – WEIGHT LOSS! 🙂
So the first thing to do (After you've installed PPC Web Spy of course) is to do a search on Google for the niche you are working in. In my example I'll search for "Weight Loss".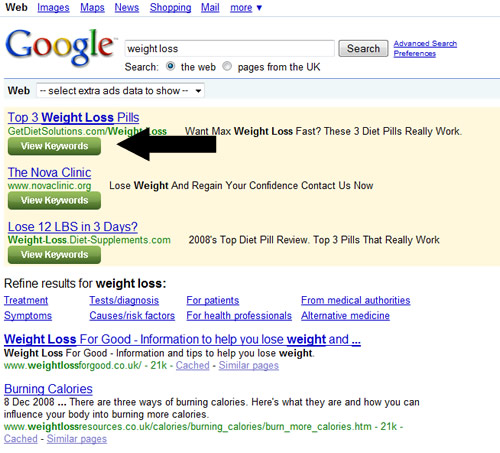 You'll then see that we get a lot of "Sponsored Ad's" and under each of these ads is a green "View Keywords" button. If you click on this button it allows you to view a list of all keywords the website is bidding on, how much it is costing them and how many clicks they can expect to receive on a daily basis.
Here are the results I get for the #1 "Weight Loss" ad on Google.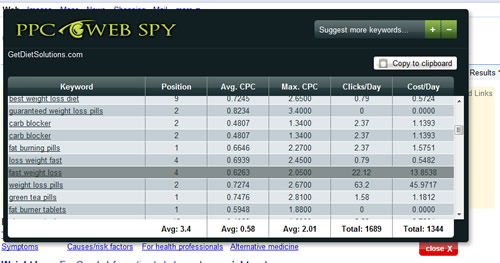 You can see that the site is bidding on loads of different keywords, so from that you can take a closer look at each of the keywords and see which would relate to your site. You can also find even more keywords by searching for one of the keywords brought back by PPC Web Spy.
I'll show you an example.
One of the keywords the site was bidding on is "Tonalin"; now I have no idea what this is, apologies if it's something rude, but it's a good example to use.
So all I'll do is go back to Google and search for "Tonalin".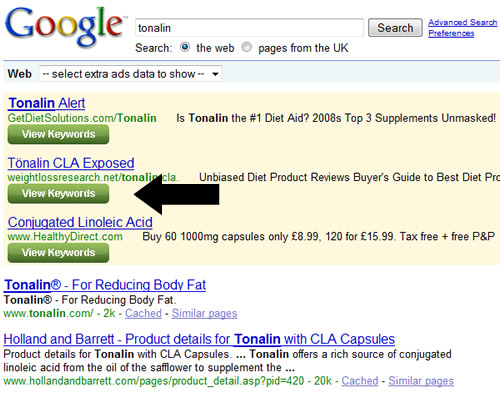 You can see there are a lot of sponsored ads, and we can then view the keywords using PPC Web Spy.
This time I'll check out the 2nd site, and as you can see from the screen shot below, it brings back even more keywords for me to look through. I'm in weight loss keyword heaven – if only I had a weight loss product I'd be rich! 🙂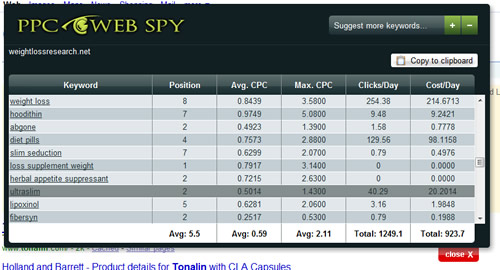 So that's a very quick example of how the free PPC Web Spy tool could help you. I've used the weight loss niche but you'd obviously use it on whatever niche you worked in. You could also use it to research any new potential niches by looking at the estimated clicks and the daily costs.
There is also a VERY interesting upgrade available that again, may be slightly immoral for some of you so I'll leave you to make your own minds up about it!
So now you know how it works, click here to download PPC Web Spy for FREE!
I'm afraid to say that I have a confession to make – my timing sucks!
With the whole broadband (or lack of!) fiasco that happened last week, one of the biggest launches that I've ever been involved in almost passed me by.
I actually thought it was this time NEXT week, so you can imagine my surprise when I checked the page and noticed the launch was actually TODAY, to say my heart sank a little would have been an understatement.
I had some great plans to sneak loads of information to you in anticipation for the launch, I was going to make a couple of videos, and then get you all to send in questions that I could ask on your behalf so you knew exactly what everything was about.
But with the Broadband situation as it is (it's all on the blog if you fancy reading almost 250 comments!), everything came to a stand still.
So what I suggest is this….
Despite the program launching today, I still think there's time for my "questions" idea. So what I want you to do is check out the product, and if you have any unanswered questions, leave a comment on this post with your question by this time tomorrow and I'll have them all answered in a blog post either tomorrow or Thursday.
Sound fair enough?
I'm sure I don't need to tell you what the product is, you will probably have heard about it already, but for any of you that are uncertain about what I'm actually talking about, here it is…
"John Thornhill's Marketing Masterclass"
I've already told you about my history with John Thornhill a million times, but to put it bluntly – if it wasn't for meeting John Thornhill 4 (or maybe 5?) years ago then I wouldn't be writing this post today.
John was the person that introduced me to Internet Marketing. All of the things listed below couldn't have been achieved without the help of John Thornhill:
– My mailing list of just under 10,000 people
– My hosting company that I run with my business partner (who I also met through John!); we are responsible for hosting almost 1,500 domains for clients all round the world
– My Boomerang List Builder Product
– My 20+ Websites
– My blog that has thousands of readers each and every week
To put it bluntly, John is the reason I'm able to make a very good living working full time on the Internet from the comfort of my own home.
If it wasn't for John who knows what I'd be doing today.
I know that sounds like a really soppy, stereotypical thing to say but it's 100% true. The day I purchased his "Own eBook Business" all those years ago was a defining moment in my life so far, and I genuinely mean that.
Jeez, I just read that back to myself and I think I need a sick bucket, I'm from Yorkshire, I shouldn't be saying those kind of things! 🙂
But I'm going to go against my better judgment and leave it all in because I don't know how else I can convey to you what he's done for me, and I'm not just saying this because he's launching a new product today, read back through all the posts on my blog over the years and you'll lose count of the amount of times I've credited John with getting me where I am today.
And believe it or not, I'm not the only person that John has helped break away from the 9-5, I know loads of people from all around the world that have benefited from John's guidance. (You might be one of them already!)
The person that I work with every…single…day…Paula Brett is a good example. Paula and I met on John's forum many years ago, and we formed D9 Solutions; a group that provides hosting and website solutions to businesses and individuals – without the help of John we wouldn't have been able to do this. He has been directly responsible for generating us thousands of dollars in income over the past 18 months.
I could go on, and on…and on, but I have my reputation to think of so I don't want to go too sentimental on you 😉
There is a reason for me telling you all of this though as it's related directly to the product he is launching today. (Tuesday January 27th)
John's new "Marketing Masterclass" course is the follow up to his incredibly successful coaching program that he discontinued last year. I know a lot of you took part in his coaching and had great success, but this is a step up – sort of like "John Thornhill's Coaching on Steroids"!
The Masterclass is a lot more personal than the coaching and takes place over 36 weeks, by the end of the course you should have been transformed into a successful Internet Marketer! (Assuming of course you are willing to follow his guidance and give it your all)
I'm struggling to find the words to describe how useful this will be to you if you are an Internet Marketer, so what I suggest you do is head on over to the website, have a good luck around, and then if you have ANY questions, no matter how big or how small, reply to this post via the comments section and I'll put them to John and then publish his responses on the blog in a couple of days:
https://elpassoblog.com/recs/John_Thornhill_Masterclass.php
The actual site won't open until 5pm EST (10pm GMT), but if you visit before then, do watch the video on the home page and enter your email address in the form provided. And don't use a bogus email address, there are times when I'd actually recommend using one but this certainly IS NOT it!
So as I said, check it out, and if there are any questions let me know and I'll put them to John for you!
Thanks for reading, and I'll hopefully be back with another blog post sometime next week when my Broadband connection returns to normal 🙂
Regards,
Dan
P.S. I really would like to thank all of you who are reading my emails and blog posts, and I am very sincere when I say that. John Thornhill has played a huge part in making my online business a success, but so have each and every one of you that are reading this, I couldn't do it without you, so many thanks for coming along on the ride!
It's a debate that shows no sign of slowing down, in the red corner you have the marketer using the "Forced Continuity" method, and in the blue corner you have the customer who has been stung in the past.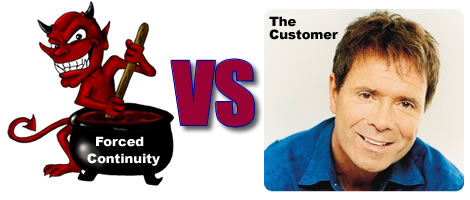 And before my analogy continues, here's just a very quick explanation of forced continuity and how it is used in Internet Marketing.
Forced continuity has been around for a very, very long time. My first experience of a forced continuity program came through a direct mailing company that offered to send me a brand new DVD for just £1, so without reading the small print I decided I'd be a fool to miss it, so I filled out the form and ordered my £1 DVD.
Little did I know that by ordering the £1 DVD, I had also agreed for them to send me 3 DVD's each month at the normal price. It was all in the small print, but of course I didn't take any notice of it, I just wanted my £1 DVD!
This would have been 6 or 7 years ago, but forced continuity reared it's head again when a high profile marketer, Mike Filsaime introduced forced continuity to the online world. I know there were others using this method before Mike, but I do believe that Mike "introduced it to the masses" – he seems good at that so kudos to him!
The idea behind forced continuity is simple, you are offered something of value for peanuts, usually less than a pound/dollar. But by accepting the offer you are also enrolled into a freebie monthly agreement, that starts to cost after the first month.
The problem that a lot of customers have is with the way everything is laid out. Many feel that they are often tricked into the forced continuity and the first they know about it is when they check their credit card statement at the end of the month.
There are also a few horror stories going around about how some marketers make it impossible to cancel to monthly subscriptions. *cough* Keith Wellman *cough* credit card charge back *cough*
BUT
And yes, there's always a BUT!
Despite all of the bad press, forced continuity can still be a good thing for marketers and customers alike.
IMHO if a marketer has a new monthly product coming out, what better way is there to gage public opinion on the product than to offer potential customers access free of charge (or virtually free) for a month to see if they like it?
Surely that's better than charging $x per month from the start?
With the free month offer, a customer has 30 days to decide if the product is worth the $x per month it would cost after that, if they don't like it, all they need to do is cancel. The forced continuity can actually turn out to be a good thing for both the marketer, and the customer.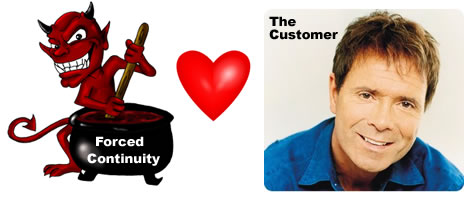 Let me take a real life example. I was actually asked to promote this product around 3 weeks ago, and I came back to look at it yesterday. I didn't want to do a regular mailing because I know a lot of you are in the "blue corner" and the last thing I want to do is piss you off, especially as it's nearly Christmas! 😉
So I thought I would come out and show you why it's worth taking the time to look over products with forced continuity, rather than turning your nose up at them right away.
The product in question is called Quick Fire Income and it's been put together by Lee McIntyre. I'm not too keen on the product name but that's by the by! (Although I guess it does sound better than "10 how to marketing videos worth more than $200+ and we're giving away access for just $1")
So the deal to hook you into the offer is access to 10 (TEN) of Lee's popular "How To" videos that usually retail at over $200. But as part of this special deal you can get your hands on the videos for just $1 – even with the USD/GBP exchange rate it's still a bargain!
But there has to be a catch right?
YES! 🙂
The almost irresistible offer is designed to get you to try out Lee's brand new "Elite Mastermind Club". When you purchase the videos for $1, you automatically get 30 days of free access to the mastermind club and if you choose to stay a member you pay the normal monthly price after the free 30 days are up.
So if I break it right down, here is how it all works:
Step 1: Pay $1
Step 2: Download the 10 Internet marketing videos
Step 3: Check out the Elite Mastermind Club for 30 days, free of charge
Step 4: If the club isn't for you, then cancel. If you like it, you pay the normal fee.
SIMPLE!
I say it's simple, but the reason forced continuity gets a bad press is down to step 4, most notably word 8 in the sentence – CANCEL.
A lot of marketers seem to take the FORCED part of forced continuity way too far and make it almost impossible to cancel. Lee doesn't do this, he has given me his word on it and that's good enough for me!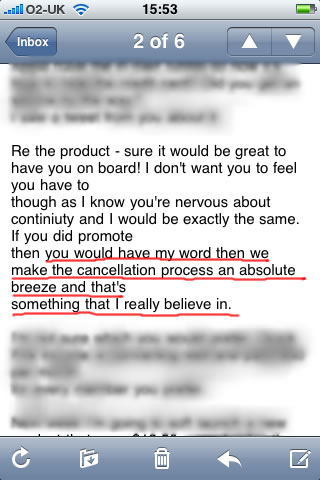 So if you do have any problems in canceling, let me know and I'll personally come over and act as the spit bucket man for you in the "blue corner" 🙂
I was about to sign off, but you know what. Here's how confident I am in the product, I'll show you the exact steps you need to take if you do wish to cancel at any time during your 30 day free trial, and as I said, if you have any problems let me know!
How To Cancel Quick Fire Income
You can either use the LiveChat option, or the email ticket option to cancel at any time, just go here:
http://www.aimhighersupport.com/
Not too painful was it 🙂
*Brain Fart* Calling the method "Forced Continuity" doesn't help, it makes it sound so cold and unpleasant. Why can't we rename it to something nicer like "Free Trial….something" *Brain Fart*
So there you have it, my views on "Free Trial…..something" exposed to the world! Are you still in the same camp that you were at the start of the article?
As always your comments are welcome, nay, encouraged so comment away, and do check out Lee's Quick Fire Income videos, it might help change your perceptions on forced continuity, how else can you get something of such value for just $1? (And please don't say the Woolworths closing down sale!)
Thanks for reading,
Dan
P.S. I upgraded to WordPress 2.7 earlier, and one of the main differences is that we now have "Threaded Comments" on the blog. So if you are leaving a comment to a particular…comment, you can hit the "Reply" button, and, well, try it out and see what happens!
It seems that one of life's greatest mysteries is:
"How Do I Get My Own Book Published?"
Statistics show that the vast majority of people feel they have at least one book in them, but they have no idea how to find a publisher.
Thankfully since the dawn of the Internet things have become a lot easier. There are now services out there that will help you turn your own master-pieces into physical paperback, or hardback books that can be sold in the world's biggest online market places including Amazon, Barnes & Noble, and Waterstones.
In dead simple terms, here is how you do it:
1. Write the book
The first step is to write your book. I find the easiest way is to open up your favorite word processor (Microsoft Word, Open Office Writer, etc.) and get typing! If you set yourself a target of so many pages/chapters each day, you'll be surprised at how quickly things start to take shape.
2. Format the book
Add some pictures if you wish, insert a contents page and generally "jazz up"  the layout of your book. Make each chapter start on a new page, make the main headings bold and use a different font to make them stand out just that little bit more.
If you a stuck for ideas, just read some of your favorite books and take note of how they format everything.
3. Send  the book to your publisher
Yes, you already have a publisher waiting to accept your book, and you didn't even have to leave the PC (or MAC, I'm all for equality!) screen.
At present your book is still in digital form, so it's known as an eBook, or e-Book depending on how pedantic you want to be. But whichever way you spell it, you need to upload your eBook to the publisher. And that's actually pretty much it, you can now sell your book online, and the publisher will print and ship the book for you, but now the best bit.
4. How to sell your book on Amazon & Other online book stores
All you need to be able to sell your book on Amazon is an ISBN number. Again, it's dead simple – get your publisher to do it for you!
The publisher is able to give you all the help you need when it comes to getting an ISBN number for your book, as well as selling your creation on Amazon. They'll even take care of the distribution side of things for you!
So in 4 easy steps, that's how you sell your book on Amazon. It can actually be done in less than an hour assuming you've already written your book 🙂
Of course, I've shown you everything in it's most basic form, there are of course a lot more questions that you'd need answers to before you can become the next JK Rowling, things like:
How to generate sales of your book
How to find the publisher
How to get the ISBN number
The formatting limitations for a hardback/paperback book
What size do your images have to be?
How to do you make a professional front and back cover for the book?
How do you break into the Amazon worldwide marketplace
Can you use PLR (Private Label Rights) material?
How to turn any existing eBook into a physical book
And so on…
If you are at all interested in publishing your own book, then I strongly recommend you check out "Ebook 2 Book". All of the bullet points and steps that I mentioned above are covered in the guide, and it really will save you hours, if not days of research time!
Click Here To View Ebook 2 Book
A Step By Step Guide To Publishing Your Own Book/eBook On Amazon