How to deal with snotty eBay customers
Greetings everyone, I hope you all survived the mini-UK heatwave. It looks like we are back to normal today so at least it gives me a chance to write this weeks newsletter for you! This weeks newsletter may turn into a "mini-rant" so please accept my apologies if it does!
This week I will be looking at how to deal with snotty eBay members. This all stems from an email I received earlier this week, I have dealt with snotty customers before but this one really got on my wick!
I`m sure you have all come across the problem with ebay/paypal and making payments to international sellers. When you try to pay using eBay`s checkout you will get a message saying:
"This transaction has been cancelled"
Usually eBay members are good enough to contact me about the problem, I then reply telling them the problem is with eBay and that you need to send payment manually to my paypal email address. This works fine for 99% of all cases but earlier this week I received this:
"Hi
You have a problem with your paypal account. I find this totally unsatisfactory and you should cancel the transaction immediately or I will report you too eBay and paypal."
/ / / – – / / /
I have just released the first ever screenshot of Auction SOS. You can view it here:
https://elpassoblog.com/auction-sos-spy-screenshot-1
Remember if you aren`t on the Auction SOS launch list yet you will need to get your skates on! – www.auctionsos.com
/ / / – – / / /
I managed to bite my tongue with this eBay buyer and just sent the usual reply explaining what the problem was. They didn`t reply to the email and haven`t paid for the item, but that got me thinking why are people so snotty?
I don`t just sell on eBay, I am also a regular buyer. I often have problems with transactions so I email the buyer. NOT ONCE in my 5 years of trading on eBay have I ever sent a snotty email and I never will. Can somebody tell me what sending a snotty email achieves other than getting yourself added to my blocked buyers list?
I will be interested to hear how the rest of you handle snotty emails from eBay customers, do you find that a nice polite reply is the best way to go or do you let rip! I always use the polite reply technique but sometimes it`s very tempting to tell them exactly what you really think.
Likewise if you are one of those people that sends snotty emails please leave a comment and let us know what sort of results you get?
Personally I am much more likely to help a person if they send a nice polite email, if I receive a snotty email I will answer the question but I wouldn`t go out of my way to help the person, what do you think, should we make a stand against the snotty email senders? – feel free to leave a comment!
Thanks for reading, sorry it wasn`t as long as usual but I have just been recorded for Bold Business Talk radio so I haven`t had much free time on my hands!
How can I generate more sales from my eBay store?
Hello and welcome to the latest newsletter, I`ve managed to struggle through
a computer virus and the warm weather to write what I think will be a very usefull
newsletter for you.
The subject for this newsletter was chosen by a reader, unfortunately I have
lost the email you sent so I don`t have your name to hand, if you are reading
this feel free to leave a comment with your name and I will give you full credit
🙂
Without any further ramblings from my goodself, lets begin with this weeks
topic – "How can I generate more sales from my eBay store?"
That`s a question that I know a lot of us would like to know the answer too,
I could spend the next few hours writing about the usual things you have probably
heard repeated over and over – include a link in your email signiture, post
on forums, submit a press release etc…. BUT that would be boring and wouldn`t
really be teaching you anything different would it?
I am now going to steal a quote from a BT advert here in the UK (the one with
Jeremy Clarkson!):
"Do you find that companies spend more time trying to get new customers,
rather than looking after the one`s they have already got?"
OK, so maybe I haven`t repeated it word for word, my memory isn`t that good
but you get the idea!
This is the same for your eBay store, it really hit home with me a couple of
weeks ago when I bought a product off the internet and 5 days later I received
this through my letterbox: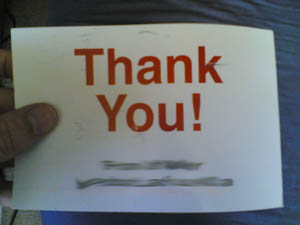 It was a simple little postcard with "Thankyou" on the front (as
you can see in the Pic), and then on the back of the postcard there was a simple
little messgae thanking me for my custom. It may not sound like much but receiving
this postcard really did make me feel like they cared about my purchase and
I will definately be buying from them again. I even added their eBay store to
my favourites!
This got me thinking, why don`t more eBay sellers do this?
It cant be the cost, I did a quick look around and found that Vistaprint
will print you out 100 postcards for £15 – thats roughly $28 for my american
readers. A 2nd class stamp costs under 25p so sending out a thankyou postcard
isn`t going to cost you any more than 50p, is that a price worth paying to make
sure that you make that customer a customer for life? I think it is.
– – / / – –
Last week I answered some of your questions about Auction
SOS, if you havent already seen my answers you can view them by clicking
here.
– – / / – –
Anyone can make at least 1 sale on eBay, no matter what you are selling. You
could then just let that customer walk off into the sunset and never hear from
them again, or you could make the effort to go that extra yard for the customer,
make sure that you turn that customer into one of your customers for life!
I like the postcard idea but i`m sure you will be able to think of other ways
to improve your aftersales service to your customers. Another idea is to set
up a simple autoresponder
email message that sends an email to your customer a few days after the purchase,
ask them for feedback, make sure they are happy with the product that you sold
them.
What I am trying to get at here is that your aftersales service is just as
important, if not more so than the original sale. Take this question as an example:
"Would you rather sell one product for £20 and never see the customer
again, or sell a product for £1 and turn that customer into a customer
for life?"
I know that for me I would take the £1 sale, in the short term my bank
balance wouldn`t look as pretty but in the future that customer will come back
to me to buy a product rather than buying from my competitors! Gaining 1 sale
is easy, turning that sale into a relationship between you and the buyer is
the hard part 🙂
Thanks for reading, as always if you have any comments or suggestions for future
newsletters feel free to leave them. I read them all and enjoy your feedback.
Speaking of feedback a MASSIVE thankyou to all of you that filled out my survey
last week, if you click on the "Newsletter" link to your right I have
published some of your testamonials.
Until next week!
Dan
Welcome once again to another of my eBay artilcles. This week I have decided to take a look at shill bidders and what you can do to spot them. Shill bidding is a major problem on eBay and can cost you a lot of money, chances are that you have already been a victim of shill bidding without you even know it!
Anyway enough chit chat, here is my latest article below:-
If you are a user of eBay then the chances are, that you have already come across the term "shill bidding". Shill bidding, is bidding that is used to artificially inflate the price of a certain item. Shill bidding usually takes place when the seller of an item wishes to increase the price, or generate interest in the item. The seller would usually get a friend or family member to bid on the item in question so that it looks like the item is more popular than it actually is, sometimes the seller may also use a second eBay account to increase the price of the item.
Shill bidding is prohibited by eBay and rightfully so. In my time I have been the victim of a shill bidding eBay scam. I was bidding on a digital camera and was surprised to see the price increase dramatically every time I made a bid, each bid that I made was followed by a new bid from an eBay user without any feedback. I thought this was very strange so I contacted eBay, they confirmed to me that the seller was using a second account to increase the price of the item, in the hopes that I would keep bidding and be made to pay a higher price. The listing was pulled by eBay and the seller had both of their accounts suspended. I was lucky but unfortunately many others are not so fortunate.
Shill bidding is a huge problem on eBay and you may have already been a victim of this scam without even realising it! Hopefully after reading this guide you will be able to spot if a shill bidder is bidding on one of your auctions.
– – -/ / /- – –
Look out for my email next Thursday.
I have teamed up with Bold Business Talk Radio
to bring you an exlcusive deal on their latest product.
– – -/ / /- – –
The first step to take if you feel you have been a victim of shill bidding is to look at the "Bidders List" for the item that you are bidding on. Usually an account that is used for shill bidding will have very little, if any feedback. The account could even have been created within the last 30 days with the sole intention of shill bidding for the seller, you can see if the member is new as they will have a small orange icon next to their user ID.
You should also do some research into the sellers other sales. Look at the sellers other sales via their feedback profile and see if the shill bidder was bidding on those items as well. If the shill bidder was bidding then the chances are that the seller is using a second account, or the account of a friend to shill bid.
Finally, another favoured method to spot a shill bidder is to look at how much the bids are increasing by. Usually a shill bidder will only place a "Nibbler" bid, this is a bid that is only slightly higher than your bid but then puts the impetuous on you to bid on the item again. The shill bidder will keep on bidding until you stop, they will then retract their final bid leaving you to pay for the item at a higher price than you should have paid!
If you believe that you have been a victim of a shill bidding scam or think that an eBay member may be shill bidding then you need to contact eBay. You can contact eBay using the contact form on their site, if eBay finds that the user has indeed been shill bidding then the all of the accounts associated with the shill bidder will be suspended.
The End 🙂
I hope that you liked the article, I spent a couple of hours putting it altogether. It was definatly one of the hardest subjects for me to research but I hope I have given you some valuable information. Pick an easier subject for me next time 🙂
As always I will be reading the comments you leave and will do my best to reply to them all. So if you have any feelings (good or bad) for my newsletters please let me know!
Until next week,
Dan
Have you ever looked at an eBay members feedback profile and noticed they had a private profile? I bet you have, and I bet you also wondered just why that member has chosen to make their profile private. I asked myself the same question every time I saw an eBay member with a private feedback profile, so I did some research and here are my findings.
According to eBay, private feedback is designed for reputable buyers and sellers that have received an unfair or defamatory feedback comment. The trader can then choose to make the feedback private whilst eBay decides if they should remove the feedback comment or not. Whilst the feedback is private you cant see any of the feedback comments left for the eBay member, you can however view how many positives, neutrals and negatives the member has received.
The above reason for making feedback private seems reasonable enough, however how do you know the eBay member isn't making their feedback private for more sinister reasons?
The answer – You Don't!
A lot of members with private feedback may be trying to hide more than the odd bad comment, they may be hiding hundreds or maybe even thousands! These comments could be warning you about eBay scams or a very bad ebayer, without being able to see the feedback comments the only thing you have to go on are the feedback scores for the member.
No matter how good the feedback scores look, if an eBay member has private feedback then it should instantly ring an alarm bell in your head. I wouldn't recommend buying anything from an eBay member with a private feedback profile. If you are desperate for the item that the member is selling my advice would be to contact the seller before you purchase the item. Ask the seller why they have chosen to make their feedback profile private, you could even ask them to make the feedback public so you can view the comments and once you have seen the comments they can make them private again.
After all of my research I still cant find any good reasons as to why a member would choose to keep their feedback profile private. As soon as I see a member with a private feedback profile I always get the impression that they have something to hide.
In closing I would strongly recommend that you Don't buy anything from an eBay member wih a private score, you are likely to get stung by an eBay scam! Do yourself a favour and buy the item you are looking for from a more reputable eBay seller. Remember the old saying – "If it sounds too good to be true, then it usually is!"