How can I generate more sales from my eBay store?
How can I generate more sales from my eBay store?
Hello and welcome to the latest newsletter, I`ve managed to struggle through
a computer virus and the warm weather to write what I think will be a very usefull
newsletter for you.
The subject for this newsletter was chosen by a reader, unfortunately I have
lost the email you sent so I don`t have your name to hand, if you are reading
this feel free to leave a comment with your name and I will give you full credit
🙂
Without any further ramblings from my goodself, lets begin with this weeks
topic – "How can I generate more sales from my eBay store?"
That`s a question that I know a lot of us would like to know the answer too,
I could spend the next few hours writing about the usual things you have probably
heard repeated over and over – include a link in your email signiture, post
on forums, submit a press release etc…. BUT that would be boring and wouldn`t
really be teaching you anything different would it?
I am now going to steal a quote from a BT advert here in the UK (the one with
Jeremy Clarkson!):
"Do you find that companies spend more time trying to get new customers,
rather than looking after the one`s they have already got?"
OK, so maybe I haven`t repeated it word for word, my memory isn`t that good
but you get the idea!
This is the same for your eBay store, it really hit home with me a couple of
weeks ago when I bought a product off the internet and 5 days later I received
this through my letterbox: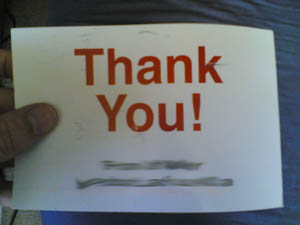 It was a simple little postcard with "Thankyou" on the front (as
you can see in the Pic), and then on the back of the postcard there was a simple
little messgae thanking me for my custom. It may not sound like much but receiving
this postcard really did make me feel like they cared about my purchase and
I will definately be buying from them again. I even added their eBay store to
my favourites!
This got me thinking, why don`t more eBay sellers do this?
It cant be the cost, I did a quick look around and found that Vistaprint
will print you out 100 postcards for £15 – thats roughly $28 for my american
readers. A 2nd class stamp costs under 25p so sending out a thankyou postcard
isn`t going to cost you any more than 50p, is that a price worth paying to make
sure that you make that customer a customer for life? I think it is.
– – / / – –
Last week I answered some of your questions about Auction
SOS, if you havent already seen my answers you can view them by clicking
here.
– – / / – –
Anyone can make at least 1 sale on eBay, no matter what you are selling. You
could then just let that customer walk off into the sunset and never hear from
them again, or you could make the effort to go that extra yard for the customer,
make sure that you turn that customer into one of your customers for life!
I like the postcard idea but i`m sure you will be able to think of other ways
to improve your aftersales service to your customers. Another idea is to set
up a simple autoresponder
email message that sends an email to your customer a few days after the purchase,
ask them for feedback, make sure they are happy with the product that you sold
them.
What I am trying to get at here is that your aftersales service is just as
important, if not more so than the original sale. Take this question as an example:
"Would you rather sell one product for £20 and never see the customer
again, or sell a product for £1 and turn that customer into a customer
for life?"
I know that for me I would take the £1 sale, in the short term my bank
balance wouldn`t look as pretty but in the future that customer will come back
to me to buy a product rather than buying from my competitors! Gaining 1 sale
is easy, turning that sale into a relationship between you and the buyer is
the hard part 🙂
Thanks for reading, as always if you have any comments or suggestions for future
newsletters feel free to leave them. I read them all and enjoy your feedback.
Speaking of feedback a MASSIVE thankyou to all of you that filled out my survey
last week, if you click on the "Newsletter" link to your right I have
published some of your testamonials.
Until next week!
Dan
Receive Free Email Updates When A New Entry Is Posted. Join Them!
Comments