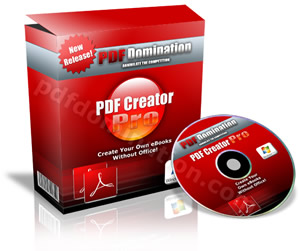 I spent some time last week testing out some new PDF software, and if it was any good, I was going to share it with you.
Well….it was good!
And it's something that I get asked about a lot, so I figured it would probably be useful for a lot of you.
Here is one of the most common PDF related questions I get asked:
"How can I stop people from copying my PDF eBooks?"
My answer is always the same – You can't add protection to your PDF eBooks unless you use the Adobe Acrobat software, that currently costs around £300 – roughly $600.
So in the end, people just use free PDF converters that don't have any security features and just hope that nobody out there decides to copy or edit their eBook.
But now when I get asked the question, I'll be able to give a different answer – I'll be able to point them to the new software I spent last week testing out – PDF Domination.
PDF Domination contains a standalone PDF Creator software package that runs on any Windows PC (Even Vista!), but unlike other PDF creators, it contains a number of security features. Take a look:
– Password Protect Your PDF Document
– Disable The Ability To Copy/Paste Text
– Disable Printing
– Disable Image Copying
There are also the usual features that you'd expect to see:
– Simple User Interface
– Easily Insert Clickable Links
– Integrated Word Processor (No need to spend hundreds on MS Office!)
– 1 Click PDF Creation
So that's the software covered, but PDF Domination isn't just 1 software application. It's kind of difficult to describe, but it's like a big all in one package that covers everything you need to know about creating a successful PDF eBook.
Everything from how to find a niche, writing the eBook, setting up the sales funnel, automating/tracking sales and so on.
Now personally, I think you'll probably already know a lot of that anyway – if you've been reading my blog for a while you should be an expert!
But, I do think that the software module of PDF Domination is way to good to miss out on. When you compare the cost of the PDF Domination package ($47) to the cost of Adobe Acrobat ($600), you can see why I hold it in such high regard.
So if you are interested in protecting your PDF eBooks, head on over and check it out:
https://elpassoblog.com/recs/PDF_Domination.php
No worries if it's not for you, but as a lot of you ask me about it I thought it would be worth a share!
Cheers,
Dan