lsass.exe System Shutdown Error
As you may have noticed I wasn't able to post a newsletter earlier this week as I had planned. This was down to my computer deciding it was time to self-destruct! Let me give you a bit of background information, and then let me show you what I did to fix this annoying error.
It all started on Monday when we had an un-expected power cut. The computer was turned on at the time so when the power went off, so did the computer! When I booted back up everything went as normal, the obligatory windows Disk Check ran, but then to my horror the computer decided to turn itself off, no warnings, it was just like someone ripped the power cord out of the socket!
I tried again and the same process happened, this time I got my digital camera out and decided to take some pictures of the error. This is what I saw, please ignore the bad screens, I forgot to turn off the flash on my camera!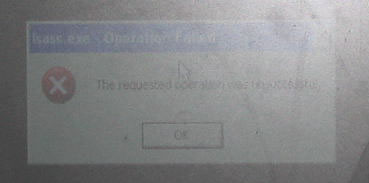 The above error message reads lsass.exe – Operation Failed
Then underneath it says: The requested operation **long code here**
After about two seconds the computer shuts itself down, well it doesn't really shuts down it's more like a "power down".
So my next step was to boot up in safe mode, I'm using Windows XP home by the way! All was going well until I got past the windows boot screen and then I got the following BSOD (Blue screen of death)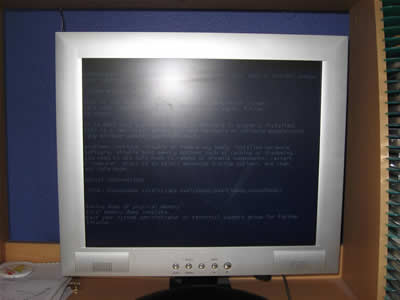 And here is a condensed version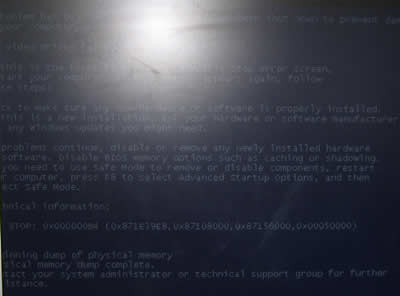 Again, the flash has messed up the picture but in short it said:
"The Video Driver Failed To Initialize"
So back I went, I tried all of the F8 options – boot in safe mode, enable boot logging, disable automatic shutdown etc but nothing worked. I was still getting the lsass.exe every time I tried to boot up. In the end I booted from my Windows XP CD and tried a reinstall/repair but the computer closed down before the CD had a chance to run!
I don't like been beaten by a computer but this one almost managed to get one over on me, as a last desperate attempt I booted up and then plugged in my external USB had drive when the following screen appeared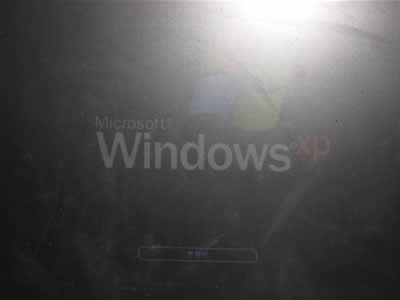 After the XP logo had gone away the screen went black, I was expecting another lsass.exe shutdown but to my surprise I had made it to the blue "Windows is Starting Up" screen!
I was delighted, finally I thought I had managed to log back on, but then this happened: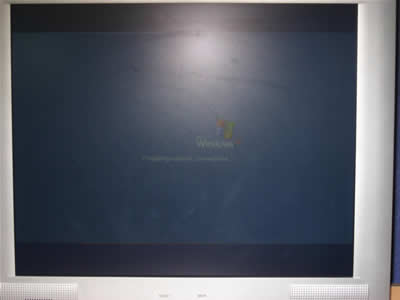 As soon as the "Preparing Network Connections" text appeared the computer shut down, again, when I say shutdown I mean the power went but you know what I mean 😉
I tried a few more times with the hard drive plugged in – it's a Freecom FHD 320GB external USB drive if any of you are taking notes! Each time I would get past the lsass.exe failed to initialize screen but when it went onto the preparing network connections screen BOOM, off the computer went.
The next time I booted up the blue Windows check disk screen ran, I let it run but when it was finished it powered down again. I started back up and inserted the USB disk drive, to my amazement I made it back to the windows login screen, I was able to log back onto the computer and everything was running perfectly.
The computer now boots up as normal, I just hope we don't have any more power cuts anytime soon!
I have now made a backup of everything, I also ran my anti-virus scanners, I use NOD32, Comodo Firewall and Spybot. None of these found anything out of the ordinary so I did a quick search on google and came up with XoftSpy, it's free to download/scan your PC and it found a lot of errors in my registry and it also found a few bits of Malware that the others didn't pick up, but more worryingly it also found a Worm that logged Keystrokes! You can see a screenshot of all the errors below, it found over 300 in total so I would defiantly recommend giving your PC a free scan. (Click here)

After I had removed the items using XoftSpy the computer seems to be back to normal, I will just have to wait until our next power cut to see if the lsass.exe error decides to rear its ugly head again.
So in short, this is what I did to get back onto my PC after the lsass.exe system shutdown problem:
1. Boot up the computer and get Windows to run the Disk check (the one with the blue screen)
2. Plug in an external hard drive after the windows loading screen has run
3. Cross your fingers!
As I said this has worked for me, I hope it will help you do the same. Please leave me a comment if you have had the same error and what you did to fix it!
Thanks for reading,
Dan