SEO 102
SEO 102 is a natural progression from SEO 101 that I posted a couple of weeks ago.
In one of the comments I was asked how I know how many times to include a keyword in the body text, how often it should be bold, how to get the perfect description and so on.
So I thought I'd show you how I do it.
I use some software called "Internet Business Promoter".
It's not some software that I've just started "using" so I can make a thinly disguised affiliate pitch to you, I've been using it for at least 3 years now and it's a great tool – a bit pricey but well worth it IMO.
Before continuing, I know I said this isn't some BS affiliate pitch for a product that I don't actually use, but I am going to be using my affiliate link when mentioning the software, I may as well try get a tiny bit of revenue from this blog, not so I can use it to feed my hidden crack addiction (I'm very boring like that, never done drugs, never smoked, only a moderate drinker), but to help me buy shiny things for Christmas.
But anyway, here's how I use the software.
First of all I write my content and put my site together, I write the content as naturally as possible, but in the back of my mind I'm always trying to fit my keyword/keywords in the content as naturally as possible. At this point I don't think about the density or anything like that, I merely try and fit them in there naturally.
When I've done that, I upload the site to the WWW without any formatting. (Bold, italic, headlines, etc.)
I then open up Internet Business Promoter (IBP for the sake of my keyboard), and run a report on the site by clicking on Optimization > Run Report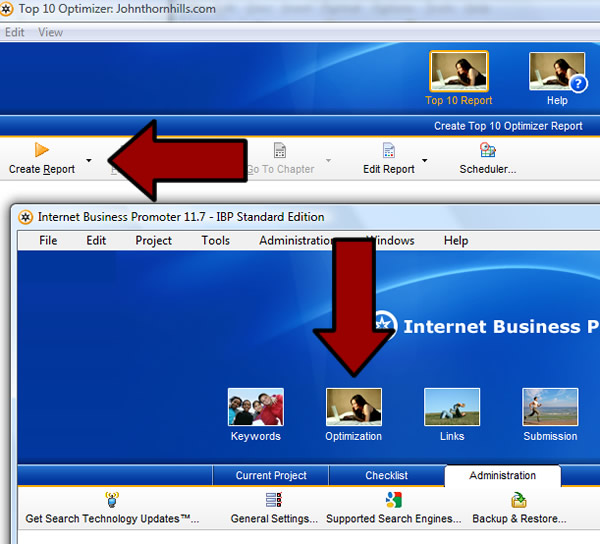 It then analyzes the current top 10 listings on Google (or the search engine you choose) and compares them to your page. It then cleverly tells you what you can do to your page, to improve the on page optimization to take it above your competition.
It presents these findings to you in a nice easy to read report, with a percentage score at the top of the page. The idea is to get your page as near to 100% as possible, I've never actually got a page to be bang on 100% but in my experience 80% and above will usually go a long way to help you rank well in the organic search results.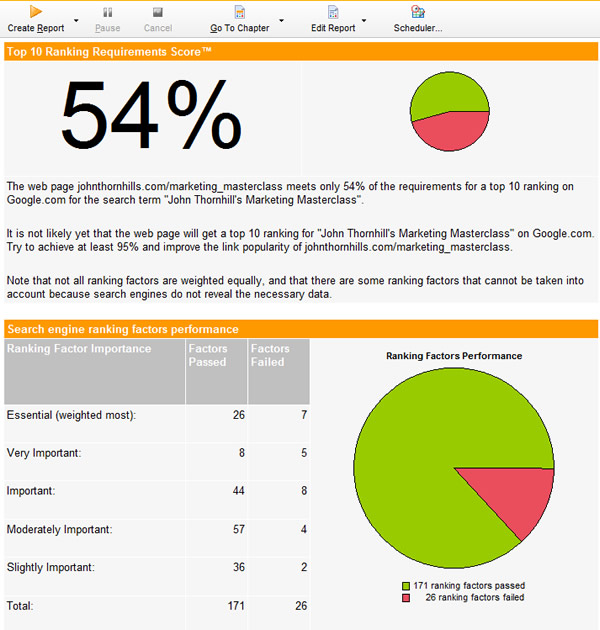 You can see from the above picture, that the site I just ran the report on only scored 54% so that's not too good. So how do we change that?
Well, we read the report of course 🙂
There are lots of things I can change to make it better, but I wont show you all of them as it'll probably take all day for me to write. So I'll just show you an example of the sort of things it tells you to do, the screenshot below shows you how I can improve my page <title> to make it more appealing for Mr Google.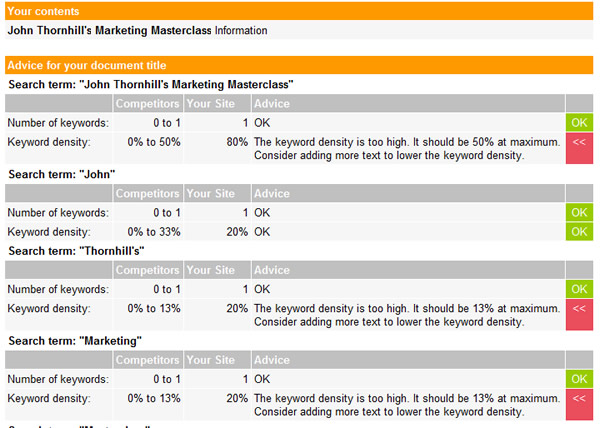 It tells me that the keyword density in my <title> tag is too high, so what I need to do is have a rethink and come up with a new <title> that isn't so keyword heavy.
When I've done that, I can re-run the report and see if my page score has improved.
It's basically just rinse and repeat – run the report, implement the suggestions, run the report, etc.
If you keep doing that, then eventually you'll have the perfectly optimized web page, ready to get you a top ranking in Google.
Don't believe me, do a search on Google for "Lovefilm Review".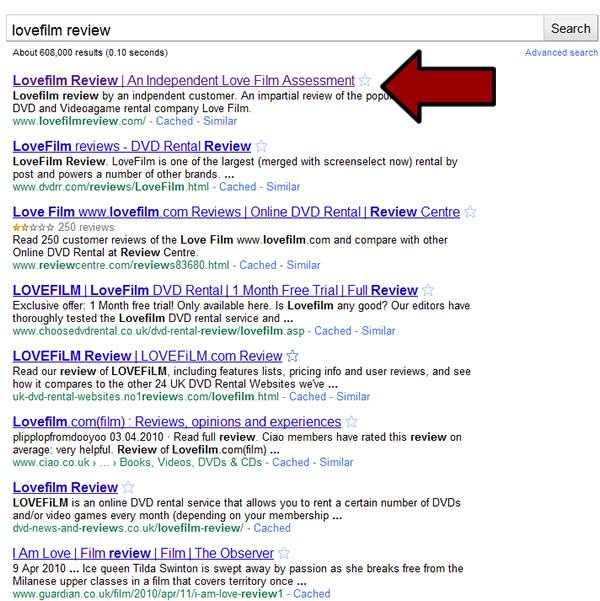 You'll see that the number 1 site in the organic search results belongs to me. I have many sites like that, all with page 1 rankings, but I don't mind showing you the Lovefilm one – you can compete with me all you like on that keyword, it was doing well until Lovefilm decided to have a change of policy and banned affiliates from using the Lovefilm trademark in domain names, so I'm no longer a member of their affiliate program. So if anyone wants to make me an offer for that website, go ahead, maybe you can make money from it in some other way!
So that brings to an end this blog post, as I said, it's not a full on affiliate pitch trying to sell you the software, it's just an insight into what I use. If you want to check it out, then go ahead, there's a 30 day free trial, if you don't, then not to worry!
Thanks for reading.
Dan
Receive Free Email Updates When A New Entry Is Posted. Join Them!
Comments