2010: Dating, d*cks, and Meat Loaf
If you rearrange the words in the title, it will make up a sensible title for the post, it's a little Christmas game, I hope you enjoy it. I actually had a different title, but I've been informed it was quite offensive, so I'm playing it safe.
I thought I'd be normal and write a quick year in review, it seems to be the "in thing" right now, must be the time of year or something.
But I'll make mine a bit different, it will contain minimal marketing stuff, mainly because I've not done any! I will however include some D9 Hosting stuff in there, so anyone looking for anything semi-serious to read wont be totally disapointed with the content.
**START WARNING**
This blog post contains mild references to genitalia, if you are offended by this, please don't read any further.
**END WARNING**
The year started with January, but it must have been an uneventful month because I'm having serious trouble remembering it. I should point out at this point that I'm useless with dates (date dates, not date dates, more on that later), so if I say something happened in March, don't take that as gospel, it probably happened in August.
February and March were the same as January.
This blog post is starting to sound like a bad idea.
Instead of doing things by the month, I'll just think back to a few memorable things and talk about them, they may or may not be in chronological order.
Online Dating
One of the most amusing things that happened to me in 2010 was a foray into the world of online dating with a couple of friends, it's led to many amusing stories being shared between us, none of which will ever be discussed on this blog.
To sum it up, I'd say a lot of the stereotypes are correct, there are A LOT of really crazy people on there, but some really nice people as well, a bit like life in general really.
So if you live in a village where the number of girls/boys aged between 18 – 26 (insert your own age range there) is less than 5, or if you just fancy meeting a few new people, I'd recommend giving it a go, if nothing else some of the profiles will make you laugh.
My favourite was the bluntness of this one:
"I've joined *name of dating site* because I've just found out I'm pregnant"
Meat Loaf & Malfunctioning Penises
This happened in December, I'm 100% sure of this because it was only 3 weeks ago.
As a birthday present for my Dad, I bought 4 tickets to go and see Meat Loaf at the Manchester Evening News arena. My Dad's a bit of a fan, but so am I, so I killed 2 birds with one stone.
I managed to get good tickets, we were in the tiered seating right next to the stage, and around 7 rows back.
During one of the songs (Paradise by The Dashboard Light), Meat Loaf and his sexy (in an older woman kind of way) female singer stopped half way through, and proceeded to bring out 2 big mechanical penises that fired t-shirts into the crowd. As we were near the front, I thought the chances of us having a t-shirt fired at us were quite high.
After a couple of shirts had been fired, the female singer (Patti Russo) turned around and pointed her penis at us. She pressed the fire button, and the penis malfunctioned, she proceeded to take the shirt out of the penis and threw it to someone in the front row, I was disappointed.
It was a very good gig though, and it contained a few more stories that will never be told on this blog, but if you are into that kind of music and he's in your area, go see him!
I'll include a couple of Youtube clips for your viewing pleasure, be warned that they contain a little bit of naughty language, if you want to skip most of it, jump to 1m 60s on the 1st video.
Bobby Farrell & The Thompson Curse
Bobby Farrell was the male singer in the 70's Disco group Boney M, he sadly passed away yesterday from currently unknown causes.
This on it's own wasn't enough to warrant a mention in this blog post, but read on, the plot was like the custard my mum put in this years xmas trifle, it thickens.
Here are a list of gigs that either me, or a member of my family have bought tickets to in the recent past:
Out of all the above, the following went as planned:
And the rest:
Meat Loaf, 2008 – Cancelled, cyst on vocal cords
Elton John, 2009 – Cancelled, bad illness
Michael Jackson, 2009 – Cancelled, death
Boney M, 2011 – Likely to be Cancelled, death
I also have tickets to see Peter Kay in October 2011, so I'd be very nervous if I were him.
D9 Hosting
Yay, a semi serious story from 2010 that doesn't relate to music!
D9 Hosting has been going well throughout 2010, it's gone from being a hobby to a full time job. So much so that we took the decision to get some staff in back in the first half of the new year, which allows us to offer true 24/7 technical support.
The first few weeks were obviously a little difficult whilst we got everyone trained up, but we have a good set of customers who were very understanding, and now that the staff are trained up, I'm sure any customers will agree that any technical issues are dealt with in a timely and efficient manner.
2010 was really a year of stabilization for us, we wanted to build solid foundations from which we could move the business forward in the coming years, and I think we've gone a long way to achieving that. There are still a few little things that could do with some tweaking, but all in all it's been a very good year.
With a bit of luck we'll be ready to go on a full on marketing spree in 2011 and take the number of sites we host past 20,000.
Other "D9 Stuff" to happen in 2010 included the launch of our official Facebook page:
http://www.facebook.com/pages/D9-Hosting/20700629688
We should probably launch our own Twitter account as well, but….I have an intense dislike of Twitter :-0
I Went to Leicester
In November I drove down to a service station in Leicester to pick up a new car, can you tell I'm running out of things to write about?
I Tore my Groin
As you may (or may not) know, I'm a keen football player.
Back on August 15th I tore my groin. It's now December 31st and I've only managed to play 2 games since, I think my football career may be coming to a cross roads.
Christmas
We had a Christmas in 2010, it was around 1 week ago.
Unfortunately my 88 year old Nan got rushed into hospital the day before Christmas eve, we were all prepared for the worst but thankfully after 5 days in Hospital she's back home and back to her normal talkative whiskey drinking self. But I did spend most of Christmas going to and from the hospital.
That's a pic of me and her from this past year: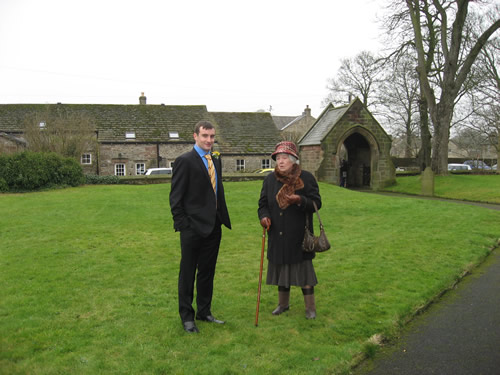 And I know what you are thinking, why on earth is Dan wearing a suit? Well I had to, it was a wedding.
But whilst we were at the hospital, it dawned on me where I get my warped sense of humor from – it's from my Nan! A couple of quotes from the hospital include:
"You know we were going to have a big party for my 90th birthday, I think we should probably bring it forward a year just to be on the safe side"
"I'm like the Angel of Death, that old dear (looking at the person in the next bed) was fine when they brought her in 2 hours ago, and now her feet are blue and she's unresponsive"
New Year
Who knows what the new year will bring, I suppose we'll find out in 12 hours and 5 minutes time.
So a very, very belated Merry Christmas and a very, very Happy New Year to you and your family. I'll be back in 2011, with (maybe) a more serious and relevant blog post.
Toodle,
Dan
Receive Free Email Updates When A New Entry Is Posted. Join Them!
Comments