My Plans For 2008
My Plans For 2008
Well, we are now almost into February and 1/12th of the year is already gone..so why exactly am I doing my plan for 2008 now?
I honestly don't know!
I was meant to do this a couple of weeks ago but time just seems to be flying by and I haven't had a moment to mark out my plans. I've got a free morning before I go out for my mums 50th birthday so here we go, do let me know what you think of the plans, feel free to tell me if you think my ideas are crap 😉
1. Make more "x" websites
This is something I have been planning to do for the past 3 months, but as with a lot of things recently time is a massive problem. I currently have one "x" site that makes me around $1,000 each month. This site isn't anything to do with Internet Marketing, and it doesn't involve me selling anything, it also doesn't involve a mailing list. This "x" site is totally separate from my other online ventures.
So if I were to make ten "x" websites, then I would be able to follow the steps I have taken with the first "x" site, and make a good amount each month, from each site….More on this later.
2. Improve the Boomerang List Builder
Again, this is something I have been looking into for some time, but 2008 will (fingers crossed!) see a "Pro" version of the software released. I've had a lot of feature request from existing customers, a lot would fit easily into the existing software, but the other, more complex suggestions would need a lot of extra work…but they would be REALLY cool features! So keep your eyes open for a "Pro" version sometime in 2008.
3. Improve D9 Hosting
D9 Hosting was one of my (and Paula my business partner) biggest successes of 2007. We initially started off very small scale, only expecting a small trickle of customers. The uptake of accounts from you guys has been amazing and has surpassed our wildest expectations, so it is our goal to continue to improve our service to you. We have some plans for 2008 and they will be revealed to D9 customers in due course!
4. Continue To Write Blog Posts/Newsletters!
This blog is coming up to it's 2nd birthday, despite time being very hard to come by these days I always try and put aside at least an hour a week to write helpful posts, and reply to your comments and questions. I am now putting it in writing..so you can slate me if I don't deliver, but I will strive to make at least one post on this blog at least every two weeks!
5. Create/Launch New "Websites x" Product
This is continuing on from point one. Take a look at these screen shots below, these show my earnings from ONE "website x" (this is the project codename!) website that I currently run. I'm not showing you these to show off or for a big pat on the back, I'm showing you what you can achieve from one website, that generates less than 30 hits each day!
First of all we have a brief summary of my earnings: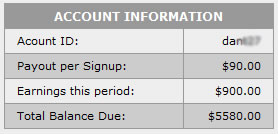 Then here's a shot of my hotmail account that shows my notifications of new sales (commissions), you'll see that on average I'm getting around two sales per day from the one "website x":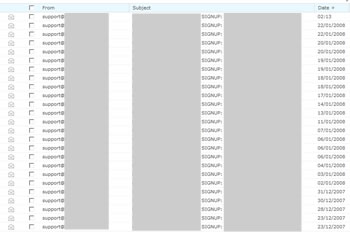 Now my first aim, and it's for purely selfish reasons, is to create more of these "website x" sites, so that I can make more money, and generate more screen shots for my product that will be coming sometime in 2008.
I've decided to create a brand new, video course, showing you exactly how I create these "website x" sites, and I'll show you, step-by-step what you need to do to get them online and how to generate traffic too them. I am also planning to record myself making one of these sites from scratch and including that in the package.
So there we have it, my plans for 2008. Apologies if it sounded it a bit rushed, that's because….well, it was! But I've finished by 11.30am so now I can get ready and go out for lunch.
Do let me know any comments or questions, I'll be checking them out when I get back, and why not let us in on your plans for 2008, what are you going to be doing?
Regards,
Dan
Receive Free Email Updates When A New Entry Is Posted. Join Them!
Comments