How To Create A Custom PayPal Checkout Page
How To Create A Custom PayPal Checkout Page
Greetings hello and welcome to a long overdue blog posting. I've been run off my feet with one thing and another the past couple of weeks, hence no blog postings.
I put aside 30 minutes today to write a post, but until yesterday I was really struggling for a subject.
Then, without warning PayPal decided to have one of their customary "Let's screw with Dan's account" days.
They decided that after over 2 years of having my personal bank account linked to my business PayPal account, I'd been having it far too easy so it was time to put a stop to this!
After I made a withdrawal to my account last week, I got an email from PayPal saying the withdrawal failed and the bank account had been removed from my account.
I tried to re-add the account but it wouldn't let me add an account using my name, the bank account name had to match the business name in PayPal. (El Passo Enterprises)
That was a bit of a problem because I don't have a bank account called "El Passo Enterprises", so the only option was to downgrade to a premier account so I could use my normal bank account with the PayPal account.
The problem with this – whenever a buyer goes to the PayPal checkout page, instead of seeing a professional business name they would see the email address that they were sending payment too, which I think looks a bit crap!
So I decided to create a custom PayPal checkout page to get around the email address display problem. Here's what my new checkout page looks like: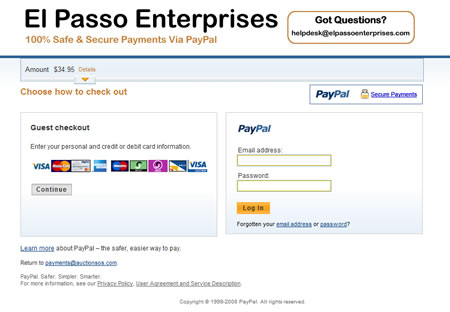 And here's how you can set up your own!
1. The first thing you need to do is create a header image, this will go at the top of the page. The ideal size for the header (as stated by PayPal) is 750px * 90px.
2. When the header has been created, you need to upload it to your web space, BUT, and this is important. It needs to be uploaded to a secure server, if you don't upload it to a secure server your browser will display an "Insecure Items On Page" error message and this could put off your buyers.
Most hosts will have a shared SSL certificate that you can use, I uploaded my image to my D9 Hosting account, and the image is stored securely here:
https://bullseye.d9hosting.com/~paudan/images/danpp.jpg
If you are also with D9 Hosting, the URL to your shared space will be:
https://bullseye.d9hosting.com/~YourUsername
If your host doesn't provide you with a shared SSL….maybe it's time to switch to someone else!
3. With your image created and uploaded, you need to log into your PayPal account and click on:
Profile > Custom Payment Pages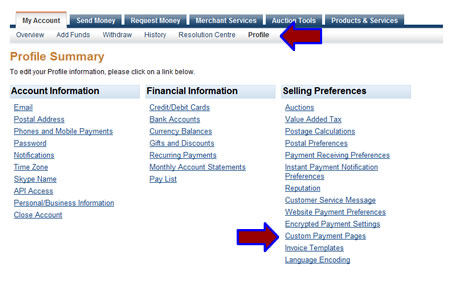 4. The next step is to add a new payment page; you can do this by clicking on the "Add" button.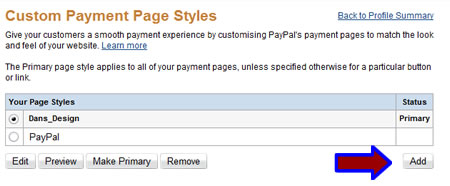 5. You then simply need to give the theme a name, and then enter the URL of your secure header image in the "image URL" field.
You can also specify different page and border colours, but I decided to stick with just the header!
When you are done, click on "Save".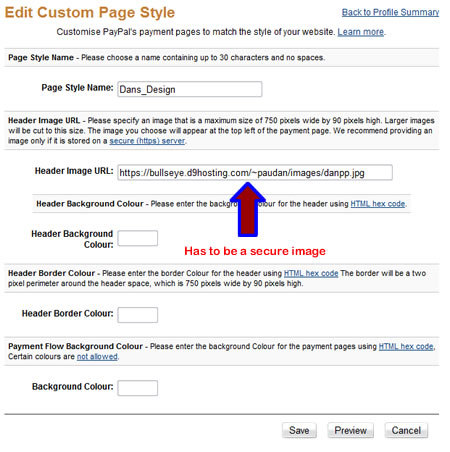 6. The final step is to go back to the Custom Payment Pages overview page and set your design as the primary style, when you have done this all of your PayPal payment pages will use your new design!
And that brings to an end this guide. It's fairly simple to create your own payment pages in PayPal but as always, if you have any questions and comments please leave them below!
Cheers,
Dan
Receive Free Email Updates When A New Entry Is Posted. Join Them!
Comments
51 Responses to "How To Create A Custom PayPal Checkout Page"