How Do You Write A Sales Page?
It's the question that has been asked over and over again, yet nobody seems to have a definitive answer. I've been creating websites and sales pages (or sales copy) for the past few years, but when it comes to writing those pages, I tend to stumble along hopelessly and pray that something good comes out the other end!
It would be easy to pay someone a small fortune to write a sales page for you, but that person wouldn't know your product like you do, and I think that would come across in the sales copy. It's always better to write your own, but if you write your own, will you be able to make the page convert as well as the pro's?
It's a catch 22 situation, you either create your own page that contains every last possible bit of information on the product you are selling – BUT IT DOESN'T CONVERT
Or do you go with a professional copywriter that could claim to bring in higher conversions, but they may not get all of the points across on the sales page, which could in turn lead to a lot of support requests and refunds after purchase.
So What Do You Do?
Well, I had this dilemma a few months ago when I was creating the copy for my Boomerang List Builder product. I had created a basic sales page that included the main features and selling points of the software, and then I did something that I don't normally do…..I asked for advice!
I sent an email to a fellow Yorkshireman, Randy Smith. I've known Randy for a couple of years and he works as a copywriter and an Internet Marketer. I sent my basic sales page over to Randy, he then replied and showed me ways to improve the conversions without getting rid of my selling points and features.
The Boomerang List Builder sales page now converts at around 5% which is very good for that sort of product!
But How Can This Help You….
Well, Randy has created an eBook for you, called "SalesLetter ABC"
In the eBook he shows you exactly how to create the perfect sales page, I won't go into a lot of detail because Randy wouldn't appreciate me disclosing the tips available in his book, so I'll list the contents for you!
1. What is a sales letter?
2. Fonts and colours
3. The layout
4. Graphic images
5. AIDA (You'll have to read it to find out what AIDA stands for!)
6. The use of words
7. Questions you need to answer
8. The secret ingredient
The book is split into two parts, I've just shown you the first part by posting the contents, but for me, the second part is as good, if not better.
In part 2, Randy gives you a template that you can use on ANY sales page. He breaks down every part of the page, and shows you what goes where, and why!
I've taken a screen shot of the "Headline" template page (with Randy's permission!) that you can view here: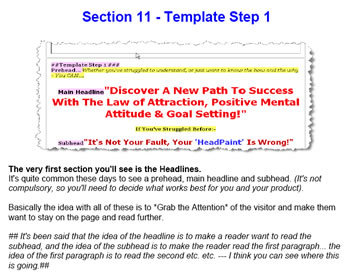 In total there are ten templates included in the eBook, these show you exactly how your page should be structured, worded, and formatted.
Head on over to Randy's site for a closer look, at the time of writing the price is a very low $27 so get in there quick!
Here's to higher conversions!
Regards,
Dan
P.S. When you read Randy's book, try some of his methods out on your own copy and let me know how you get on. I'd like to bet that your conversion rates improve!
Receive Free Email Updates When A New Entry Is Posted. Join Them!
Comments