Ebay Affiliate Link "Rover Migration"
Ebay Affiliate Link Changes
Greetings once again to another newsletter. Sometimes I struggle to come up with subjects for the newsletter but this week something jumped right out at me. A few weeks ago eBay announced they would be changing over to a brand new linking structure for their affiliates, judging by some of the questions I have been asked a lot of you are still very unsure about the implications, so in this weeks newsletter I am going to try and explain everything for you.
Let's start from the most logical point…..the beginning!
An initial email was sent out by eBay around September 15th 2006, the email contained basic details about the switch over. The main focus of the email was to tell eBay affiliates that eBay was switching away from the CJ domain links and replacing them with new style "Rover" links. More information was then set to be released on the 25th September.
The 25th quickly caught up on us, as did the next eBay email containing the important details about the change over. Let me quickly copy/paste the email here just incase you missed it:
"Rover migration starting!
The eBay Affiliate Program is excited to launch the final phase of Project Rover. We have now completed the Pre-Migration and are ready to begin the Affiliate Link Migration. As mentioned in our previous communication, we ask that you migrate all of your links before November 15th, 2006. Please note that both the current tracking and new Rover systems will run in parallel during the migration. Thank you for all the questions and feedback that we have received on our discussion board
http://forums.ebay.com/db1/forum.jspa?forumID=118.
We are doing our best to answer all of you and we are looking into ways to help you migrate your links, so please keep posting! Rover details by tool All Rover URLs will use the same server name, rover.ebay.com, regardless of the target destination domain or eBay site. The general form for Rover links is as follows:
http://rover.ebay.com/rover/1/PlacementID/1?SID=KEYWORD&AID=XXXXXX&PID=XXXXXX&loc=TARGET
ENCODED URL – PlacementID and AID pair: The PlacementID and AID pair is a country and tool specific value that associates the click with the correct eBay Affiliate Campaign. – PID: Publisher Site ID available in the Commission Junction Interface. – SID: Shopper ID (SID) is an affiliate defined variable used to monitor the specific link that produced each transaction. The SID can be up to 64 characters and is URL-encoded (%20 for a space, %2E for a comma, etc). – loc: Target URL or landing page where user will be directed and must be URL-encoded (ex: http%3A%2F%2Fwww.ebay.com%2F).
*
Flexible Destination Tool and Keyword Linking Tool
The Flexible Destination Tool and Keyword Linking Tool now output updated Rover links. You can recreate your links using the tools (http://affiliates.ebay.com/tools). If you prefer to change your links manually, you can refer to the table below, which shows the PlacementID and AID pair for the flexible destination tool by country: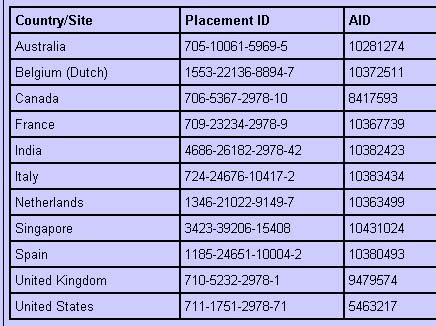 *
Banners, Buttons and Logos:
All active Banners, Buttons and Logos are available within the Commission Junction interface. Please note that expired creatives will not be available in the interface.
*
Editor Kit, Product Kit, RSS Feed Generator and the Rest API GetSearchResults call
No action is needed if you are using the Editor Kit, Product Kit, RSS Feed Generator or the Rest API GetSearchResults call – links will be automatically updated. Thank you for continuing to promote all of our eBay Affiliate Programs worldwide.
Sincerely,
The eBay Affiliate Team"
So there you have it, the brand new linking structure is now here, but unfortunately it has thrown up more questions than answers. Let me now try and answer some of your most asked questions:
Q: Will my old links still work?
A: NO! All old style links must be changed over by the 25th November, after November 25th the links will stop registering commissions.
Q: How can I change all of my old links?
A: The easiest way to change your links is by using a find/replace software application. You can find the new version of your eBay code by using one of the online tools – Flexible Destination is my favourite.
Q: What are the benefits behind the move?
A: The main benefit from an end user point of view is that the affiliates don't need to go through as many "Re-Directs" with the new eBay links. All links now go through eBay's domain name (http://rover.ebay.com) instead of the CJ URL's that means the tracking cookies have less chance of being blocked.
Q: What if I have my old link encoded in a PDF e-Book that is already "Out there"?
A: Unfortunately you won't be credited with any commissions after the 25th November. It would be a good idea to release an updated version of the e-Book to include the new link structure. If would also be a good idea to use PHP redirects in your PDF e-Books:
https://elpassoblog.com/affiliate-link-management-made-easy/
Q: Are the any resources to help me through the changeover?
A: Yes, luckily some kind-hearted people over at the eBay forums have put together some helpful resources for you to minimise the effect on your affiliate earnings:
http://www.tprweb.com/guides/ebay/aff_migration/
http://www.phxp.com/rover/index.htm
http://forums.ebay.com/db1/forum.jspa?forumID=118
Hopefully, this newsletter and the above resources will help you implement the changes before November 25th! Make sure that you change all of your eBay affiliate links before November 25th or you run the risk of losing your eBay commissions!
I hope that the changeover goes smoothly for you, if you have any comments or questions as always please leave me a comment 🙂
Thanks for reading,
Dan
Receive Free Email Updates When A New Entry Is Posted. Join Them!
Comments