An Interview With Me (Free eBook)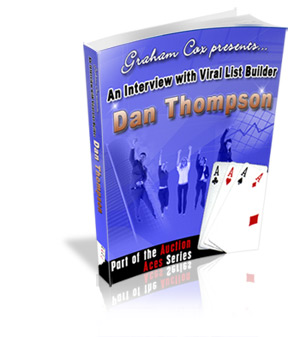 Hello and welcome to something strange…it's another Friday blog posting!
Today I don't have a newsletter for you, but I do have something just as good. A few weeks ago I was interviewed by Graham Cox as part of his "Auction Aces" series of eBooks.
I won't spoil it for you but we discussed everything from List Building to Attending Seminars. I don't want to sound like I'm blowing my own trumpet but I do think it's a very good read, and to be honest, there's a lot more content in there than you'd find in one of my newsletters – My newsletters are usually 2 pages in MS Word, this interview is 14 pages in length.
The eBook is free, but best of all it comes with resale rights and is totally re-brandable! That means you can brand the links within the eBook to earn you commissions for my Boomerang List Builder software, and my D9 Hosting service.
Click here to download the brandable version – I don't even need you to opt-in 🙂
Click here to download the normal (non-brandable) version
Let me know what you think of the interview!
Receive Free Email Updates When A New Entry Is Posted. Join Them!
Comments