A new type of eBay Scam that could bankrupt your business!
A new type of eBay Scam that could bankrupt your business!
Hello everyone and welcome to this weeks newsletter. This week I will be continuing
with my eBay theme and to be more precise, the eBay scam theme! I`ll just give
you a bit of background information first, last week I managed to accumulate
over £1,000 in eBay fee's. None of these fee's were genuine and were all
related to a new type of eBay scam that I became a victim of. Read on to hear
the full story.
Last Thursday (3rd August) at around 5pm UK time I started receiving a large
amount of emails from eBay saying that one of my shop items had been sold. Great
I thought….but not so, the emails kept coming and coming so I quickly went
to the eBay item in question to take a closer look.
To my surprise around 50 of the items – priced at £44.99 each had all
been "bought" by the same bidder with 0 feedback. I quickly knew something
wasn't as it should be so I blocked the bidder from bidding on any of my items.
That stopped the buying…..for now.
I logged off and then came back online the next morning, I loaded up my mail
client to find 375 unread mail messages from eBay, all saying that the shop
inventory item had been sold. The scammer had created another eBay account and
was doing the exact same thing, as this was going on I was in bed asleep so
I couldn't block them from buying my listings.
/ / / / – – – / / / /
Auction SOS has now sold out of all but 1 of the bonuses at the time of writing.
Thanks to everyone that purchased, you helped to make the launch a huge success.
I am sure you liked your unadvertised bonus as well 😉
/ / / / – – – / / / /
I logged into my eBay and look what it showed: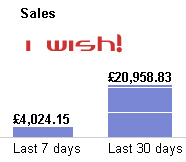 This scam buyer had racked up over £20,000 in sale to my eBay account,
but obviously none of these items had been paid for BUT what happens about my
eBay fees? This is what happened to my eBay fees:

As you can see from the screen above, (or not as the case may be!) this scam buyer had managed to accumulate
over £1,200 in eBay fee's to my account. I don't have £1,200 in
my paypal account so I don't know what would have happened if eBay decided to
charge me the fee's. I guess I would have my eBay account suspended for avoiding
the fee's, even though they were accumulated from fraudulent transactions?
The good news is that eBay have looked into the case and have banned all members
in question, they have also credited all fee's to my account so no harm done
in the end. Plus it gave me something to write about in this weeks newsletter
😉
I should probably say these scammers should remain anonymous but screw them,
they deserve all they get. Take a look at the bidders list and I'm sure that
you will be able to see for yourself the damage this sort of scam can cause:
http://offer.ebay.co.uk/ws/eBayISAPI.dll?ViewBidsLogin&item=9520445880
If you have ever encountered a scam such as this, or any other scam involving
an eBayer that you would like me to cover then please leave a comment or get
in touch with me. I would be happy to cover your case. Remember that you can
also report all bad ebayers
and ebay scams on
one of my other websites – www.auction-arses.com
How would you go about combating this scam, to be honest I have no idea! I
can't think of an obvious way to avoid this type of thing, if you have any suggestions
as always please feel free to leave a comment.
I'm now going to go slightly off topic but I know a lot of you are parents
so you will be interested in this information. Pat Graham, a keen newsletter
subscriber has put together some free reports on drug addiction in children.
These reports aim to give parents information about the problems and facts related
to drug addiction in children, it's a serious problem that any of us may have
to deal with in the future so I'm sure these reports will give us some great
information. You can open the free reports in your browser by clicking on the
links, or to save to your PC right click on the link and select "Save target
as":
Marijuana:
Some Facts Parents Need To Know
Salvia
Divinorum – Nature's Legal Hallucinogen
I'm sure Pat would love to hear your comments so as always feel free to leave
your thoughts on this weeks newsletter and/or Pat's free reports!
Receive Free Email Updates When A New Entry Is Posted. Join Them!
Comments
12 Responses to "A new type of eBay Scam that could bankrupt your business!"